Did You Know That The Vegan Food Trend Is Iconic?
|
 The Vegan Food Trend within the last 10 Years
The vegan food trend is on. Over the last ten years a new food style has developed . More and more people think about eating more healthy and natural food.
Many are getting aware that processed food is not healthy and is only something food like and packaged ,not real food anymore. The ingredients are often artificial and nothing in this food is left natural. Obesity, diabetes  and other health issues make the people think and change the diet.
Vegetarian and vegan food is more in demand and many restaurants serve more natural foods. Farmers markets have more customers this days wanting organic vegetables and fruits. Read below about the new food trends some may be new for you.
Did You Know That The New Food Trends Are Actually Vegan?
There always seems to be a new food trend coming out each year—it never fails. One year it's a new style of cooking, the next a new way to eat healthy, new foods to try, a new spice or condiment, and of course let's not leave out superfoods, food hacks, and food products.
However, within the last 10 years, plant-based eating has become more than a trend — it's an entire movement geared towards living a life free of refined foods and processed options to embrace more simple, natural whole foods.  And even those that aren't vegetarian or vegan are beginning to learn more about real food and embrace natural foods over processed foods in order to improve their health.
People everywhere are uniting to fight for real foods that come from the earth, not in a package or with scary ingredients.
If you haven't tried any of these iconic foods, here's your chance to reconsider doing so or just inspire a little more appreciation for the next time you do enjoy them!
1. Cauliflower … EVERYTHING!
Cauliflower is IT right now and by it, we mean it's in everything and made into everything you can imagine! It's used to replace meat, bread, popcorn, fried foods, potatoes, and even eggs in desserts! Who would have thought a white veggie could take on that much!? Sure, some ideas may seem a little extreme, but what a great way to inspire people to eat more vegetables. However it started or by whom doesn't matter, what's important is you give some cauliflower recipe hacks a shot.
Try cauliflower in these recipes: Cauliflower Parmesan, Curry Roasted Cauliflower, Cheesy Cauliflower Popcorn, and Cauliflower Buffalo Bites!
2. Green Smoothies
These came into play around 2009 – 2010  (for the mainstream anyway) and were one of the best ways possible to inspire people to "get in those greens" a bit more often. For many of us, they were the only way we learned to actually enjoy greens, and who could argue the fact they're incredibly convenient? While many renditions exist, green smoothies made of leafy greens, fruits like berries, and possibly superfoods, non-dairy milk or non-dairy yogurt, flax, chia, and plant-based protein powders are some of the most popular combinations and a great way to get healthy foods into one meal. No matter what your green of choice, let's give a salute to green smoothies—they've changed the way the world looks at a high-speed blender for eternity!
Try some of our favorite recipes: Organic Burst Smoothies,  Mint Cacao Kiss, Energy Boosting Vegan Protein Shake
3. Coconut Craze
Coconut is thankfully no longer seen as a source of fat to avoid, and we're sure glad because it's such a healthy food! Coconut milk came to rise  as one of the best go-to alternative milk products aside from just almond and soy nearly 10 years ago, followed by coconut butter, coconut ice cream, coconut flour, coconut cream, and thank goodness—coconut oil which was finally brought back into mainstream supermarkets aside from just the refined options. And we're healthier for it too. Coconut is filled with brain-boosting and metabolic-boosting fats, it's a great source of energizing and muscle-building amino acids, and it's packed with a delicious dairy-free flavor that's so much better than butter ever thought about being!

Try some of our favorite coconut recipes: Raw Fruit Popsicles With Coconut,  Raw 7 Layer Bars, Double Chocolate Cupcakes With Buttercream Frosting, and Coconut Ice Cream.
4.  Raw Truffles and Energy Bites!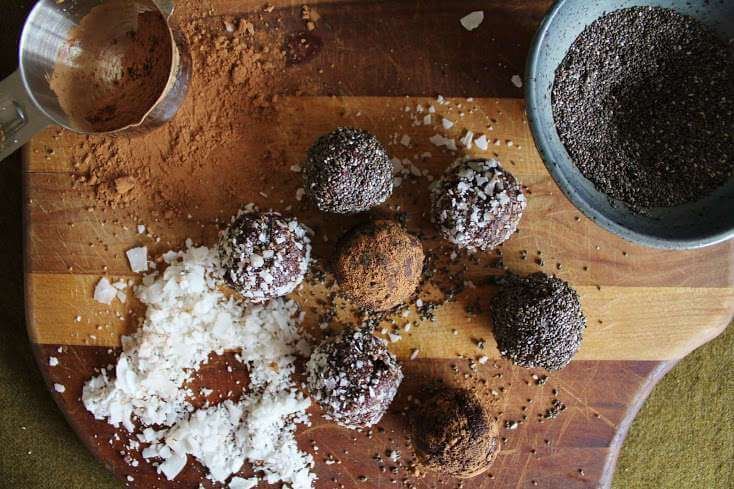 Forget those plastic-wrapped snack cakes! Let's make something that gives us energy and tastes even better. Raw truffles can be made in minutes and they are so much more satisfying and better for us than those processed, chemical-filled snacks we likely grew up eating. Plus, most of the recipes call for five or less ingredients and require nothing more than whole foods and some special add-ins.
Try some of our favorite raw truffle dessert recipes: Raw Truffles With Chia, Carob, and Coconut, Raw Chocolate Coconut Bounty Balls, 4 Ingredient Chocolate Caramel Truffles
5. Sriracha Spiked Everything
While there are a dozen chips, crackers, and even popcorn now flavored with this epic hot sauce we know as sriracha, it's just as easy to add it to a variety of foods you make at home. And we should. Hot sauce is one of the simplest, best condiments to use to flavor your food and one of the most affordable. We're sure we don't need to go on and on about this food obsession—you likely already love it. Let's just check out some of our favorite recipes ….
Make these: Peanut Butter Spicy Noodles, Cajun Quinoa Cakes & Lemon Dill Sriracha Remoulade, Simple Korean Kimchi BBQ Burgers,
6.  Cashew Cheese       
continue reading here >10 Iconic Food Trends Within the Last 10 Years That Just Happen to Be Totally Vegan
See also A Vegan Food Collection That Will Knock Your Socks Off (videos)