Eat More Raw – Recipes Good For Your Health And Body Weight
|
Eat More Raw To Increase Your Nutrition Intake
Why eat more raw?
The basis of a raw vegan diet is the consumption of fruits and vegetables, dried fruits, nuts, seeds, germs, and sprouts. A healthy vegan diet consists of mostly unprocessed, "whole" plant foods. The more natural and wholesome we eat, the better. Because every processing step can change, reduce or completely degrade valuable ingredients of food such as vitamins, minerals, and phytonutrients. With processing, the nutrient density decreases, and the energy or caloric density of the food increases.
Eat more raw and get creative – uncooked recipes and new preparation options.
Instead of cooking pots, pans, and casserole dishes, you use mainly dehydrators, blenders, and mixers. With a blender, for example, prepare raw food, cookies, and even cakes.
An easy way to eat more raw and integrate it into your diet is smoothies which are easily digestible by pureeing. A meal can be replaced with a smoothie, for example, breakfast or lunch. But also as an energy source for in-between, Creativity knows no limits.
Eat more raw, fresh Salads, which you combine with cold-pressed oil, vinegar, and herbs, are among the classics of raw food dishes. To integrate even more raw food into your diet, you can also use dried fruits, vegetables, and nuts instead of chips and other nibbling stuff.
For many, it is also important to consume fruit and vegetables of the season. It is not only cheaper but also much more sustainable.
To enrich your diet and eat more raw, you should increase the fresh content due to the fiber better step by step so as not to overburden the digestive system.
Reasons to eat more raw
The reasons for a raw vegan diet are primarily health reasons. The opinion is that food that has not been heated and is hardly processed can reduce or eliminate allergies and food intolerances. Also, unheated food is generally intended to promote a healthy, lean, and fit body.
How much raw food should you eat?
There is no strict requirement between raw food and cooked food. It would be desirable to have a raw food content of about 50 percent or between 1/3 and 2/3. Depending on various factors, you can choose how much raw food you integrate into your diet, such as your personal preference and well-being, as well as the availability of fresh, regional, and seasonal food.
Here are recipes to inspire you to eat more raw
Eat More Raw – Recipes Good For Your Health And Body Weight
Portobello Mushroom Cashew Cheese Burgers
If you think these look good, they taste even better than they look. If you think they look weird, they still taste better than they look… (in this case, much better?) I ate them all by myself Recipe: thisrawsomeveganlife.com
Alfredo Sauce with Zucchini Noodles
This recipe is different because it's super easy and doesn't require a whole lot of fancy equipment or ingredients (unless you don't normally use miso paste and nutritional yeast – and they're both optional anyway). Recipe: vegangela.com
Sprouts Pad Thai with a Spicy Peanut Sauce
This Raw Super Sprouts Pad Thai with Spicy Peanut Sauce—say that three times fast—is a cold dish, because the spicy peanut sauce will warm you up. Recipe: veganosity.com
RAW RAINBOW WRAPS WITH GINGER TAHINI DRESSING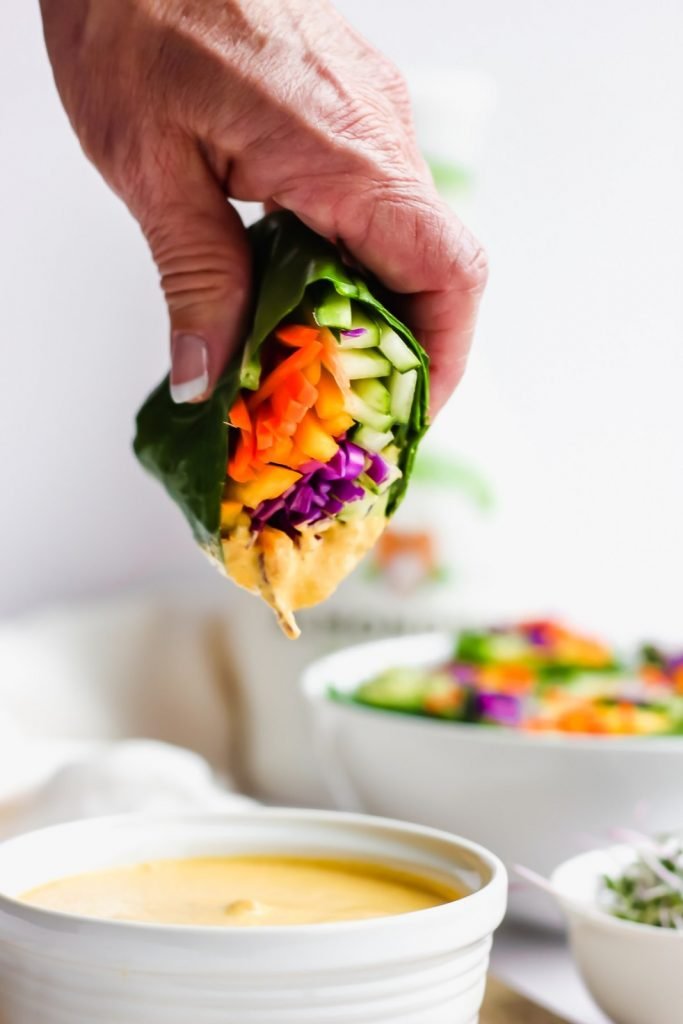 Sometimes it is just too dang hot to cook much of anything!!  Those hot days are particularly perfect for these Raw Rainbow Wraps with Ginger Tahini Dressing!!  No cooking required Recipe: thewoodenskillet
This raw zucchini bread can be sliced thin for sandwiches, used open face for crostini or avocado toast.  Many options with it and it's recipe-friendly.
Here, we combined maki-sushi rolling techniques with our favorite spicy Thai wrap recipe. The result was a flavourful and striking dish. This particular rolling technique is called Rokusha or color wheel, a very appropriate title.
This was so simple and pretty easy and was THE BEST raw wrap I've ever had.  I lined my wraps with my turmeric sauce and julienned cucumber and carrot, sliced green onions, fresh lettuce, and a couple slices of avocado.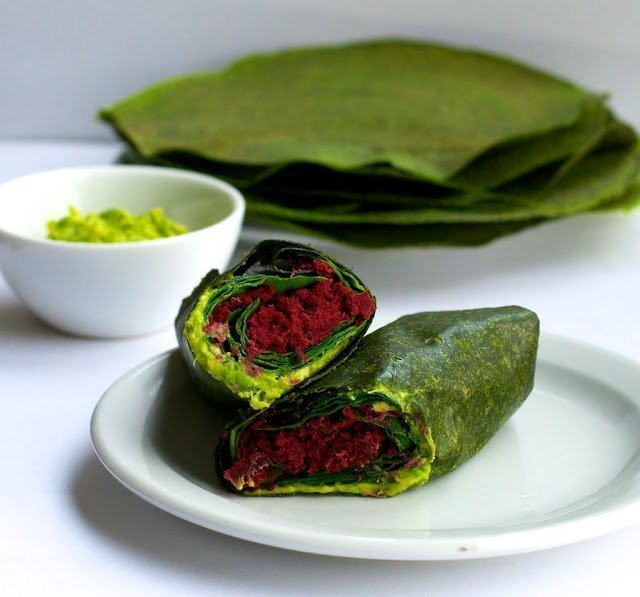 Get creative. Try different leafy greens. Learn ways to love their flavour and their texture. As much as I adore kale I leave space in my heart and my diet for spinach, collards, sprouts, cilantro, chard, watercress, arugula….etc
This Asian Cucumber Salad is my celebratory 'Spring is coming!' recipe. *Here Comes the Sun plays softly in the background*
Raw pizza with garlic & seed crust, spinach pesto and marinated veggies: makes four small pizzas
this is ALMOST raw… 🙂 i don't mind the tofu. it's worth it. you know i'm a chocoholic and that i firmly believe chocolate and peanut butter are the greatest of friends and should spend as much time together as possible. so this hopefully explains itself.
See also Delicious Salad Recipes That Help To Get Your Beach Body
You Will Love These Vegan Desserts If You Crave Sweets
And 10 Tempting High-Protein Recipes That Help You To Lose Weight
If you need help with losing weight and keeping on track, the Bright Line Eating program is a great program to support. It is based on cutting-edge psychology and neuroscience. Susan Peirce Thompson, Ph.D. It is focused on establishing healthier eating habits and is also compatible with a vegan diet.
Join the new knock-your-socks-off membership of Bright Line Eating®. Click here.