The Next Best Thing To Do Get Ready For A Vegan Holiday Season
|
 Get ready for a Vegan Holiday Season
Recipes for a Vegan Holiday Season are here. Getting ready to compose exceptionally tasty meals for all the occasions during the holiday season the time is now. Here are some ideas and you may like to prepare. Try some of them to see which one is a favorite. Include in your Menu for an unforgettable Vegan Holiday Season.
These recipes are so delicious and tasty that even non-vegan will love them and ask you for the recipe. Many of the vegan recipes here you can see how to prepare in a video. This makes it easier even for people who are not skilled in cooking.
Do you suck at cooking? No problem! Watch how to do the preparation shown by experienced foodie chefs. All these vegan recipes are approved to be delicious and liked. All ingredients are healthy nutritious and plant-based. You can start to put the best choices together.
Create awesomely finger-licking  meals for a  spectacular Vegan Holiday Season
The Next Best Thing To Do Get Ready For A Vegan Holiday Season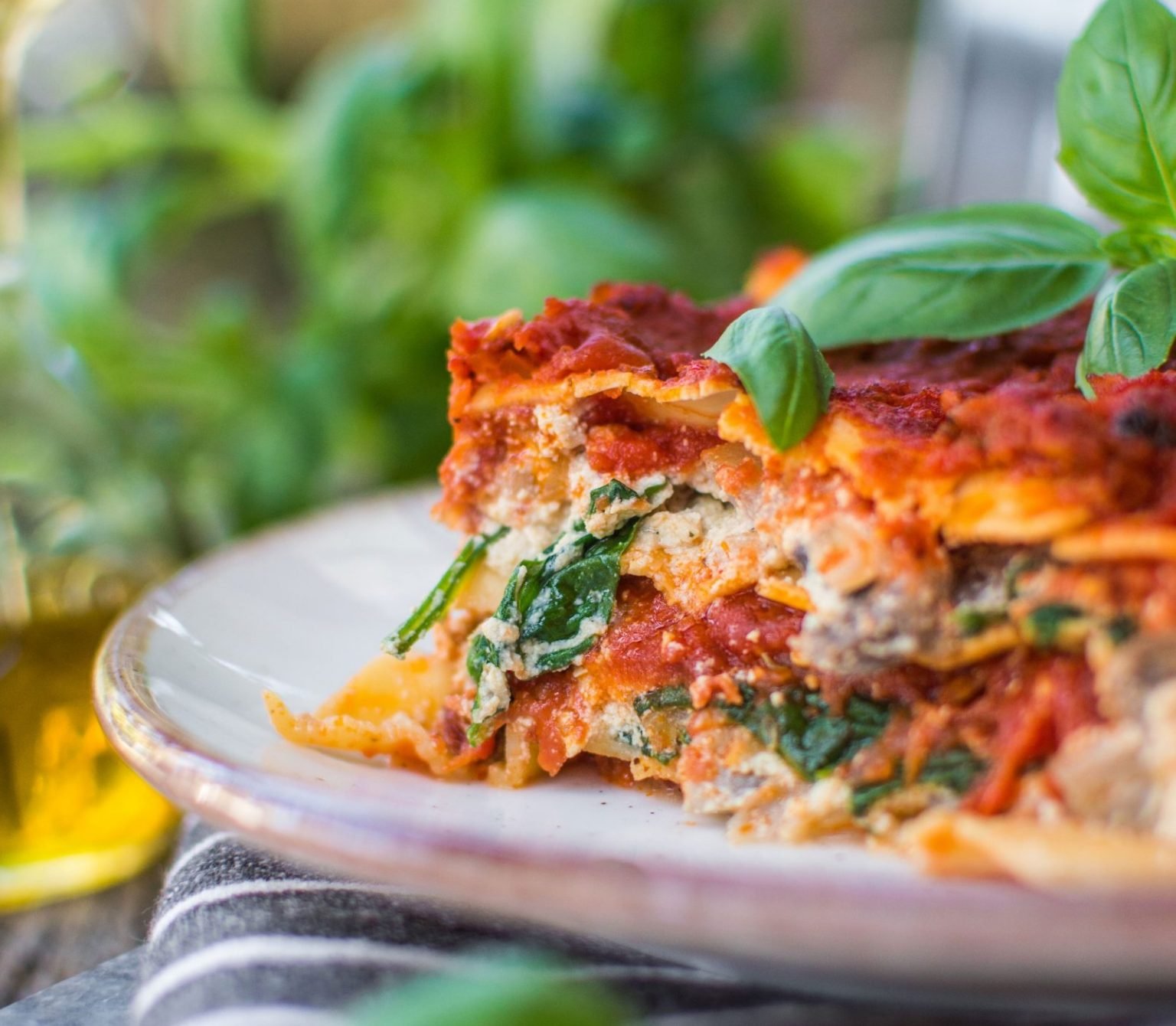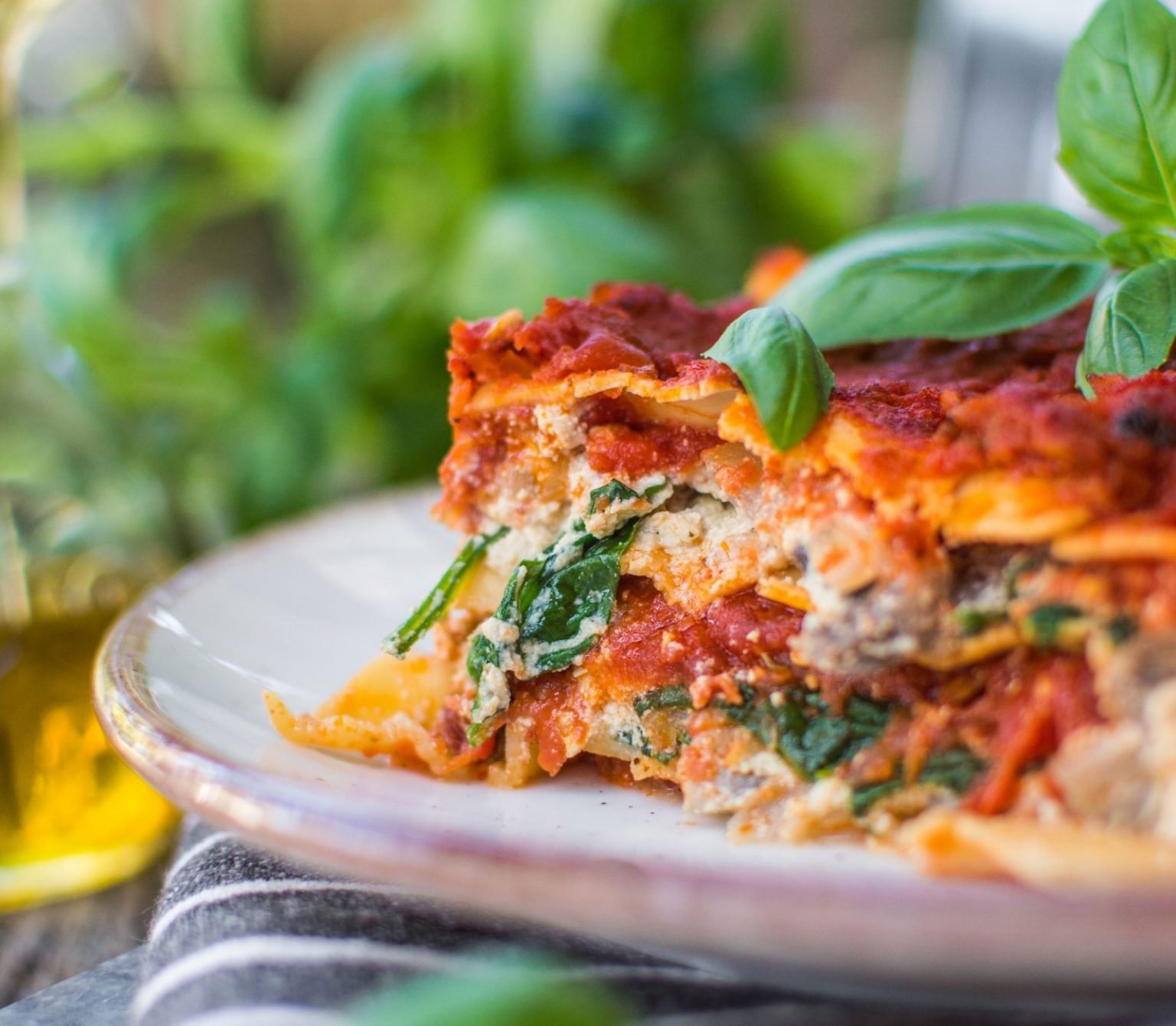 This flavorful Lasagna by Toni Okamoto and Michelle Cehn is packed with tofu ricotta, spinach, and veggies, and makes a filling meal that will last for days. It's also an awesome dinner party meal and a comforting dish to bring to a friend who could use some TLC. You can even freeze pre-portioned cooked servings of this lasagna for an easy heat-and-enjoy meal.
Your kale obsession knows no limit.
Ready to take your kale obsession to the next level? Here's the recipe for using the leafy green in savory scones.
 Vegan Brussel Sprouts

You can't go wrong with a vegetable side-dish.
Spicy Brussels Sprouts Indian style

Serve as a side or mix with boiled Pasta or Dried Beans such as Kidney Beans.
Shaved Brussels Sprouts and Grilled Pear Pizza

This Shaved Brussels Sprouts and Grilled Pear Pizza is like the fall version of a salad pizza. Brussels sprouts, caramelized onions, Shiitake bacon, and vegan Parmesan on top of a crispy crust each play a supporting role of bringing together all dimensions of flavor and texture that make this pizza so perfect. The Shiitake bacon offers a savory taste, the onions a sweet and sour taste, the grilled pear a mild sweetness, and the shaved Brussels sprouts bring the entire pizza together.
Get Ready For A Vegan Holiday Season
Roasted Brussels Sprouts With Apples and Chestnuts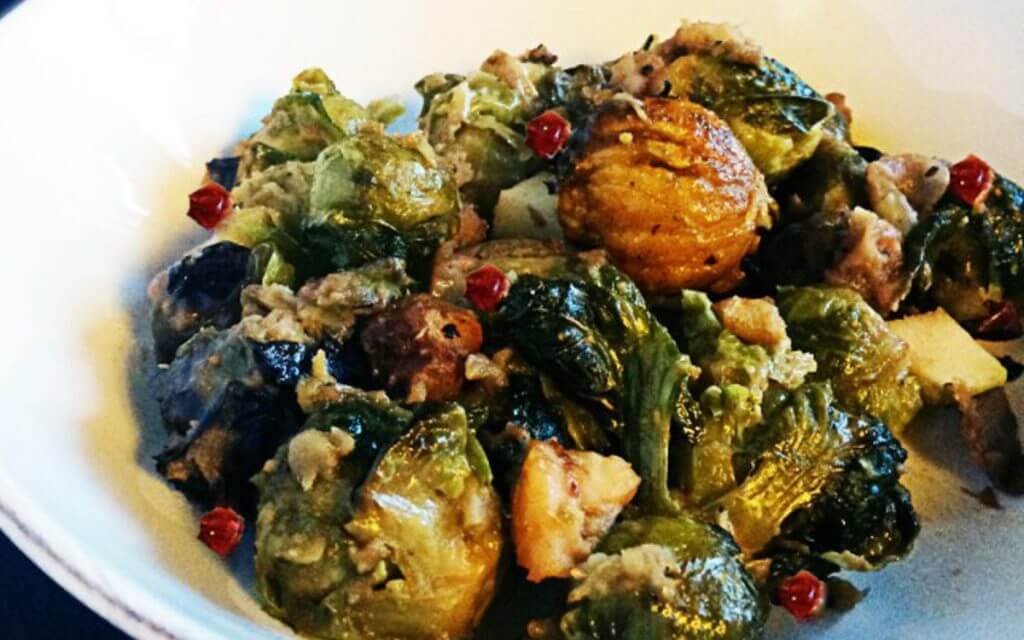 It's that time of year! The time to roast chestnuts, Brussels sprouts, and apples. If you aren't sure if you like Brussels sprouts, give this recipe for Roasted Brussels Sprouts With Apples and Chestnuts a try. Despite their reputation, they actually have a pretty mild flavor when roasted and paired with sweet fruit and crunchy nuts, they are absolutely perfect. Make sure you make this dish on a cookie sheet for maximizing your crispiness efforts.
More recipes For Festive Vegan Cooking Everybody Will Adore You
STUFFED TOFU TURKEY – gluten-free, low-fat vegan Christmas recipe
ingredients-
~stuffing~, 3 stalks celery, 1 large/3 small red onions, 3 cups mushrooms, 2 cups oats, 1/2 cup sun-dried tomatoes soaked in water, drained, 1-1/2tbsp vegetable stock powder, 1tbsp garlic powder/3 cloves garlic
2-3tbsp dried sage
~tourkey~
2packets/560g firm tofu, 2-3tbsp cornflour/arrowroot starch/other flour (the amount of flour depends on the firmness of your tofu. more firm = less flour), 2tbsp vegetable stock powder, 1tbsp dried thyme
1tsp garlic powder
~baste~
2tsp mustard, 2tbsp vinegar, 2tbsp soy sauce, 1tbsp maple/agave/rice syrup
Vegan Biscuits
What would Thanksgiving or Friendsgiving be without warm, delicious biscuits? This item will fill people up and soak up any leftover juices from people's plates.
Vegan Cornbread

Mission accomplished. Another transitional piece of the holiday food puzzle. While not always the centerpiece, cornbread is often missed when not presented at the table.more videos here Thanksgiving or Friendsgiving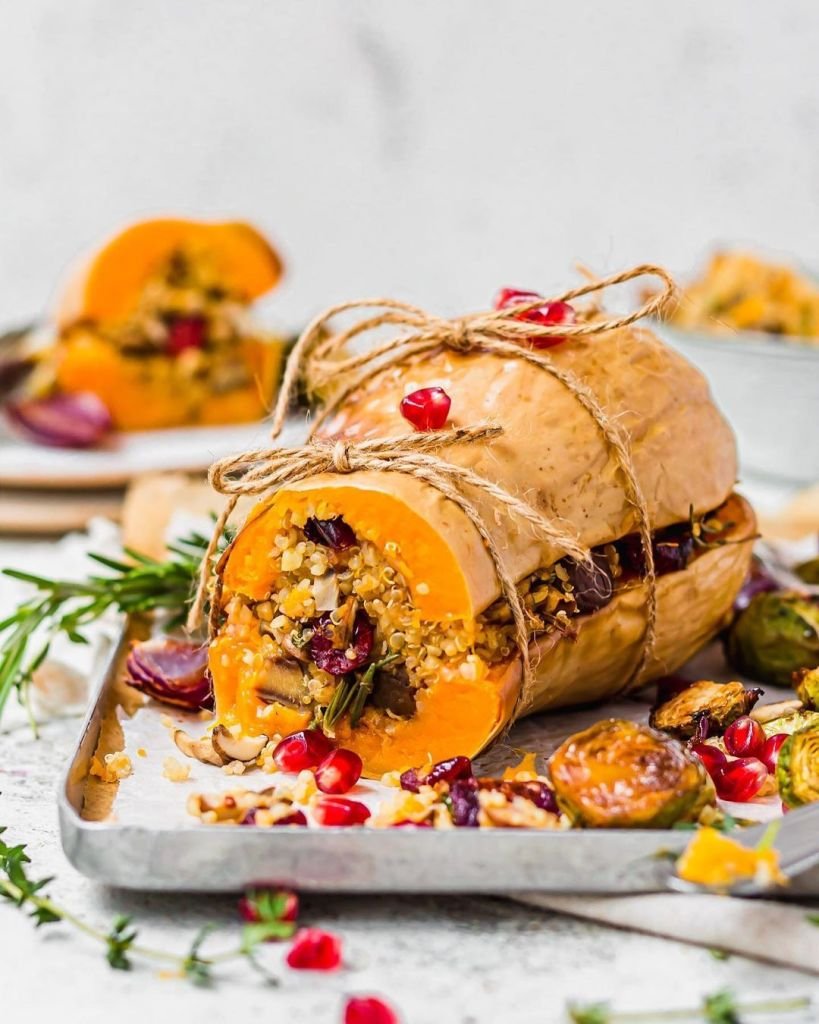 This stuffed squash recipe is a perfect main course for when you're bored of nut roasts. It's balanced with pulses and vegetables – the quinoa and mushroom filling go hand in hand, sweetened by gorgeous squash flesh.
So here's the deal, add maple, grainy mustard, and add seasonings; let all that caramelize with some finely minced garlic and shallots. Everything becomes this delicious medley of tangy, sweet, crunchy, and caramelized goodness.
Also, see Seasonal Vegan Recipes That Will Unleash Your Creative Energy
If you have no time to meditate, and can't stop all that mental chatter, there's only one solution. Click here