Plant-Based Recipes For Picnic To Make It A Beautiful Day
|
Like to have plant-based recipes for picnic outside?
Here there are some tasty plant-based recipes for picnic days you can enjoy with friends and family this summer. The summer is coming and with it the picnic time. Whether under shady trees in the park, on the lake or on the beach, it just tastes better on the outside!
When the sun is shining, there is nothing better than a picnic in the countryside. With these tips, even a spontaneous picnic without much preparation is just a success.
Basic equipment to make beautiful picnic day
Of course, you need one for a really nice picnic nice weather. But also a blanket, refillable glass bottles, storage boxes, cutlery, and a backpack or a basket should not be missed. With these basic things you are always well equipped and who want to play safe, takes in any case with a large umbrella, which can also serve to make shade.
A fresh baguette or pita bread can work wonders and provide the basis for a successful picnic in glorious weather in the park. If you are looking for a gluten-free alternative, you can try rice waffles or corn tortillas. With spreads and topped with vegetables and antipasti, delicious!
If you like combining, we recommend you to pack many different spreads and dips in the picnic basket. Guacamole or various hummus varieties for dipping.
Simple but effective is to make a few wraps. Whether freshly made or bought, wraps can be prepared easily with all the dips and some vegetables. For exotic refining, you can mix with hummus spread along with half a ripe mango, some salt, and pepper. Thinly spread on the wraps, roll up, wrap with sandwich paper and tie it tightly. To serve just cut in the middle at an angle.
Does the food play the main role at the picnic? Right, but you can do things before, between and after eating. Maybe take a good book with you that can provide relaxation. If you like to play a badminton set or frisbee is a good idea. What about a card game in your picnic bag.
Do not forget something to drink. It does not have to be from the supermarket, to have refreshing drinks you can easily make some yourself and those are also healthier. See recipes here Stay Cool With This 10 Fruity Cooling Drinks
Get your friends and family together and pack your picnic basket. We wish you lots of fun and enjoy the tasty plant-based recipes for picnic days.
Plant-Based Recipes For Picnic To Make It A Beautiful Day
What's a camping trip without a grilled burger? Sriracha gives a nice little kick to this recipe. Serve with an extra side of hot sauce to really bring the heat.
As much as I love a good potato salad, sometimes you gotta mix it up. Something tasty, something fresh, something easy. And there's nothing easier than a one pan meal right?? So here comes Southwest Roasted Potato Salad!
Moroccan Chickpea, Sweet Potato, and Cauliflower Bowls
Prepare this one-pan meal ahead of time for a flavorful lunch (or dinner) option throughout your entire camping trip. These loaded bowls prove you can easily eat vegan meals on the road. Get the recipe at Half Baked Harvest.
Dijon mustard brings a feisty little kick to this classic pasta salad recipe
Oranges give this simple spring salad a touch of citrus sweetness, while olives pack some savory punch.
Make this colorful farro side dish with a mix of red, yellow, and orange tomatoes.
Add a pop of color to this side salad with bright red cabbage
Rainbow Veggie Sandwiches With Hummus
How stunning is this stack? You can customize your sandwich however you'd like. This blogger chose peppers, tomatoes, cucumbers, beets, and greens. Yum! Get the recipe at From My Bowl.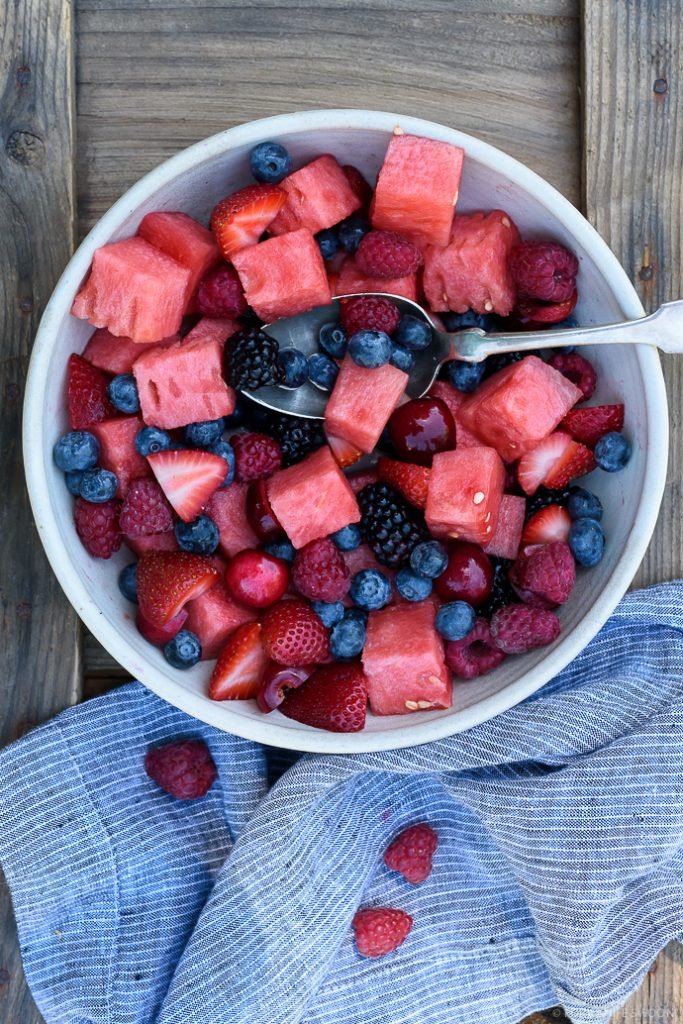 This berry watermelon fruit salad is exactly the sort of non-recipe I make over and over again, all Summer long. Peak season fruit doesn't need a whole lot (or often anything) to be spectacular – in this case just a light squeeze of fresh lime juice and a quick toss together before being eaten with a big spoon, preferably al fresco…
Vegan Breakfast Burritos
Loaded with potatoes, beans, and avocado, these roll-ups will keep you full long after you've savored the last bite. Plus, a homemade cashew sauce takes this meal to the next level. Get the recipe at Ela Vegan.
Mushroom 'Queso-Dillas' With Chunky Guacamole
Vegan cheese is the secret behind this ooey, gooey plate. You can either make your own or use store-bought—either will be just as tasty. Get the recipe at Healthy Happy Life.
See also Delicious Salad Recipes That Help To Get Your Beach Body
5 Superfoods You Need To Eat That Make You Beautiful
Join the new knock-your-socks-off membership of Bright Line Eating® Click here.
If you need help with losing weight and keeping on track, the Bright Line Eating program is a great program to support. It is based on cutting-edge psychology and neuroscience. Susan Peirce Thompson, Ph.D. It is focused on establishing healthier eating habits and is also compatible with a vegan diet.