Delicious Salad Recipes That Help To Get Your Beach Body
Delicious Salad Recipes for the perfect beach body
Delicious Salad recipes are ideal for warmer days when we feel like having a light meal and a few pounds less. The salads are perfect. Those who still think that they are rather dull in terms of culinary delights are mistaken: the variety of green leaves and raw vegetables is enormous. Also, they are the best thing that can happen to your figure. Why? Because they satiate well without straining the stomach. And also, if optimally put together, bring metabolism-activating vitamins and minerals.
The way to the perfect beach body leads through the salad bed: For those who want to lose weight can eat healthy greens. And still: Although you eat each day diligently salad, does it just not work with the dream body? Maybe even the opposite occurs? Instead of losing weight, as you expect, do you even gain weight? If that's the case, you're probably going to make one of the following mistakes with your salads.
You eat a salad every day and still do not lose weight? That could be it!
You use the wrong dressing.
The golden rule in losing weight is: Stay away from finished products. So if you always reach for pre-mixed dressings from the fridge, it's no wonder that it does not work with the dream figure. They contain a lot of sugar and fat, so the inconspicuous ready-made dressings become hidden calorie bombs.
Much better and also tastier: make your dressing yourself. Some apple vinegar, olive oil, herbs (there's also practically from the freezer), stir a little mustard, and a dash of lemon. If you do not want to go without a creamy dressing, you can also mix avocado with it. You can also prepare the whole thing easily, and just after mixing, fill in an empty glass jar. You can just flip it over the salad the next day.
You exaggerate it with the toppings.
The more varied, the healthier? That must be so: Nuts provide only the good fats, an avocado anyway, some fruit gives the whole thing an exotic touch, and quinoa contains proteins and necessary carbohydrates. After all, you also have to be full. On top of it, a few more sunflower seeds and the culinary delight is complete – and the calorie bomb.
Of course, this combination is not unhealthy, but you should still have the nutritional values ​​in mind when putting together your salad. That's why you do not have to omit everything: for a lighter salad, you can simply use a little less of everything and fill up your portion with raw vegetables. Optimal cucumbers, tomatoes, and carrots are ideal here.
Legumes satisfy
Incidentally, legumes are also suitable for losing weight because they provide a lot of protein and therefore saturate well. Salads and vegetables are healthy because they provide a balanced combination of vitamins, minerals, phytonutrients, and fiber.
Delicious Salad Recipes That Help To Get Your Beach Body
Tomato Chickpea Salad with Cilantro & Lime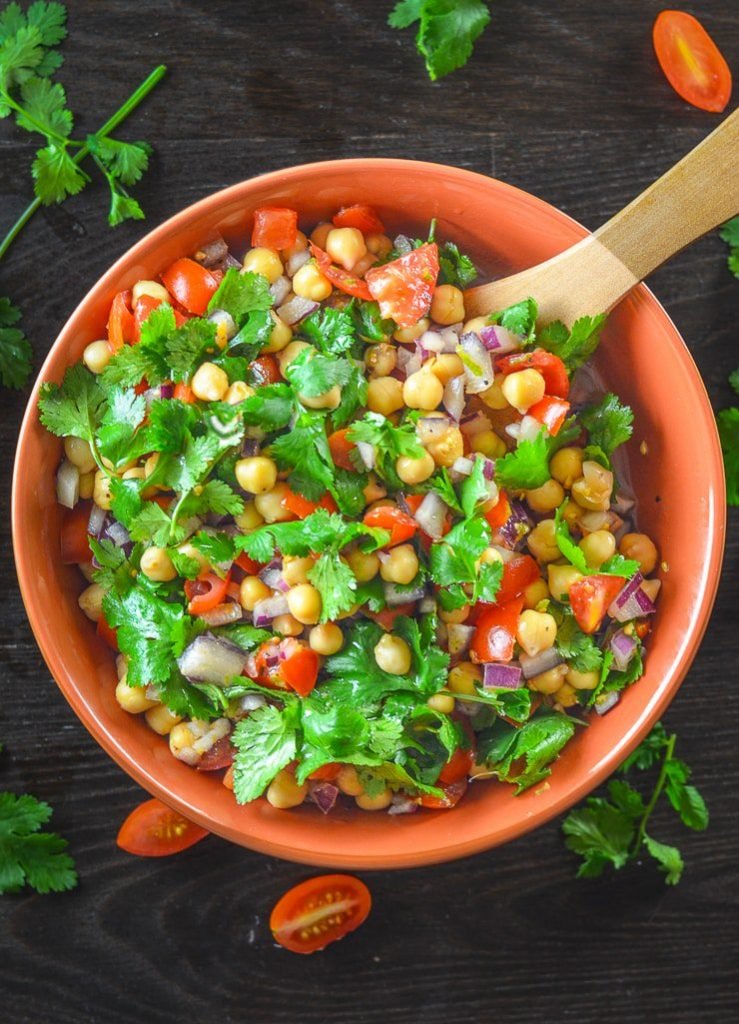 This Tomato Chickpea Salad with Cilantro & Lime has all sorts of good going on. It's full of nutrition, can be made in minutes & is packed with fresh, citrusy flavour! Get the recipe here.
Quinoa Cranberry Salad
This Quinoa Cranberry Salad is full of fresh, feel-good flavours that everyone will love! With nutrient-rich spinach, sweet dried cranberries and a zippy lemon dressing, it is able to stand alone as a protein-packed, healthy meal, or can be served as a side. It's easy to make ahead of time and is naturally gluten-free. Get the recipe here. 
Watermelon Mint Salad
A really simple, flavourful & super juicy, Watermelon Mint Salad that will keep you feeling cool as a cucumber during the warmer summer months! Get the recipe here.
You may love the Series: Salads in Abundance with Chef Cynthia Louise
Massaged Kale Salad with Savory Granola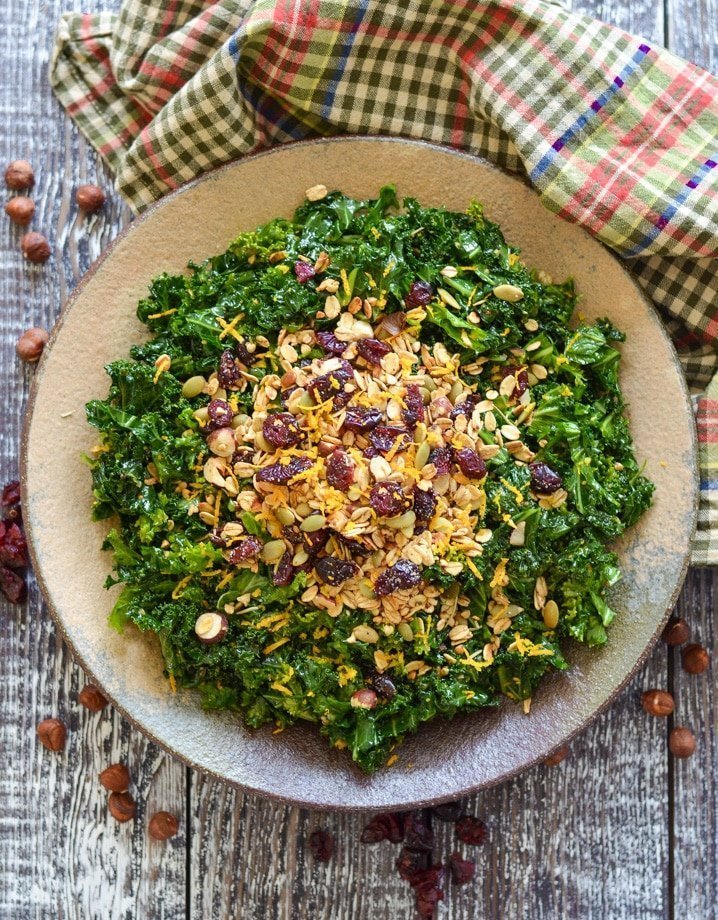 This healthy Massaged Kale Salad is dressed in a deliciously tangy orange vinaigrette then scattered generously with savoury granola which is, for the record,  THE perfect salad topper. Get the recipe here.
Peanut Crunch Salad In A Jar
A healthy, protein-packed, super tasty lunch doesn't get any easier than this Peanut Crunch Salad in a Jar. Make up a bunch of them while meal prepping on Sunday and you will have grab-and-go lunches all ready in the fridge for your week ahead! Get the recipe here.
Spicy Papaya Salad With Smoky Roasted Peanuts
Fed up with boring green salad? Try this fresh and spicy papaya salad with smoky roasted peanuts and a lime chilli dressing. Fresh, vibrant and healthy Get the recipe here. 
Get even more recipes here.
See also 10 Tempting High-Protein Recipes That Help You To Lose Weight
Read also Tips On How To Free Yourself From Emotional Eating
Eat raw salad daily as a low-calorie snack in between or as an appetizer>
SEE WHAT EATING DAILY HEALTHY RAW SALAD CAN DO FOR YOU