Try This Heavenly Vegan Peanut Butter Mousse Pie
|
Try this heavenly Vegan Peanut Butter Mousse Pie 
Chocolaty Pie made with peanut butter and mousse looks very delicious and I tell you that this is tastier than it looks to be in the pictures and the taste is really inexpressible. You don't ought to waste half an hour in Preparing this and even you need not bake this one.
It is easy fast and simple. Talking about ingredients, they are amazing and full of health. The deliciousness is guaranteed and it is tasty enough to introduce you to heaven.
Enjoy the treat!
Try This Heavenly Vegan Peanut Butter Mousse Pie
Vegan Peanut Butter Mousse Pie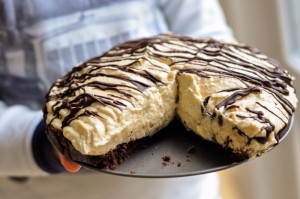 Author: Vanessa @VeganFamilyRecipes.com
There's not much to say except THIS VEGAN PEANUT BUTTER MOUSSE PIE IS TO DIE FOR! Seriously, after having the first bite I died, went to heaven, then stumbled back down, noticed I still had more pie , and went back to heaven. Over and over and over again ;D
Recipe type: Dessert, Vegan, Gluten-free
Serves: 1 pie
Ingredients;  2 cups Walnuts halves, 4 tablespoons unsweetened Cocoa Powder, 18 Dates or 10 Medjool Dates, Pinch of Salt, 1 cup Natural Peanut Butter (creamy, lightly salted), 2 cups Coconut Cream (chilled), 2 tablespoons Maple Syrup, ¼ cup Vegan Chocolate Chips (melted)
Instructions:
Line a 7-inch springform or pie form with parchment paper.
Prepare chocolate walnut crust by pulsing walnuts, cocoa powder, dates, and salt in a food processor until a sticky mass forms. Press firmly into the base of form and place in the freezer.
Mix peanut butter, coconut cream, and maple syrup with an electric mixer. Beat until peanut butter mousse is creamy and soft peaks form.
Remove pie crust from freezer and spread peanut butter mousse on crust using a spatula.
Melt chocolate chips in a warm water bath, or double boiler. Drizzle melted chocolate over peanut butter mousse.
There is more to mind while preparing this. read here
Also, see Vegan Desserts You Will Love And Can Enjoy Guilt-Free