New Restaurants Across United States You'll Love To Visit
|
Vegan Restaurants Across America You Should Visit – Updated
We posted about Vegan restaurants with delicious food across America in 2015.
See below.
There are some really amazing gourmet vegan restaurants in America.Here we show you 5 of them. It is mouthwatering only to look at the dishes.If you are a gourmet you may like to have a tour and visit these restaurants.This could be a delicious adventure an extraordinary experience. What about the Vegeria in San Antonio, Texas ?
Or Plant in Asheville, North Carolina ? Asheville is beautiful. Begin a meat free gourmet tour.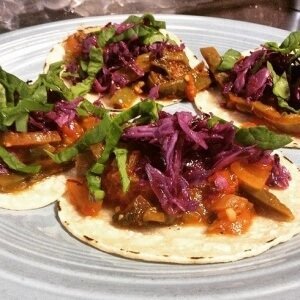 Where: San Antonio, Texas
What To Order: Sweet Potato Sundried Tomato Enchiladas with Sunflower Cream
This place prides itself on "serving and preserving Tex-Mex and Latino culture with plant-based cuisine." Their mouthwatering menu proves anyone can help pass on heritage through food, regardless of their diet.
Where: San Francisco, California
What To Order: Tostadas De Ceviche, made with coconut ceviche.
Gracias Madre professed a deep love and reverence for food, and it definitely shines through in their meals. Their creative vegan answers to traditional Mexican favorites are beyond impressive.
Where: Asheville, North Carolina
What To Order: The coconut cornbread with grilled baby green onions, sauce romesco and hazelnuts.
Plant loves Asheville, where they feel they can share a "deep concern for the environment, our individual and collective health, and ethical and compassionate lifestyles." But those serious undertakings don't take away from the always light and refreshing food.
See more restaurants on this site  24  Restaurants That Belong On Your Culinary Bucket List
But in between big changes happen. More and more Vegan Restaurants with astounding menu's open across the United States alone.
New Restaurants Across United States You'll Love To Visit – Updated
Vegan and vegetarian restaurants leave nothing to be desired. Explore the best vegan restaurants in your area! From high-end kitchens to down-to-earth fast food restaurants, from vegan breakfasts to multi-course, meat-free dinners.
Especially the vegan lifestyle is currently very trendy. The number of People eating plant-based and vegan increased alone in the United States by 600%
As more and more vegan restaurants open up, it's becoming easier to eat vegan food. They are forging new, up-to-date diets and lifestyles, providing vegans with delicious treats. If you want to eat vegan in US, here are lot of new awesome vegan restaurants.
Anyone vegan or vegetarian in the united states will find it easy to find great meat-free food, as there are numerous vegetarian and vegan restaurants not just in New York. The selection is so big that you are actually spoiled for choice. Eating in vegan restaurants is also worthwhile for anyone who likes to eat meat. So much in advance: It does not always have to be the "veggie burger", on the contrary, the restaurants offer something for every taste.and have a astounding variety of dishes. See the best addresses for your vegan food  and restaurants in the cities of the United States. Read about below in a article of PETA
Top 10 Vegan-Friendly Cities
Vegan eating is booming all over the country, as more people discover how it helps the Earth, our health, and animals. The release of films like What the Health and Okja sent vegan starter kit orders through the roof. New vegan restaurants are popping up everywhere, and even old standbys and chain restaurants are updating their menus with exciting animal-free options. So it seems only fitting that this year, four new cities have been added to our list for the first time ever: Cleveland; Kansas City, Missouri; Miami; and Omaha, Nebraska. This year, Los Angeles took the top spot on PETA's list. 
Continue reading here > Top 10 Vegan-Friendly Cities
Also read > Will Gordon Ramsay Go To Give This Vegan Thing A Try ?
BE WILD, BE BEAUTIFUL WITH   WILDCRAFTED, ORGANIC SKIN CARE          See the NEW PROBIOTIC SERUM WITH TREMELLA it may be the HYDRATING SERUM YOU'VE ALWAYS WANTED