What Is Vegan Skin Care? And DIY Recipes
|
Vegan Skin Care, Cosmetics Free of Animal Ingredients and Recipes
People are looking for Vegan skincare. More and more, the vegan lifestyle establishes in our society. But what is actually behind the vegan lifestyle?
In essence, it means that people, who prefer this way of life, completely avoid the consumption of animal products.
The consumption behavior of vegans affects not only the controlled food intake but also many other areas of life. For example,  cosmetics or garments whose fabrics are of animal origin are absolutely taboo.
The demand for vegan cosmetics is increasing.
The demand for vegan cosmetics is constantly increasing for ethical and moral reasons. It quickly becomes clear that it is not only vegans who buy cosmetics, who pay attention to animal-free production and care products without animal substances, but now other groups of buyers have joined.
In general, however, natural cosmetics should not be equated with vegan cosmetics. Many cosmetics manufacturers only use active ingredients from non-animal sources for the production of vegan cosmetics but may have to resort to substitutes that contradict the principles of natural cosmetics.
In order to declare perfect vegan natural cosmetics, it is imperative that the production of cosmetic products guarantees to be without the use of animal substances and, at the same time to meet the criteria of pure natural cosmetics to the full extent.
Vegan cosmetics – what does it mean?
More and more beauty labels rely on vegan cosmetics. But what does that actually mean, and how does it differ from conventional products?
The definition of vegan in cosmetics
Vegan originally stands for a personal attitude to life and the associated diet. People who live vegan avoid all foods of animal origin and the use of all animal products.
Unfortunately, the definition of vegan in the cosmetics industry is not quite as strict. However, vegan cosmetics dispensed with all ingredients that come from animals, such as beeswax, but not entirely on animal testing to test series for a market introduction.
This is not due to the cosmetics companies themselves but rather to the REACH (Registration, Evaluation, Authorization, and Restriction of Chemicals) Regulation, which even requires animal testing for certain cosmetics ingredients to ensure a high level of protection for humans and the environment.
Vegan also has nothing to do with the packaging industry in the beauty industry. The use of raw materials for packaging, whether harmful to the environment or recyclable, is defined solely by the manufacturer.
Vegan cosmetics and natural cosmetics – what's the difference?
You also want your cosmetics products free of animal suffering and have always wondered what makes natural cosmetics really different from vegan cosmetics: Here, you get the most important answers!
It is well known that many large beauty companies conduct animal experiments before launching new cosmetic products. Therefore, it seems a perfect alternative to switching to natural cosmetics. But natural cosmetics are not always synonymous with vegan cosmetics.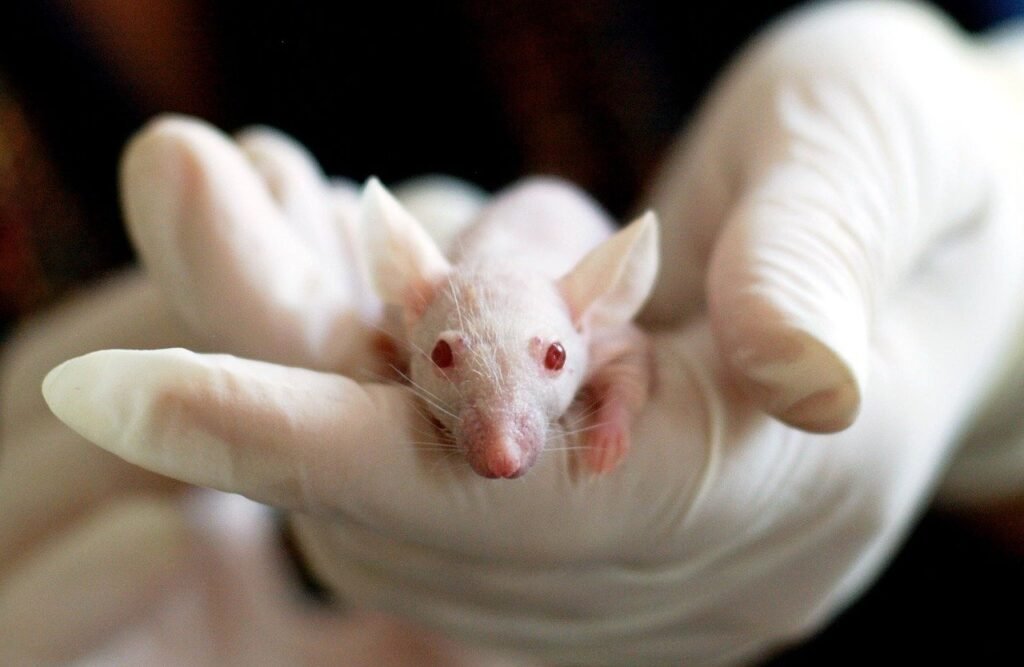 What are natural cosmetics?
Natural cosmetics are defined by the fact that all ingredients have been produced on a vegetable or mineral basis. Harmful or controversial substances such as paraffin, parabens, silicones, and synthetic fragrances are taboo. Also, genetic engineering, radioactive irradiation, and also on animal experiments are omitted.
However, according to the guidelines of the BDIH (Federal Association of Industrial and Trade Companies for Pharmaceuticals, Health Food, Dietary Supplements, and Cosmetic Products), only the end products may not be tested on animals; this guideline does not apply to the individual ingredients.
Attention – the ingredients of natural cosmetics are not automatically vegan: Natural cosmetics not only contain raw vegetable materials but are also made from the products of living animals, such as milk, honey, silk, lanolin, and eggs.
 Vegan cosmetics include these substances.
In vegan cosmetics, however, no ingredients are used that are produced from animals or derived from animal products. Unfortunately, vegan cosmetics do not necessarily do without animal testing. The term "vegan" is not clearly regulated or protected by law. That's why you should keep a close eye on the companies that make vegan products.
For example, any brand that wants to distribute its products in China has to re-test its products on animals according to Chinese specifications, even if cosmetic products have already been successfully tested and marketed in other countries, such as Europe.
How do natural cosmetics and vegan cosmetics change your shopping habits?
Before you buy cosmetics, you have to decide: Do you prefer vegan cosmetics for the ingredients, or do you also want to avoid animal suffering?
The good news is that many companies that offer vegan products, out of conviction, pay close attention to this aspect. To help you navigate the wealth of beauty products, for example, Peta offers a detailed list of cosmetic companies that do not conduct or commission animal testing. The V label also gives you information about whether it is an animal-free product.
Click here for Annmarie Gianni's vegan products.
Vegan cosmetics are not the same as natural cosmetics. What to look for?
If no rabbit is on the plate, then please not on the skin. So the approach of a consistent vegan attitude to life. Who would like to use a shower gel for which animals suffer or even die? Consumption is becoming more and more aware today, and many people are not only interested in attractive packaging and beautiful bottles but also in what's in them.
Often it is not easy to find animal-free products because the excipients of the products are often due to an animal origin. These animal raw materials can be found in cosmetics.
Keratin
For example, keratin, which is often part of shampoos and hair conditioners, is derived from ground hooves, feathers, or horns. Also, the artificial "strawberry flavor" is not derived from berries but from chicken feet
Lanolin
the ingredient, commonly referred to as lanolin, is a secretion derived from the sebaceous glands of sheep. This can be recovered when washing sheep's wool.
Beeswax, Cera Flava – beeswax
Beeswax is a waste product from the glands of the honeybee, which it uses to produce its honeycomb. In the cosmetic field, beeswax is often used as an emulsion, as a melting point enhancing component in body melts, for lip care and in hair care products to provide shine.
Beeswax hydrolyzate, Hydrolyzed Beeswax
Preparation of beeswax.
Sodium Beeswax – Beeswax soap
Beeswax soap is a consistency regulator in most cosmetic products and is used as a protective wax component.
Reliable can animal-free cosmetics and toiletries only on seals recognized. Because statements by manufacturers such as "the product has not been tested on animals" or "we do not carry out animal testing" may be misleading: individual ingredients may well have been tested on animals, or manufacturers may commission animal experiments from other companies.
Seal for animal-free cosmetics
Leaping Bunny Label for Cruelty-Free Cosmetic Leaping Bunny
The seal "Leaping Bunny" is currently the only internationally valid seal that distinguishes cosmetics without animal experiments. It is awarded by the Coalition for Consumer Information on Cosmetics (CCIC), a network of eight animal welfare organizations from different countries.
The companies that use the seal undertake not to carry out, commission, or participate in any animal testing; this applies without exception to all ingredients and end products. They also do not purchase ingredients, formulations, or products from companies that have carried out or commissioned animal experiments. The companies also establish an effective control system with regular supply chain inspections.
Make vegan cosmetics yourself.
With these simple recipes, you'll be able to charm yourself with your natural vegan cosmetics.
Facial masks
Facial masks can usually be easily mixed with normal ingredients from the kitchen for any application. So you save not only money and packaging waste but also questionable ingredients that are in purchased masks. And unfortunately, many recipes for DIY masks are unfortunately not vegan at all. So here's our list of vegan ingredients that are skin-beautifying.
Especially receptive is the skin if it is peeled before. And you can easily do the peeling yourself by mixing some facial oil with sugar or ground coffee.
Basically, a spreadable paste is always mixed for the face mask. You can always add some whole grain flour, almond flour, or ground oatmeal if it gets too liquid. The paste is applied to the cleaned, peeled face, and after min. 10-15min or when it dries, rinsed with warm water.
So start mixing and try it. Here are our beauty secrets:
Anti Blackheads – Masks:
Baking soda mixed with water, Sugar with lemon juice
Clay or healing clay mixed with 1teasp apple cider vinegar + 1tsp facial oil
1TL turmeric or grated nutmeg + 2 teaspoons soy yogurt
One teaspoon of lemon juice with fresh yeast
Firming, activating masks:
One teaspoon wheat germ + 1 teaspoon soy yogurt + a few drops of facial oil ,or
1 teaspoon ground coffee + 1 teaspoon cocoa powder + 1.5 teaspoons soy yogurt
Masks for glowing skin:
Two large strawberries, crushed + 1 teaspoon ground oatmeal or oatmeal
crushed papaya or pureed pineapple + 1 teaspoon almond flour
Masks for dry skin:
pure pureed avocado or crushed banana
4 tbsp puréed cucumber + 1 tbsp soy yogurt + 1 tbsp wholemeal flour
After the mask has been rinsed off, usually a light moisturizer or, as in our case, 2-3 drops of facial oil, which keeps the skin smooth and supple.
Hair-wash without shampoo.
Wash your hair without shampoo! Because these products not only cost a lot, it also creates a lot of garbage. Quite apart from that, many hair care products contain silicones and aggressive sulfates that we do not want to have on our heads or in the sewage. There are so many possibilities to do without conventional products without having to compromise. The hair and the scalp are happy about the natural treatment; you will see! It may take a while for the natural balance to be restored, so give it a little bit of time.
Try and experiment
Soda + Vinegar
You will be thrilled by washing your hair only with soda (baking soda) and apple cider vinegar. The hair will be strong, soft, smooth, shiny, and less fat-fasting. How to do that? Simply dissolve two teaspoons of soda in a 1/2 cup of lukewarm water and massage into the hair. Allow to soak in, rinse and rinse the hair with 1 part of vinegar and three parts of water, leave to soak for a short time, and rinse.
Put the soda-water mixture in a washed-out shampoo bottle so the application is even easier.
Caution with dyed hair: the soda can fade the color!
Vegetable oil soaps
For example, Aleppo, Olive Oil Soap,
A very user-friendly option is soaps made from vegetable oils. Many natural cosmetics manufacturers already have extra hair soaps. Simply foam the soap between your hands, massage the foam into your hair, and rinse it out.
Conditioner with coconut or olive oil
Especially dry or stressed hair and flaky scalp can sometimes tolerate some extra care. Coconut oil balances the pH of the scalp and moisturizes it. Simply massage a little oil into towel-dried hair and leave for an hour. Then wash with the shampoo of your choice well.
Just try what suits you best. Say goodbye to shampoo!
Face & Body Care
Cosmetics that you can eat as well?
Yes, go into the kitchen in search of products that help you to a radiant appearance, and you will find more than expected!
The omission of dairy products can help you to improve your skin appearance. In addition to basic foods, eat lots of raw food with fresh fruits and vegetables.
But you can also put your fruits and vegetables into your face right away! Here are 5 beauty products from the kitchen which give the radiant appearance the icing on the cake:
10 Beauty Tips – Coconut Oil For Beauty
Facial cleansing with oil
Oil cleaning method: Hard to believe and yet so effective! Rub the face with oil, preferably good sesame, olive, or coconut oil, 2-3 drops of tea tree oil against impurities, massage briefly and leave to work, and then wash off with a washcloth and warm to hot water again.
Coffee scum as a scrub
Please, in organic quality! The caffeine kick and the coffee particles leave a nice fresh skin. Just massage gently with coffee; otherwise, the skin will blush quickly.
Use baking powder as a bath additive.
Simple baking soda as a bath additive brings velvety soft skin. Also great for the face wash!
Avocado as a facial mask
Smash some soft avocado and smear it on your face. After 10 minutes, rinse with warm water, and you'll feel like new! The vitamin E content of the oily fruit ensures cell renewal and pleasantly velvety skin.
Use The Miraculous Avocado For Skin Care
Lemon and natural apple cider vinegar as a tonic
Against skin blemishes and large pores, diluted with water, lemon juice, or mild apple cider vinegar. Soak a cotton ball in it and rub off the face.
Body care.
Native organic coconut oil is a true all-around talent. Great for cooking & baking, and perfect for body care.
Dental and oral hygiene:
Make your own toothpaste: Mix 2 tablespoons of coconut oil with one tablespoon of sodium bicarbonate. Add dried, grated peppermint to taste. Apply with a teaspoon on the toothbrush and clean as usual.
Try oil pulling for white teeth & healthy gums: put 1 tbsp of coconut oil in your mouth once a day and pull through your teeth for up to 10 minutes. Spit out the oil, do not swallow! Rinse your mouth thoroughly.
Face & Body Care:
Mix your deodorant yourself: Mix ¼ cup melted coconut oil with ¼ cup soda, ¼ cup cornstarch, and ten drops of your favorite essential oil. Fill in a small tin and thinly apply with your finger if necessary.
Treat your skin: Just take pure coconut oil as body butter.
Mix your DIY lip balm: melt 1 ½ tsp. Coconut butter and 1 ½ tsp. Carnauba wax in a water bath. Add two teaspoons of coconut oil and mix. Remove from heat and add two drops of essential oil, e.g., Cinnamon, and stir. Put in a small screw-cap jar.
Shave without foam: After showering, apply coconut oil, massage, and shave as usual.
Goodbye to dark circles: Massage the coconut oil onto the affected area and let it work.
Do it yourself body lotion
• 135 g shea butter, • 25 g almond or olive oil, • 35 g of coconut oil, • 10-15 drops of essential oil (
Put all the fats in a metal bowl and, melt in a water bath, mix with essential oil. Allow the mixture to cool to room temperature. Then, place it in the refrigerator to solidify. With a hand mixer, the cold mass is stirred foamy. Finally, put the body cream in a closable glass jar or use it directly. The body lotion lasts for several months and does not need to be stored in the refrigerator.
Try the recipes and see how they will make you feel. You can find more recipes and beauty tips here > Beauty With Food.
Click here for >Annmarie Gianni Natural Organic Products Review
Read also   Why You Should Choose a Natural Sunscreen for Your Health & the Environment
Take your beauty routine to new heights with the Aloe Herb Cleanser, Anti-Aging Serum, and Anti-Aging Facial Oil that promises beautiful skin. This 3-step routine from Annmarie Skin Care is made with only wildcrafted organic ingredients,100% free of toxins and synthetic fragrances. Plus, get a FREE Antioxidant Lip Balm for a limited time to keep your winter lips hydrated and glowing. Don't miss out—get your Clean Beauty Trial now!
See also 5 Recipes With Ginger Help Losing Weight Easy And Effective.