Spring Is Coming With Vegan Veggie Noodle Recipes For You
|
Vegan Veggie Noodle Recipes for Spring
Vegan Veggie Noodle Recipes for the coming spring are here for you to try and make the Noodles with a Spiralizer or with a veggie peeler. Anyway, a spiralizer works faster and it is easier to prepare the noodles or also called zoodles.
The Trend Food Zoodles is a low carb hit from spiralized zucchini and other vegetable strips
Do you already know noodles from vegetables? Fresh and tasty, they are a great alternative to familiar pasta dishes and bring a lot of lightness and vegetables to your plate
Zoodles are a low-carb food trend. The nice name conceals zucchini or other vegetables in noodle form. Delicious, light, and healthy. Instead of flour, you can use vegetables as dough substitutes, so Zoodle dishes have fewer calories and provide potassium, magnesium, and calcium. The Zoodles taste fresh and crisp and are relatively neutral, so you can wonderfully refine them with sauces and toppings.
All these recipes you can make with fresh organic vegetables. Carrots, Eggplants, Kohlrabi, and Zucchini make nice long noodles. It can be fun eating your vegetables this way and kids always love noodles.
All the Vegan Veggie Noodle recipes have delightful dressings and are full of fiber and nutritious. Start the spring with these healthy dishes. Try them all and find your favorite. Eat a big bowlful and enjoy feeling satisfied without a lot of calories.
If you do not have a Spiralizer see below and get yourself the best one.
 Spicy Golden Beet Noodles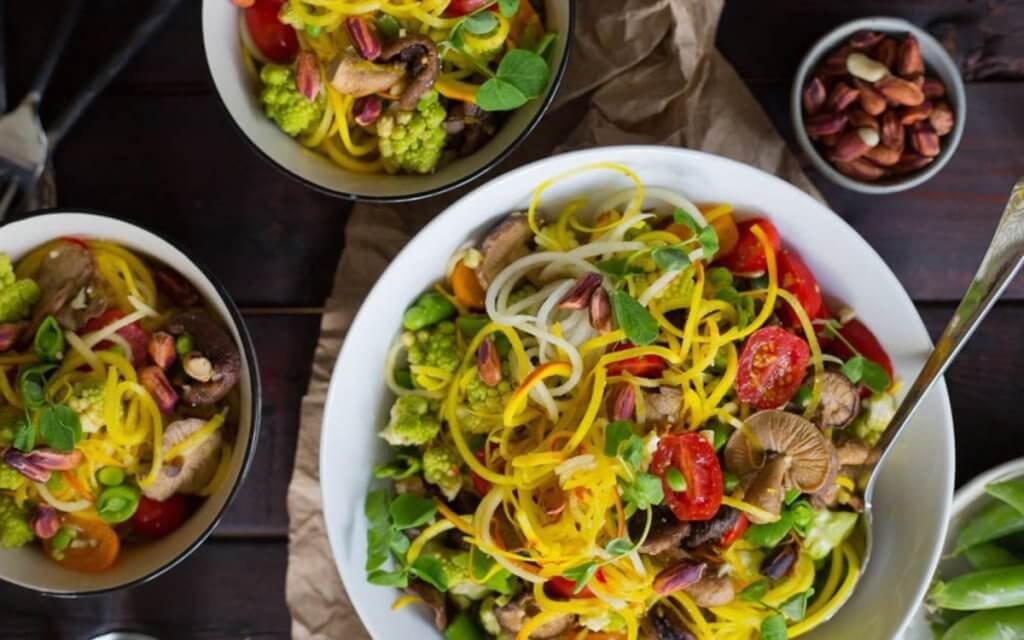 This Golden Beet Noodle Salad is filled to the brim with fresh and vibrant vegetables. The beet and daikon noodles are crisp and tossed with mushrooms, peas, cherry tomatoes, and Romesco. The garlic-ginger dressing adds a layer of spicy flavor. This salad comes together with very little effort, but it doesn't suffer in terms of flavor, due to the uniqueness of each ingredient.
 Japchae: Korean Sweet Potato Noodles
Japchae is a Korean dish you can make with stir-fried sweet potato noodles in soy sauce and sesame oil. In this Japchae recipe, sweet potato noodles are cooked with zucchini, carrots, other vegetables, and mushrooms in a splash of soy or tamari for umami flavor.
Sweet and Sour Cucumber Carrot Noodles
This bowl of vibrant Sweet and Sour Cucumber Carrot Noodles looks gorgeous and tastes even better. The noodle base is filling, with great crunch and texture, and the chickpeas add a meaty texture. A drizzle of a homemade sweet and sour dressing adds yet another layer of flavor. This refreshing dish is perfect for the transition from cool weather to warmer days.
Sweet Potato Noodles and Coconut Curried Veggies
In this dish, Sweet Potato Noodles made a bright, colorful, and delicious base for a big bowl of curried veggies. Carrots, shitake mushrooms, and cauliflower cook with creamy coconut milk and spicy curry powder for a light, healthy meal that's quick and flavorful
4. Heirloom Carrot Pasta with a Sunflower Cheese Sauce
This Heirloom Carrot Pasta with Sunflower Cheese is perfect for spring. Colorful spiralized heirloom carrots create a veggie pasta that has more crunch than your standard zoodle — and the colors are so pretty! Topped with a sunflower seed cheese sauce, this unique pasta dish is ideal for those who crave a cheesy pasta dish with no gluten and no nuts!
Zucchini Pasta With Basil Hemp Pesto
Break-in your new spiralizer and make this Zucchini Pasta. Spiralize zucchini noodles toss in pesto from fresh basil, spinach, hemp seeds, sunflower seeds, and even more zucchini. It's a light dish that's not at all light on flavor.
Kohlrabi Spaghetti alla Foriana
Try spiralizing veggies that are new to you for a change from the usual zucchini noodles. ThisKohlrabi Spaghetti Alla Floriana uses an underappreciated vegetable to make noodles. They get cooked in a sauce made with walnuts, pine nuts, and garlic for an intense and delicious flavor.
Vegan Creamy Ginger-Coconut Kale Zucchini Spaghetti
You can't get greener than this Kale Zucchini Spaghetti dish. Spiralize zucchini noodles, fresh basil, and green peas. The sauce is green too because it's got kale mixed into the cashews and coconut milk. This dish makes it easy to be green.
Read also > SPIKE YOUR INTEREST WITH PINTEREST FOR HEALTHY VEGAN FOOD