How About A Vegan & Gluten-Free Mushroom Rice Burgers
|
 Vegan & Gluten-free Mushroom Rice Burgers
You will love these Vegan & Gluten-free Mushroom Rice Burgers. Many like to eat burgers; those made of Rice and Mushrooms can get a family favorite. Serve it together with lots of greens and a healthy spicy salad. It can be a nice meal to take to school in a lunch -box for the kids or for lunchtime at work.
Chestnut Mushrooms have better flavor and texture than plain white mushrooms and are also known as brown cap mushrooms. They contain more beneficial minerals than white button mushrooms. A 100 g serving contains 2 percent of recommended daily intake of calcium, 13 percent of potassium, and 37 percent of selenium. A 100 g serving of white mushrooms contains less than 1 percent of your calcium intake, 9 percent potassium, and 13 percent selenium. A Chestnut Mushroom is the same mushroom as White Button Mushrooms, but it is a strain that grows just a bit browner instead of white, giving it a tan-colored top.
This Chestnut Mushroom Rice Buerger also makes a good snack to take with you for hiking or biking. The choice is yours. Enjoy this savory Burger!
SAVORY MUSHROOM AND RICE BURGERS [VEGAN, GLUTEN-FREE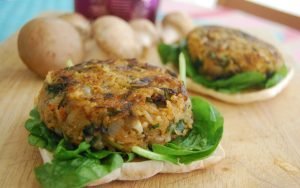 The burgers in this recipe are both savory and earthy, thanks to the lightly seasoned mushrooms and rice. They can be fried or grilled — the choice is yours, and either one is delicious! Serve it on toasted buns with plenty of greens.
SAVORY MUSHROOM AND RICE BURGERS [VEGAN, GLUTEN-FREE]
THIS RECIPE IS: Dairy FreeGluten-free RecipesVegan
INGREDIENTS
8-10 chestnut mushrooms, 1 onion, 1 garlic clove, a Small bunch of parsley, 1/2 of 1 zucchini, 1 teaspoon oregano, 1 teaspoon  paprika, A pinch of chili flakes, Salt and pepper, to taste, 1-2 tablespoons rice flour, 1 cup cooked rice
ASTOUNDING GLUTEN-FREE VEGAN GRAIN REPLACEMENT DISHES
VEGAN JUNK FOOD? HOW TO MAKE JUNK FOOD HEALTHIER (VIDEO) 
HEALTHY VEGAN RECIPES TO COMFORT YOU