Joined Veganuary? Learn How To Cook These Yummy Easy Recipes
|
Learn How To Cook These Yummy Easy Recipes To Begin Veganuary.
Learning how to cook easy recipes can be a pleasure in our time. One of the most positive aspects of going vegan is the inspiration to cook again and being aware of healthy ingredients. Also, there are so many tools that make preparing food fast and easy.
This year even more people joined Veganuary. It is an excellent opportunity to try a new diet with the New Year. The composition of vegan and January inspired almost 600,000 people in 2021.
There are the prejudices that a vegan lifestyle is highly complicated and associated with monotonous eating, but this is not reality. You switch to a diet with delicious, healthy food that reduces your weight and has a more significant impact on the environment. No matter what your motivations are, January offers the perfect opportunity to go vegan. Health, the environment, and animals are happy about the trendy diet.
Benefits of joining Veganuary and go vegan
Animals: Factory farming and non-welfare animal husbandry are the primary motivation for many people if they decide to live vegan or vegetarian. You will find many tasty recipes that do not require any meat or animal products.
Environment: Reducing greenhouse gases from agriculture, transport routes and water consumption are a few factors that have a positive impact on the environment.
Health: Many People report after going vegan they, feel fitter, look forward to more beautiful skin, and see weight management successes. Being vegan means more awareness of nutrition and a shift to wholesome and fresh products. Whoever wants to do something good for the body, a vegan lifestyle is an excellent way to do it.
Vegan foods are nutritious and contain many vitamins, minerals, and complex carbohydrates. These prevent cravings and give a longer feeling of satiety. Fruits, vegetables, wholegrain, and seeds, contain fiber, which is also good for digestion. Open your senses and your heart for a new taste experience. In addition to a salad, there is so much more that can be tried and enjoyed.
Vegan cuisine has more than enough to offer. Try this, for example, Easy Instant Pot Recipes or even more comfortable, Make Delicious Warm Raw Soup. There are options where you do not even need a stove and stay in the kitchen for hours. These Top Raw Vegan Desserts Will Change Your Life Veganuary offers the perfect opportunity to go vegan and learn to cook yummy, easy recipes that are beneficial for your health. What about a cooking party to inspire friends? Discover and learn how to cook these easy and yummy recipes.
Learn How To Cook These Yummy Easy Recipes
Vegan Jalapeno Popper Mac and Cheese
The prep time for this incredibly creative blend of mac and cheese is a mere 15 minutes. Get the recipe here.
Breakfast Ranchero Crunchwrap
If you can fold a tortilla, you can absolutely make this bomb recipe.
One Pot Mixed Bean Chili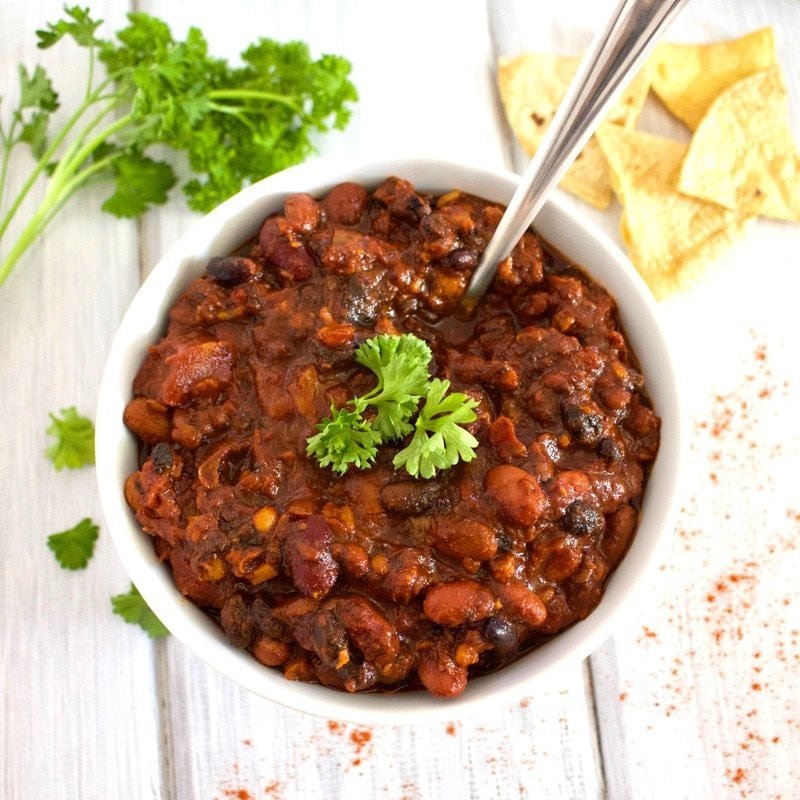 Few things are as simple as vegetarian chili, and this recipe will prove it.
Vegan Garlicky Parmesan Pasta Soup
A simple recipe that'll soothe your freezing soul during the cold winter
Crispy falafels
Have you heard the good news about pan-fried falafel patties yet? They're crunchy, savory, and can be paired with just about any type of green to make a complete meal. Recipe here.
Lentil Burger
If you like lentils, this drool-worthy recipe is the veggie burger for you. Caramelized onions and mustard sauce make the whole meal.
Easy Vegan Fried Rice
Save yourself from another order of take-out and learn how to make fried rice at home with this recipe.
Chickpeas in Turmeric Peanut Butter Curry
Every vegan diet should include some kind of curry dish as a regular staple, so get started with this recipe for a savory peanut butter dish
Chickpea Flour Omelette Muffins
15-Minute Garlic Lime Cashew Zoodles
If you have a spiralizer, this recipe will come together in 15 minutes. If you don't, grab some pre-spiraled zoodles in the store and I bet you can make it even faster!
Find even more recipes here
See also Learn to Cook Vegan if You Are in Your Twenties
DID YOU EVER TRY A DELICIOUS RAW VEGAN PAD THAI?
Joined Veganuary? To help you keep on track we have a gift for you. Fill out the form below and download Your Free Plant-based Recipes e-Book.
Discover 15 easy, healthy, and tasty recipes, including breakfast, lunch, dinner, treat, and smoothies