4 Millet Recipes That Can Make You Beautiful
|
Can Millet make you beautiful?
Do you want to have beautiful skin, shiny and thick hair, and beautiful fingernails? Then eat millet regularly! 4 millet recipes for your beauty and happiness are below.
This alone may not be enough, but it is a good start for more health and beauty.
Millet makes you happy as well
In the Middle Ages, because some people felt an antidepressant effect, they called it the happy grain. Millet is full of essential vitamins and minerals; you can imagine a beneficial impact on the organism very well.
Potatoes, wheat, corn, and rye have displaced millet in recent centuries. Now millet is experiencing a renaissance due to her high nutritional content. It contains a lot of iron, magnesium, vitamin B1, and vitamin B6. Millet has many extraordinarily beneficial properties on the organism.
From the perspective of Chinese medicine, it harmonizes and strengthens the middle, has a diuretic and detoxifying effect. It supports Qi.
Four millet recipes and their effect according to TCM
Effect of millet according to TCM:
Thermal effect: slightly cooling
Organ reference: spleen, stomach, kidney
Effects: tones the Qi, releases moisture, strengthens the blood.
Also, it is good for: weak connective tissue, diabetes, lactation during breastfeeding, fungal disease, candida, dry eyes, brittle nails, and hair, strengthens teeth and bones
Preparation: wash hot, boil for about 10 minutes in twice the amount of hot water (depending on the variety)
The variety that is meant here is the gold millet. It is peeled and easier to digest.
Incidentally, millet is gluten-free and tastes slightly sweet.
It supplies a lot of minerals and iron.
Tip for shopping: Try yourself through the various providers. Some millet becomes more substantial than the others. It probably depends on how carefully the millet is peeled.
Millet is also available to buy as millet flakes. Cooking time: about 5 minutes. They are well suited for a sweet breakfast buffet. But beware: millet flakes are quickly rancid. Pay attention to excellent and fresh quality. Try the Millet recipes below and enjoy!
4 Millet Recipes That Can Make You Beautiful
Millet Cakes with Carrots & Spinach
These veggie-packed curried millet cakes make a fun, unexpected, and delicious vegetarian dinner! I don't know about you, but I've spent a lot of time trying to get quinoa to stick together to form cohesive patties. With eggs, without eggs… I've made countless variations, some more successful than others, but now I have just one word: millet.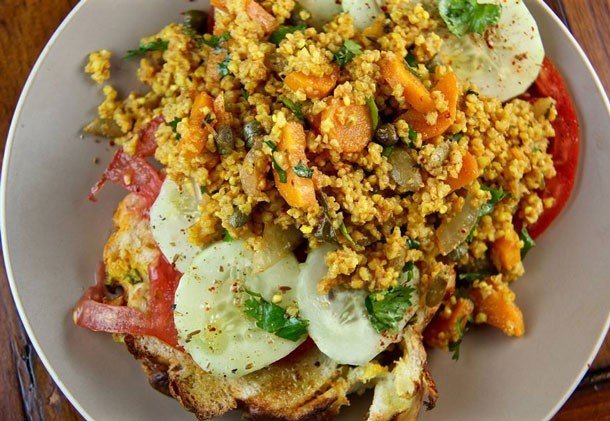 Healthy whole grains are an important component of the Mediterranean Diet. I love incorporating healthy whole grains with vegetables or grass-fed meat into meals for the family. One of my favorite grains is millet. It is a North African grain high in fiber, that is gluten-free and has a great texture.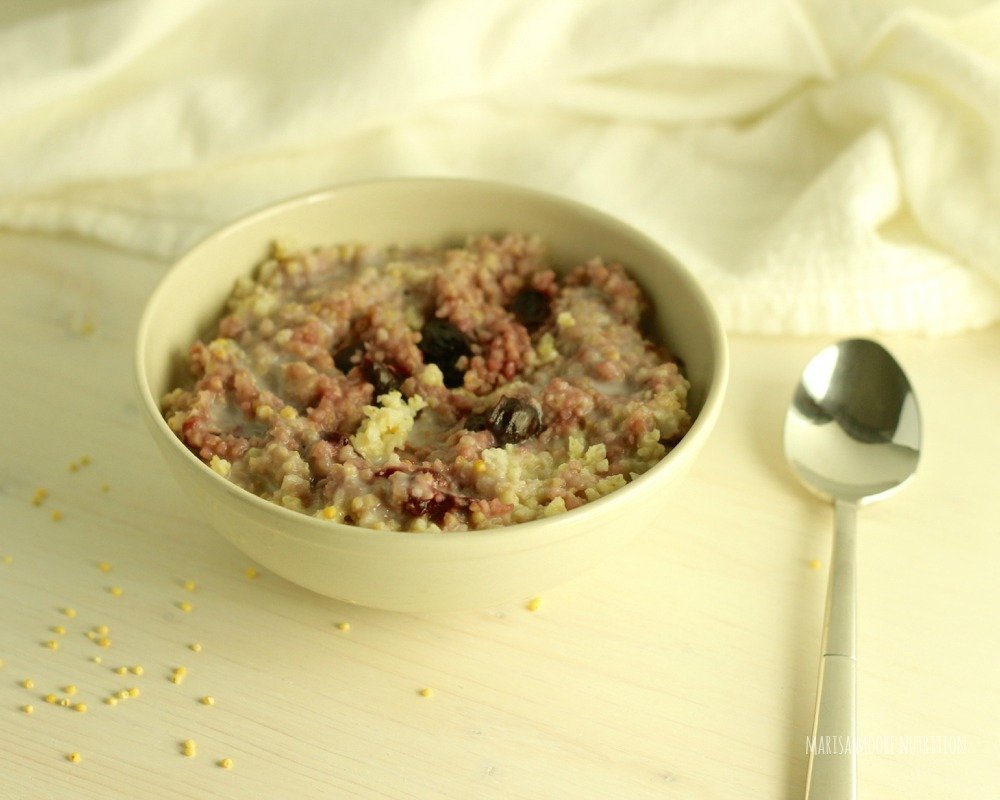 This Creamy Coconut Cherry Millet Porridge is a satisfying breakfast that's delicious and nutritious. Millet is one of those ancient grains popping up on every food trend list over the past couple of years. Though it may be new to many, millet has been around for years. Chances are you've passed it by in the bird food aisle.
We grew really fond of these sweet millet balls recipe. Although millet is usually an under-rated grain, it is very important, not to mention nutritious in a gluten-free diet. If people hear millet, they most probably think of side dish, therefore this millet dessert is definitely unique on its own. We love our sweet millet balls with a fruity sauce with a hint of cinnamon. They can be really mouth-watering.
See also Millet From The Birdseed To The Superfood
Another Recipe > HOW TO MAKE A GLUTEN-FREE VEGAN MILLET PIE (VIDEO)
Join the new knock-your-socks-off membership of Bright Line Eating® Click here.
The Bright Line Eating program can support and accompany you. It is a program based on cutting-edge psychology and neuroscience. Susan Peirce Thompson, Ph.D., created this program using the experiences and knowledge of her weight loss journey. The program focuses not on willpower but on establishing healthier eating habits. This unique approach is helping people every day to lose weight by changing their lifestyle and eating habits.