Ancient Grain Recipes That Make You Fall In Love With Them
|
You will love these ancient grain recipes
Ancient grain recipes are versatile. Do you love grains and you could eat it for dinner, lunch and breakfast? If you roll your own sushi, always do it with brown rice. Okay, you love grains and you love complex carbohydrates, and with good reason.
If you want to improve your grain game, These ancient grain recipes are for you. Grains that have remained largely unchanged over the last few hundred years. They are non-GMO. Ancient grains are an easy way to boost B vitamins and fiber and give you the extra energy you need for your body. Many of them are gluten-free. Read on to learn about indispensable ancient grains and the tastiest way to cook them.
Ancient Grain Recipes That Make You Fall In Love With Them
Millet 
Contrary to what you may have heard, millet is not just for the birds. Not only is this cereal gluten-free but also alkaline, making it easier for your body to digest than your average grain. The taste is mild and slightly sweet. Try it as a substitute in a rice dish or in a vegan patty.
YELLOW SPLIT PEA AND MILLET CAKES WITH CARROT MISO SAUCE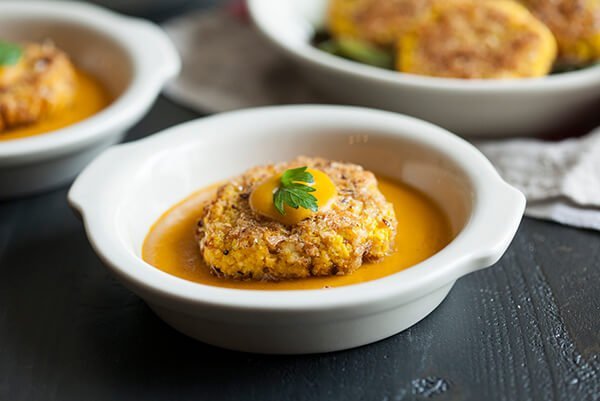 You can serve these cakes with sauce and a big, fresh summer salad, along with a grain dish, or maybe with some grilled tofu or tempeh. They're also great stuffed into pita with the carrot sauce for a quick lunch! Here's the recipe.
CHEWY VEGAN BLUEBERRY MILLET-QUINOA SNACK BARS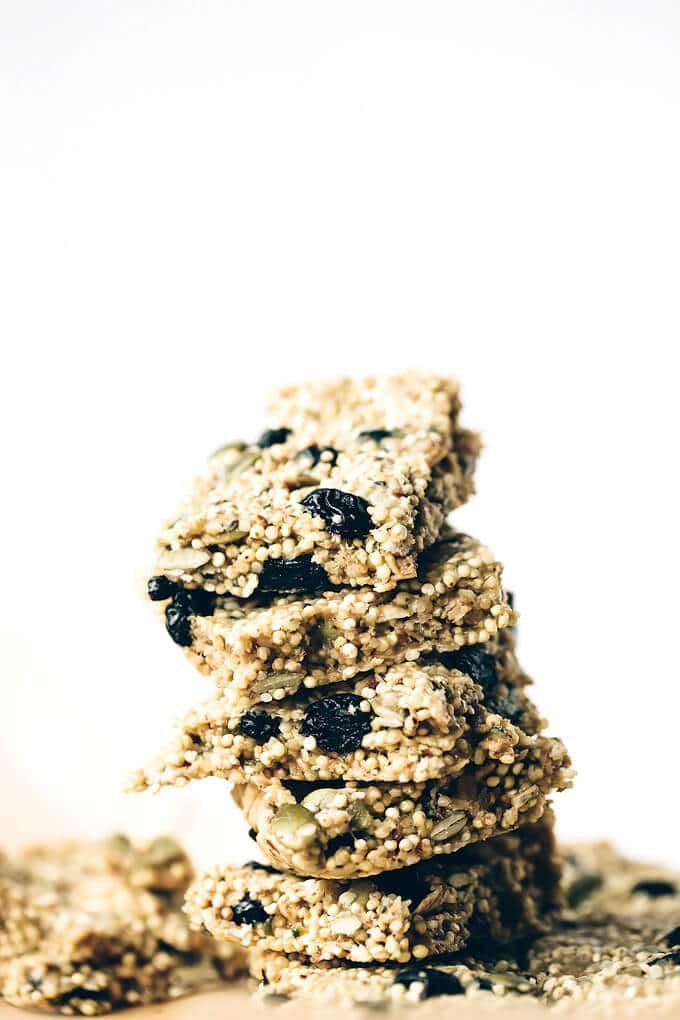 These vegan blueberry millet-quinoa snack bars (now that's a mouthful) are chewy, subtly sweet, and packed with mineral-rich seeds. They make the perfect afternoon snack or grab-n-go breakfast. Plus they hold together well at room temperature.
PANZANELLA WITH MILLET
Here is my recipe for Panzanella with Millet. It's a super quick vegan spring salad recipe with roasted bread cubes, cucumber, tomatoes, and strawberries
Teff
If you have ever eaten Ethiopian food and tried Injera, the delicious spongy flatbread that accompanies most of the dishes you had Teff. Teff is a type of grass rich in iron, fiber, calcium and protein. Like quinoa, Teff is gluten-free, although the actual grain size is much smaller. Try teff as a porridge, or use it in flour form to make your own Injera.
Teff Porridge Bowl Two Ways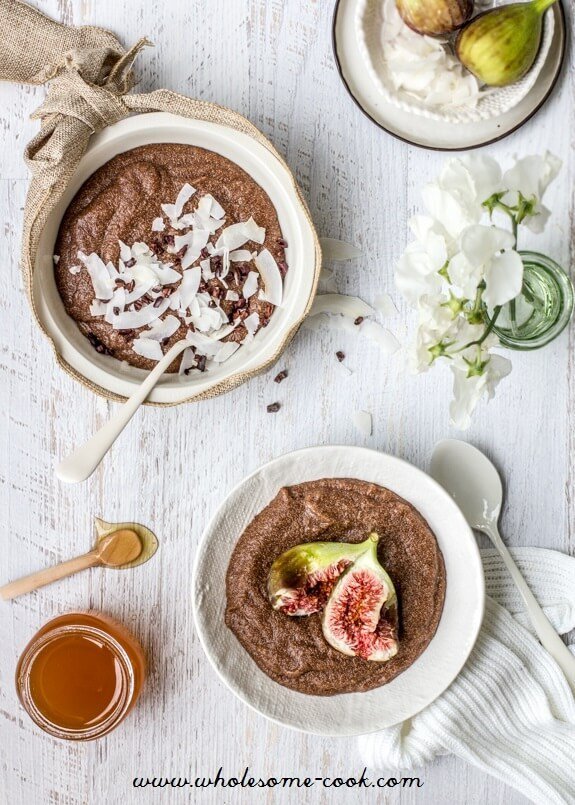 Aside from being gluten-free, making it an ideal porridge grain option for coeliacs and those with gluten and wheat sensitivities, teff is higher in protein than wheat, it's high in iron, calcium and amino acids. It has a pleasantly sweet nutty flavour and the seeds are the tiniest you've ever seen which also means you can easily turn the porridge into grits or polenta-like base for savoury dishes. Here the recipes
ETHIOPIAN INJERA – 100% TEFF FLATBREAD. VEGAN GLUTENFREE RECIPE
Injera (Ethiopian Flatbread): Making Injera at home can be a rewarding process. Once you've made a batch, you'll wonder why you do not always have them on hand to enjoy delicious sauces. Recipe here 
Amaranth
The staple of the Aztecs, this grain is, well, ancient. In Mexico, amaranth is used in a candy called "Alegría". These tiny grains are very absorbent. When cooked, amaranth is a bit soggy. Add this protein-rich and gluten-free ingredient to cereal mixes, hot cereals, soups and stews.
SMOKY AMARANTH BLACK BEAN BURGERS WITH ROASTED RED PEPPER SAUCE.
Smoky Amaranth Black Bean Burger: Give your home-made veggie burger some texture with small amaranth grains. They are the perfect way to absorb taste without adding too much.
Vegan Amaranth Bowl with Garam Masala Butternut Squash
Savory , pairing the mildly earthy grain with garam masala butternut squash, garlicky collards, and crisp apple slices.It's a porridge suitable for dinner. Well, more than suitable — more like a dinner to make you excited about the many ways you may be able to put this tiny but powerful grain to use. Recipe here
Kamut
Kamut may even be healthier then your brown rice. This grain is full of protein and low in fat. It has more chewing than most old grains and makes great in Pilaf and rice. Tip: Soak your Kamut overnight for a shorter cooking time. In the form of flour Kamut makes a hearty wholegrain dough for pasta, bread and more, although you should know that it is not gluten-free.
Vegan Kamut Artichoke Risotto
Kamut is an ancient grain that's only recently begun to gain recognition in the mainstream foodie world. It's chock full of protein and fiber, and is delightfully chewy. It makes a nice stand-in for rice in this non-traditional take on risotto.  Recipe here
Chipotle Carrot, Avocado, and Kamut Salad
In this Kamut salad, the Kamut lends a chewy texture and warm flavor that is the perfect bed for spicy roasted carrots and creamy avocado. Speed up the recipe by soaking the Kamut ahead of time. Recipe here
Sorghum
Sorghum is known to lovers as a syrup and sweetener, but it is also a popular grain in the gluten free community. It is a very versatile ingredient full of vitamins and low in fat. When ground to a flour, it is a great substitute for wheat flour. Whole, it can make a satisfying risotto or a tasty addition to salads.
SORGHUM PROTEIN PESTO POWER SALAD
This sorghum protein pesto power salad is packed with plant-based protein, healthy fats, and energizing vitamins + minerals. It's a simple dish that comes together with minimal effort and just a handful of ingredients.
SORGHUM BUDDHA BOWL WITH VEGGIES AND AVOCADO SAUCE
Sorghum Buddha Bowl recipe makes for the perfect gluten-free + vegan superfood dinner. Packed with sun-dried tomatoes, cranberry beans, baby zucchini, spinach, pumpkin seeds and the creamiest avocado sauce ever, this is bound to be your new favorite weeknight dinner!
And finally one of the sweet ancient grain recipes
Sweet Sesame Millet Ball
Usually people eat ladoo on various occasions but to be honest you don't really need one, so today treat your sweet tooth with Til Bajra Ladoo (Sweet Sesame Millet Ball).