The Awesome Ancient Grain Sorghum And Gluten Free Vegan Recipes 
|
Vegan Recipes of  the ancient grain Sorghum millet gluten-free healthy, and versatile
Here we introduce you to the remarkable ancient grain Sorghum, which is an excellent alternative to rice and many other grains.
What is Sorghum?
Sorghum millet is an excellent ancient grain and, like the smaller millet varieties. It is a small-fruited cereal from the grasses family. The 30 different species have been cultivated in warmer climates for different purposes for more than 2,500 years.
Read here about Gluten-Free Millet, A Delicious Ancient Grain Which Is Powerful.
Initially native to Africa, Sorghum is today growing worldwide. It is the fifth most important food crop species in the world. Also, it is crucial for nutrition in Africa, Central America, and South Asia because it serves as a staple food there.
It is ECO-friendly
Sorghum is resistant to heat and is able to interrupt growth in drought. Regarding the soil condition, this plant is rather undemanding.  But its fast growth is characteristic.
Sorghum is healthy
In addition to fluorine, sulfur, phosphorus, magnesium, and potassium, the mineral-rich cereal contains a lot of silicon (silicic acid) and iron. Also, it is a source of protein. The gluten-free grain is cultivated in developing countries mainly by small farmers. There it is an important staple food.
It is also a good source of fiber and antioxidants. This gluten-free grain can help control blood pressure and blood sugar. It may even help tackle obesity and prevent cancer.
Non-GMO
Another benefit of sorghum is that it's a non-genetically modified crop.
GM sorghum is not grown in North America but always buy certified organic sorghum products. This will ensure there is no GM material present, as well as avoid harmful pesticide residues.
Sorghum deserves a place in our kitchen.
Sorghum, a millet of the grasses family, is small but amazing. No wonder this fiber-rich cereal source is gluten-free and turns out to be a true all-rounder in the gluten-free kitchen. It is extremely versatile, and you can boil, bake and even pop it. You can cook it in the slow cooker, rice cooker, or pot; get creative. You can even freeze and reheat it without losing the taste. Good that the popularity of this awesome ancient grain rises. It deserves a place in our kitchen.
Find below some delicious vegan recipes with the ancient grain Sorghum.
Read also> #Sorghum #Jowar a #millet is a staple food of large parts of Africa & India, including Rajasthan, Gujrat, and Maharashtra. The Monoculture of the Mind only saw a few globally traded commodities & reduced our staple foods to animal foods. These forgotten foods are foods of the future – Dr. Vandana Shiva.
Sorghum is a naturally non-GMO, gluten-free grain that contains an abundance of antioxidants, vitamins, and twice the protein of quinoa. This "Camel Crop" also saves 1.5 trillion gallons of water per year. > Sorghum: Ancient grain—timely solution
Awesome Ancient Grain And Vegan Recipes That Are Gluten-Free
Sorghum is an ancient grain that I've been noticing everywhere lately. It's nutty, gluten-free, and super easy to prepare. Just dump it in a pot of boiling water and let the grains do its thang. Customize this salad with your summer favorites! Go wild.
A hearty soup that makes a filling meal any time of year.
By now, most of us are familiar with quinoa, probably the most popular "ancient grain" to hit local supermarkets and restaurants in the last decade, but other grains are also emerging into the limelight that can add healthy diversity to what we eat.
Sorghum is a great replacement for rice in this spicy bowl. Here's a plant-powered one-dish bowl you can whip up in minutes!
By Kim Lutz. Her book is an excellent resource for cooking with whole grains like millet, oats, spelt and sorghum. Kim's recipe makes a unique vegan and gluten-free option for taco night
Sorghum gives this dish a nutritional boost compared to the traditionally used Arborio rice. But coconut milk helps to keep the classic, risotto creaminess.
Recipe is Gluten-Free and Kid-Friendly
Popcorn is an incredibly popular snack especially in North America. However, for reasons not yet fully understood, corn allergies are increasing which precludes many people from enjoying a bowl even if the popcorn is organic or an heirloom variety and popped in a healthy fat. This is where popped sorghum comes in!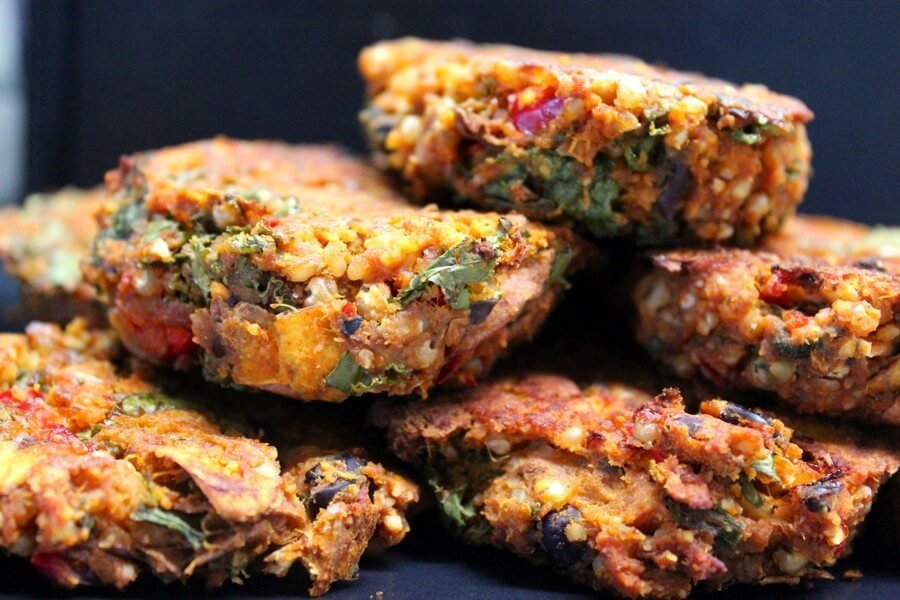 Sorghum Veggie Burger Recipe (Vegan, Gluten-Free)BBQ season is upon us, and there's nothing that I crave more than rich and "meaty" veggie-burgers on the patio with friends. These burgers are smoky, sweet, and packed with vitamins and minerals.
Just cook up sorghum the day before and reheat it in minutes to make this fiber-filled, delicious, whole grain cereal bowl. Or you can easily pull out your slow cooker and make overnight breakfast porridge, too.
Roasted pineapple paired with coconut and spices makes this pudding a special treat any time of day.   More recipes here
Stop what you are doing and brace yourself. You are about to be let in on a secret; this may be the best brownie in the whole world. It is definitely the best gluten-free brownie I've ever had. I've served this to dozens of people and they were all blown away by its awesomeness.
Also, see Powerful Vegan Millet Recipes High Protein And Gluten-Free
and 8 High-Protein Millet Recipes You Will Love