Are These The Best Healthy Smoothie Recipes You Ever Need?
|
The Best Healthy Smoothie Recipes For You
Find here the best healthy Smoothie recipe for yourself. Smoothies are gaining more and more popularity and above they all taste and are healthy! They are full of nutrients, vitamins, and enzymes. Healthy smoothies are not only good for us, but they also fill you up and satisfy!
Smoothies not only taste incredibly delicious, but they are also real vitamin bombs. But instead of buying healthy drinks at the supermarket, you should start making them yourself today. Because of course, smoothies are only healthy if the right ingredients are in it. And to play it safe, you should prepare your smoothie yourself best.
It is super fast and easy, besides, you also really know afterward, what's inside. All you need is fresh fruit and vegetables and a good blender 
How healthy are smoothies?
How healthy a smoothie is, depends on the ingredients and the preparation. You should pay attention to these five rules so that your smoothies are healthy:
Use only natural products. Best organic fruits and vegetables, so you can process it together with the shell because this contains the most nutrients!
Use fresh seasonal produce wherever possible. In an emergency, frozen foods can also help.
To refrain from sugar. If necessary, dried fruits can sweeten the drink.
The smoothie also gets its fat off: some vitamins are fat-soluble and can only be absorbed by the body in combination with fat. Therefore always use a grease or oil source for example avocado, flaxseed, nuts, or a spoonful of vegetable oil.
Drink the smoothie as soon as possible after preparation so that it does not lose the vitamins.
Attention: Smoothies are healthy with the right ingredients, but not necessarily low in calories! That should not stop you from enjoying it with a clear conscience. But remember that you should not take several drinks just because they are good for your health!
Do not forget: Even if there are many nutrients in the smoothie: The delicious mix drink may sometimes replace a meal, but it is essential to continue to eat fresh raw fruits and vegetables!
Best Healthy Smoothie basic recipe:
A smoothie always consists of liquid like water, non-dairy milk, coconut water, fruit, greens and vegetables and is mixed until it has a creamy consistency.
Best ingredients for delicious and healthy smoothies:
Spinach – Spinach is mainly displayed in every green smoothie recipe, and for a good reason. It is rich in potassium, iron and has a high protein content.
Cabbage leaves are a "Superfood" and rich in protein, fiber, folic acid, and vitamins A, C, and K!
Avocado gives your smoothie a wonderfully creamy texture and is rich in protein, fiber, and unsaturated fats.
Mango gives your smoothie a refreshing sweetness and is rich in antioxidants.
Bananas are ideal for any smoothie also helps digestion.
Coconut water is natural and isotonic, full of electrolytes, and tastes wonderfully refreshing.
Strawberries, raspberries, blueberries because berries are just delicious
Superfoods like chia seeds, linseed, chlorophyll, spirulina, and more you can include. The list is very long. All superfoods are healthy in the smoothie!
Top tips for preparing your best healthy smoothies:
1. Mix your leaf green with liquid like water, coconut water, non-dairy milk, and then add the fruit, superfoods, and other ingredients. So you avoid clumping, and it gives a creamy consistency.
2. Take frozen fruit if you want the smoothie thicker. It tastes delicious and is cold and refreshing. Also, frozen fruits minimize the foam in the high-performance mixer. The best of frozen fruits are berries, mangos, and bananas.
3. Sweeten your smoothie with fruits, maple syrup, and dried fruits. So it keeps natural and free of added sugars. Dried figs and dates are best.
Whether it's a creamy breakfast drink or a fruity refreshment in between, smoothies are always on the go. Here are tasty recipes of which you will not get enough guaranteed.
Blueberry Coconut Protein Smoothie

This smoothie offers an easy way to deliver nutrients to your body, and it tastes great too! Try swapping out a meal for this yummy drink and reap the benefits of antioxidant-rich blueberries and heart-healthy coconut milk. Find the recipe here: Natural Chow
Raw Food Green Kale Smoothie
Green kale smoothies were a huge hit in the raw vegan food scene years ago before they crossed over to the mainstream. Now, they seem to be just about everywhere and this is one food trend
ICY BLUE SPIRULINA CHIA VEGAN SMOOTHIE

Credits: viennetta/ Shutterstock
It is a powerhouse of goodness! Incredibly nutrient-rich with the addition of super-foods like Spirulina and Chia, this Icy Blue Spirulina Chia Vegan Smoothie is a must-have.
TURMERIC GREEN TEA SMOOTHIE

Refreshing Turmeric Green Tea Smoothie, made with matcha green tea powder and packed with healthy ingredients.
The Ultimate Healthy Meal Replacement Smoothie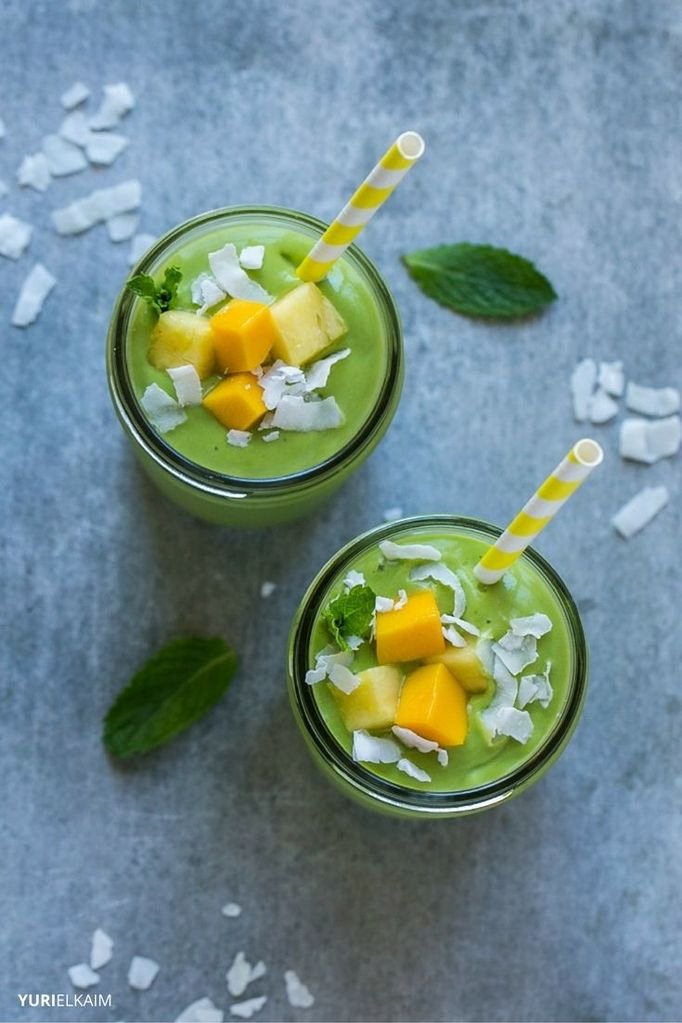 Greens, pineapple, mango, coconut milk, and flaxseed make this a tropical taste delight, while protein powder adds sustenance and a delicious hint of vanilla. It's a truly balanced meal replacement. This smoothie is also customizable, so if you want to include ingredients you have on-hand, have at it! Find the recipe here: Yuri Elkaim
Goji Berry And Ginger Smoothie 

Source: Goji Berry And Ginger Smoothie With the antioxidants of goji berries and digestion benefits of ginger, this 5 ingredient Goji Berry And Ginger Smoothie by Nikki and Zuzana is packed with nutrients, perfect for a detox. It comes together in just a few minutes and it's the perfect way to start your day or give you a little "pick me up" when you hit that wall in the afternoon!
Powerhouse Golden Turmeric Smoothie
Powerhouse Golden Turmeric Smoothie This powerhouse of a smoothie looks like a warm sunshiny day. Packed with wonderful nutrients, it's easy to make and – bonus! – tastes a lot like a sinfully delicious creamsicle popsicle.
Sweet Potato and Passion Fruit Smoothie
Source: Sweet Potato and Passion Fruit Smoothie  Yes, having sweet potato in your smoothie is not only possible but delicious and perfect for detoxing! Don't knock Julia Verkuil & Ellen Landman's Sweet Potato and Passion Fruit Smoothie 'till you try it; blended raw with passion fruit creates the ultimate balance of flavors. Try something a little different for breakfast today!
Peanut Butter, Banana and Cauliflower Smoothie 

Source: Peanut Butter, Banana and Cauliflower Smoothie Any good detox meal will contain some veggies and in Lindsey Auerbach's Peanut Butter, Banana and Cauliflower Smoothie, the cauliflower imparts a super creamy texture. In fact, since cauliflower has a fairly neutral flavor, it can be tossed it into pretty much any smoothie recipe!
Chocolate Recovery Smoothie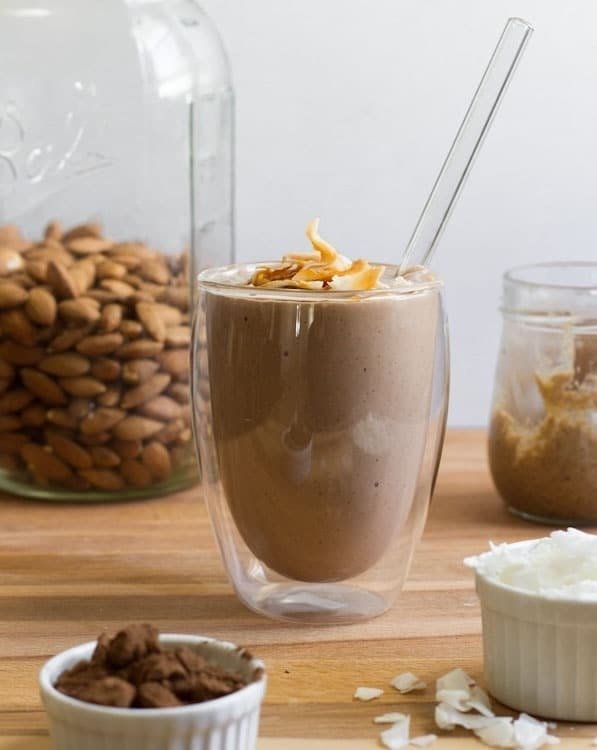 This smoothie seems more like a decadent treat than a recovery drink, but it's chock full of healthy ingredients. The protein from almond butter will aid in muscle repair and growth, so you can enjoy it after a strenuous strength-training workout. Find this recovery recipe at Edible Perspective.
High-Protein Apple Pie Smoothie 
Source: High-Protein Apple Pie Smoothie  Kat Condon's High-Protein Apple Pie Smoothie is a creamy treat that makes the perfect breakfast or post-workout meal! With just a few ingredients needed, this smoothie is easy as apple pie!
POST-HOLIDAY VEGAN DETOX SMOOTHIE TO GET RID OF ALL SLUGGISHNESS
Did you eat and drink a little too much and now you're feeling bloated and sluggish? Here's a recipe for a really great detoxing and cleansing smoothie. Recipe here 
Acai Kale Smoothie

Banana, blueberries and strawberries make a sweet, juicy and delicious combo that's enhanced by the rich fruity essences of acai powder—you won't even notice the kale. This smoothie is also loaded with the superfoods flax, acai, and hemp, so you'll get loads of antioxidants, fiber, and healthy omega fatty acids all in one incredible smoothie. Head to Deliciously Ella for the recipe.
Beet Smoothie: Red Velvet (with Greens)
If you've ever eaten red velvet cake, you probably know you took in more than a healthy amount of butter, sugar, white flour, and red food coloring. It brutalizes our bodies and is incredibly addictive. And this red velvet smoothie is the best thing to come out of my kitchen. Recipe here
Find more recipes here>How To Replace Your Meal With A Healthy Smoothie
Take the 14-Day Challenge click here
If you need help with losing weight and keeping on track, the Bright Line Eating program is a great program to support. It is based on cutting edge psychology and neuroscience. Susan Peirce Thompson, Ph.D. It is focused on establishing healthier eating habits and is also compatible with a vegan diet.