The Best Vegan Curry Recipes For A Spicy Evening
|
Vegan Curry Recipes – have a spicy evening
Try this Vegan Curry Recipes and add spice to your dinner. Curry's are delicious, the Indian food with all the tasty spices is something everybody likes. Spices help with digestion and the food makes satisfied but you do not feel heavy afterwards.
There is a big variety of curry's and all are healthy. Here are some made with Chickpeas, Eggplants, Quinoa and vegetables. Indian dishes like herbs as well Coriander, Basilikum Fenugreek are often used.
Eat them with Roti or Rice. Recipe for the Roti you can find with the first Curry dish. You can make a few a spicy evening with these recipes and invite friends for an exotic party.
Get started  and learn about the spices and more tips for curry's at the end. Enjoy!
Indian Spiced Chickpea Stew, with Coconut Raita and Sweet Roti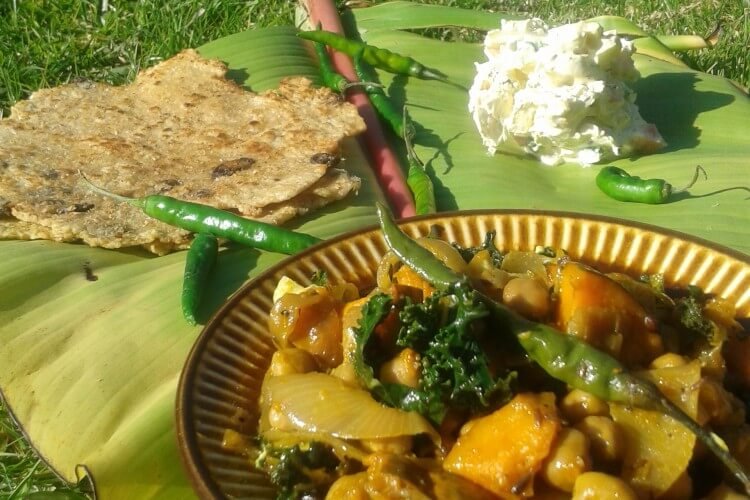 I
The stew itself is flavoured with cumin, fresh turmeric, fresh ginger and garam masala, which creates a slightly sweet, very flavoursome gravy. The key to victory with this stew is to be patient when cooking down the onions as this is where the magic happens. They slightly caramelise, and boy I could eat them on their own!
Coconut Raita
The coconut raita is optional for this meal, but it is a delicious and cooling accompaniment. It is dairy free as it contains coconut yoghurt, but coconut yoghurt may be hard to come by and also can be expensive if you are on a budget. (lucky for Luke and I that we work for Coconut Yoghurt and get heaps of the stuff! Sorry to make you jealous). But organic natural yoghurt will work just fine! This dip tastes better if left to marinate overnight. Depending on the season, I like to add chopped tomato or cucumber to the raita.
 Aubergine and vegetable curry
Curry is one of those dishes that more often than not can very easily be made vegan – if it's not already.
Dhal is vegan, curry sauces generally are too… rice is an easy one for us.
For creamy ones like korma, you can use oat or coconut cream instead of dairy.
For meat, you can swap in chickpeas or lentils.
By Lisa Roukin, author of My Relationship with Food.
Serves 4 – 6. Preparation time – 40 mins, cooking time – 2 hours
Ingredients
2 aubergines, medium, cut into 1.5cm cubes
1 butternut squash, cut into 1.5cm cubes
2 sweet potatoes, cut into 1.5cm cubes
2 carrots, cut into 1.5cm rounds
1 red onion, small, sliced into half moons
1 white onion, small, sliced into half moons
1 tin butter beans, drained
400ml coconut milk
300g tomato pasta sauce (smooth as possible)
1⁄2 litre marigold vegan stock
3 garlic gloves, crushed
2 tsp mild madras curry powder
2 tsp coconut sugar
2 tbsp coconut oil
Sea salt & black pepper
Method
Preheat the oven to 400°F, gas mark 6, 200°C (180°C fan-assisted).
Heat the oil in a large (29cm diameter) casserole dish on medium heat.
Add the onions and sauté until translucent approx. 5 minutes.
Add the aubergines, salt, pepper, tomato sauce and crushed garlic, mix well and cook for 2-3 minutes longer.
Add the remaining vegetables: butternut squash, sweet potato, carrots and butter beans.
Pour over the stock, followed by the coconut cream, keep on the stove for another 2-4 minutes until the stew comes to a boil.
Add the curry powder and coconut sugar.
Cover the pot and place in the centre of the oven for two hours. Check every 30 minutes and stir to ensure nothing gets stuck to the base of the dish. If you would like to keep the dish in the oven after two hours reduce the oven temperature to 300°F, gas mark 2, 150°C (130°C fan-assisted).
Serve with coconut wholegrain rice & freshly chopped coriander.
Quinoa curry with green vegetables
By Julie Montagu, in collaboration with food service Mindful Chef. 
Find this dish in this month's delivery box with ingredients and recipe card, from: £19.50 for three meals.
Serves one
Ingredients 
40g quinoa
30g kale
1 garlic clove
2cm ginger
1 tbsp curry powder (sulphites)
½ broccoli
30g spinach
100ml coconut milk
½ vegetable stock cube (celery)
Handful of basil
Sea salt & black pepper
Coconut oil / olive oil
Method
Finely chop or crush the garlic and peel and finely chop the ginger. Chop the broccoli florets into small pieces and
roughly chop the kale.
Boil a kettle. Rinse the quinoa and add to a saucepan of 200ml boiling water. Simmer for 20 mins and season.
Dissolve the vegetable stock cube in 150ml boiling water.
Meanwhile, heat 1 tsp of oil in a medium-sized pan and add the garlic and ginger and sauté for 3 mins.
Then add the coconut milk, curry powder and vegetable stock and stir together. Add the broccoli and cook for 10 mins. Then add the spinach and kale to the pan for 3 mins.
By this time the quinoa should be cooked. Serve the quinoa
in a warm bowl and top with the green vegetable curry.
Garnish with the basil leaves and season as desired
How To Turn Your Vegan Recipes Into Exotic Delicatessen