Breakfast Ideas That Make You Like To Jump Out Of The Bed
|
Breakfast Ideas that will make you enjoy the morning
These breakfast ideas for a healthy breakfast will make you love to get up in the morning. Breakfast, the most important meal, will make you can start your day energized. In the morning, it usually has to be fast, so the preparation of breakfast should not take too long. But making time to enjoy a healthy breakfast is important for the whole family. A light, healthy, raw-delicious breakfast positively affects the overall condition. A healthy breakfast helps to concentrate better and to meet the challenges of everyday life more relaxed.
Our breakfast recipes are flavorful,  high-protein, and have lots of vitamins. What is better than enjoying an extensive and satisfying breakfast? These breakfast ideas will convince everybody's family and guests they will surely find something they like. Our tasty and healthy breakfast ideas have something for everyone.  Sweet and simple & fast to prepare. These breakfast ideas of natural and genuine food provide important nutrients and vital substances and do not burden the metabolism excessively.
Start with these raw food breakfast ideas well into the day. A healthy, balanced diet provides the body with all the vital nutrients it needs for its cells. This also strengthens the immune system, and the tasks of everyday life are easier to handle. With raw food, we can have a quite down-to-earth, healthy, tasty breakfast every day!
Have lots of fun preparing these breakfast ideas. To your wonderful and joyful start to the day!
Breakfast Ideas That Make You Like To Jump Out Of The Bed
CINNAMON BERRY & BEETROOT SMOOTHIE BOWL (RAW)
This Cinnamon Berry & Beetroot Smoothie Bowl is exploding with flavor and goodness! It's a delicious detoxifier, antioxidant-rich, vegan, quick, and easy to make. This healthy smoothie bowl is both easy and versatile. To start, you can use fresh or frozen berries or mixed berries, or just your favorite! Not to mention, you can use any milk of your choice. However, it turns out exceptionally well with homemade tigernut or coconut milk. Get the Recipe
MATCHA OVERNIGHT OATS
Matcha Green Tea Overnight Oats are an easy pre-made quick breakfast, So refreshing and healthy, and also full of protein and fiber. Get the Recipe
HIGH-PROTEIN VANILLA ALMOND RASPBERRY OVERNIGHT OATS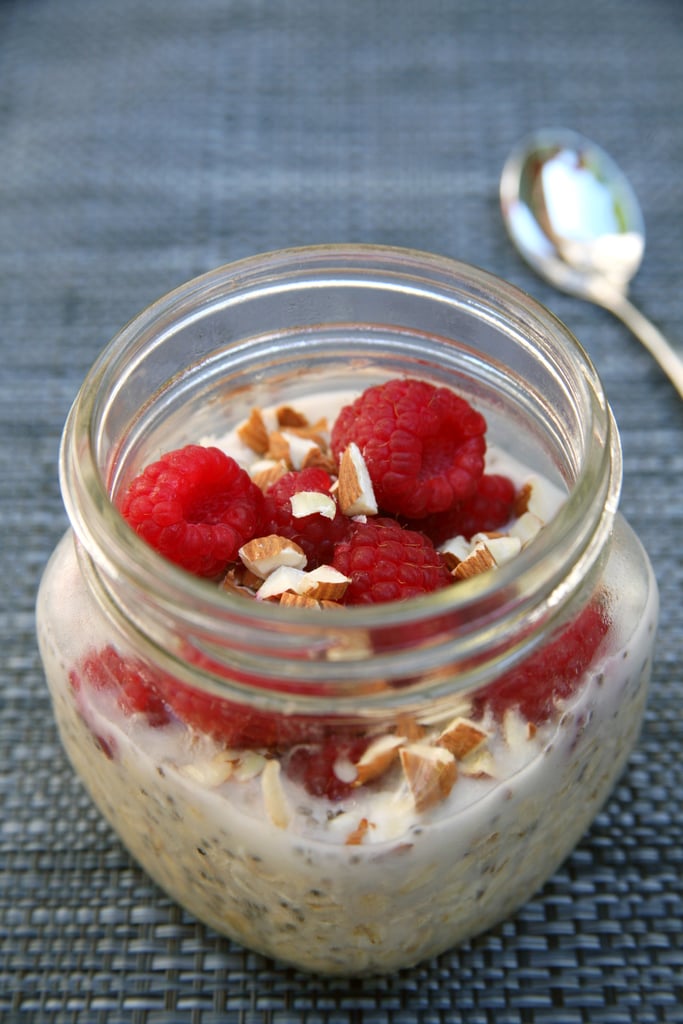 Calories: 371 Protein: 16.8 grams
Get the recipe: high-protein vanilla almond raspberry oatmeal
HIGH-PROTEIN OVERNIGHT OATS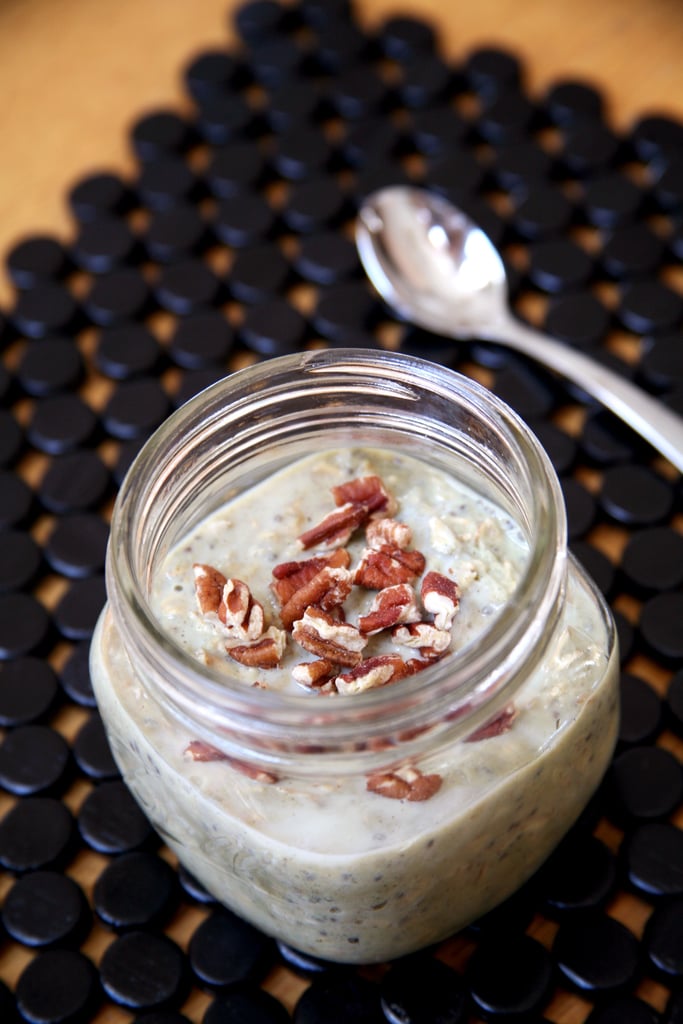 Calories: 366  Protein: 20.5 grams
Get the recipe: maple vanilla overnight oats
OVERNIGHT HEMP SEED CEREAL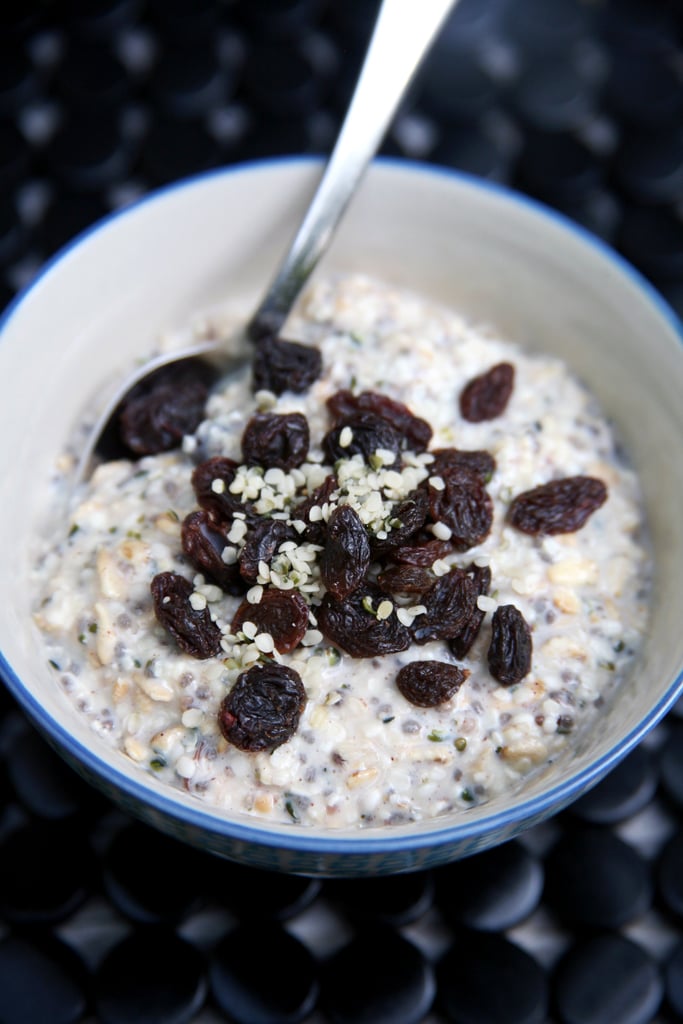 Calories: 364  Protein: 19.1 grams
Get the recipe: overnight hemp seed cereal
HIGH-PROTEIN OATMEAL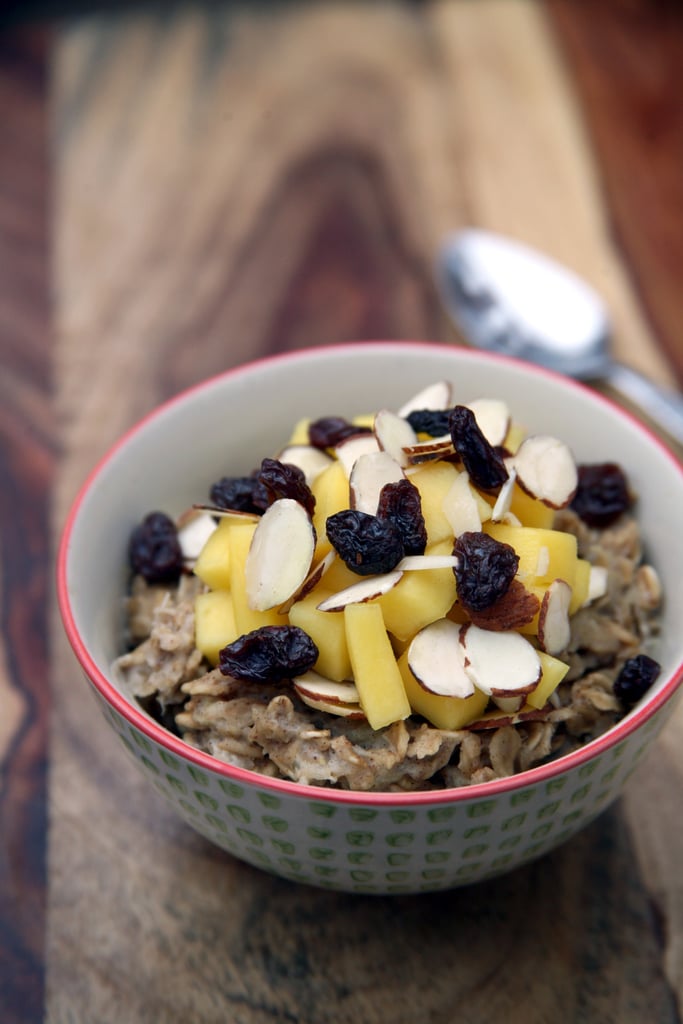 Image Source: POPSUGAR Photography / Jenny Sugar
Get the recipe: high-protein oatmeal
FIG AND ORANGE CHIA PUDDINGS
INGREDIENTS: 5 (80g) dried Turkish figs, 1 cup (250ml) water, 2 cups (500ml) almond milk, ½ teaspoon vanilla bean powder, 1 tablespoon pure maple syrup, 1 teaspoon finely grated orange rind, ½ cup (80g) white chia seeds, 1 cup (280g) coconut yogurt, 150g blueberries, 150g blackberries, 2 (100g) small fresh figs, cut into wedges, ½ cup (75g) cherries, ¼ cup edible flowers, optional
METHOD
Place dried figs in a small bowl with the water and stand for at least two hours. Drain figs and discard liquid.
Blend drained figs in a high-powered blender with almond milk, vanilla powder, syrup, and rind until smooth. Transfer mixture to a medium bowl and whisk in chia seeds until combined.
Pour mixture into four ¾-cup (180ml) glasses, bowls, or dishes. Cover and refrigerate for at least two hours or overnight.
Blend yogurt and half of the blueberries until smooth: spoon evenly among glasses.
Serve puddings topped with blackberries, remaining blueberries, fresh figs, and cherries. If you like, sprinkle with extra zested orange rind, chia seeds, and edible flowers.
Tips: To make orange zest to decorate, use a zester to remove the rind from half an orange. (Or, peel rind thinly from orange using a vegetable peeler, remove any white pith and cut rind into long thin strips.)Puddings are best made the night before serving. They will keep for up to three days in the fridge. source Huffington Post 
Almond Strawberry Banana Soy Yogurt Smoothie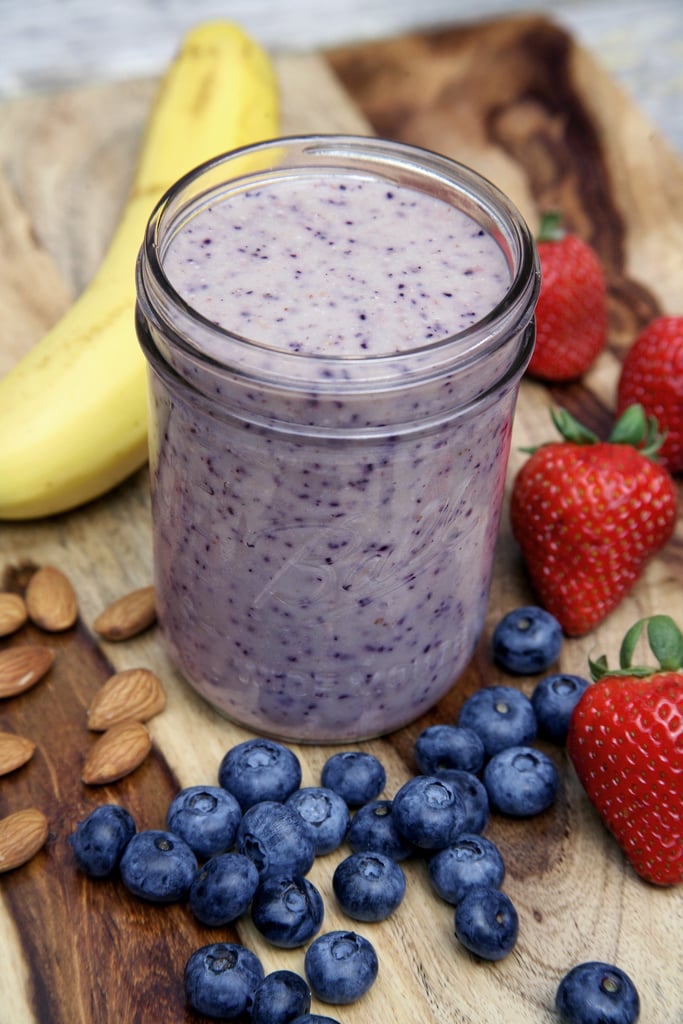 Image Source: POPSUGAR Photography / Jenny Sugar
Calories: 358 Protein: 15 grams
Get the recipe: almond strawberry banana soy yoghurt smoothie
Chocolate Almond Coconut Protein Balls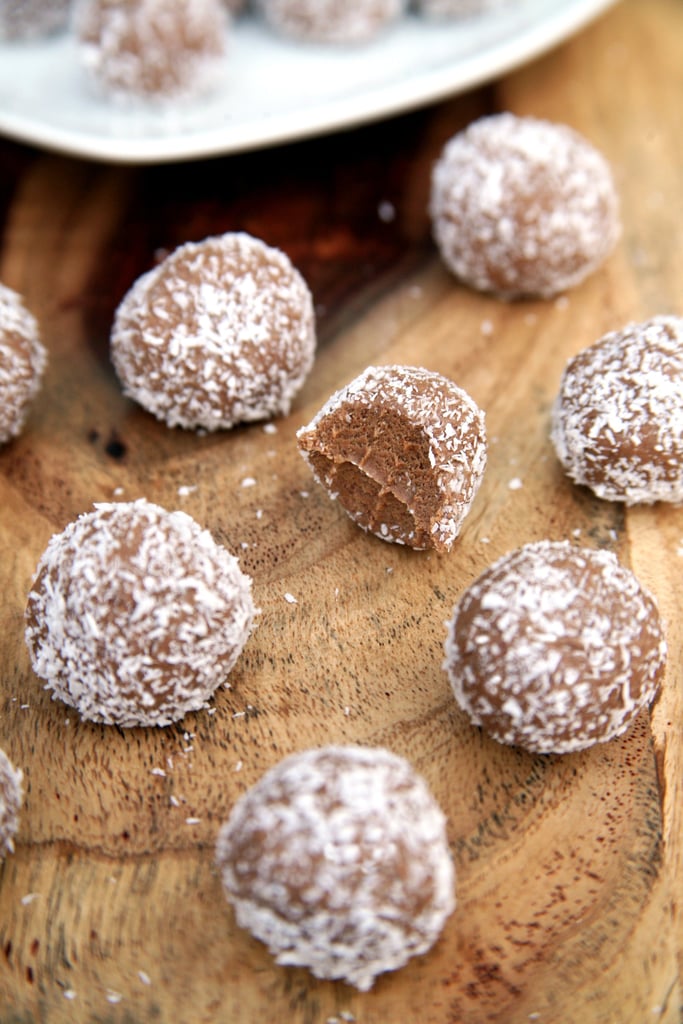 Get the recipe: chocolate almond coconut protein balls
Creamy Banana Cashew Overnight Oats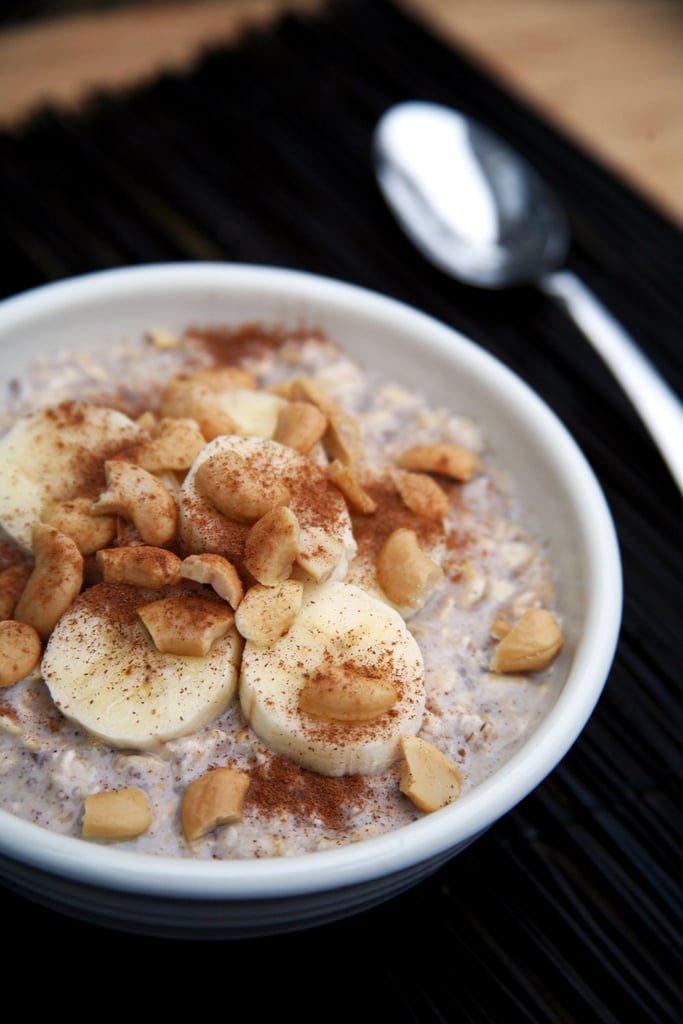 Image Source: POPSUGAR Photography / Jenny Sugar
Calories: 368 Protein: 15 grams
Get the recipe: low-sugar, high-protein overnight oatmeal
POWERFUL RAW SNACKS ENERGY AND VITALITY FOR YOUR DAY
TRY THESE TEMPTING AND NOURISHING RAW FOOD SNACK IDEAS