15 Children – Friendly Recipes Every Vegan Will Love
|
Children – friendly recipes vegans will love
Children – friendly vegan recipes are a colorful variety on the plate. A vegan diet has many benefits. Often, however, parents have doubts about the balance of a vegan diet for children. These doubts are unfounded because children can be supplied with all nutrients they need by eating plant-based and vegan.
Many parents are concerned about the nutrition of their children. Nobody wants fat and heavy children. For this reason, parents are being concerned with a healthy diet. Young mothers and young families are therefore the main clientele in natural health stores. They want the best for their children and are looking for information.
Many people decide for a vegan diet after extensive research. They want to improve their own health, provide their children with the best possible start in life and at the same time protect the environment, nature, and animals.
Our eating habits are established in early childhood. A vegan diet for your child can give him the opportunity to learn early about the variety of nutritious and delicious foods.
Children who eat fruits, vegetables, whole-grain products, and legumes are slimmer and healthier
Read > Alicia Silverstone Says Feeding Her Son a Vegan Diet Is 'Such a No-Brainer 
'My vegan toddler is healthy': Mum
Children – Friendly Recipes Every Vegan Will Love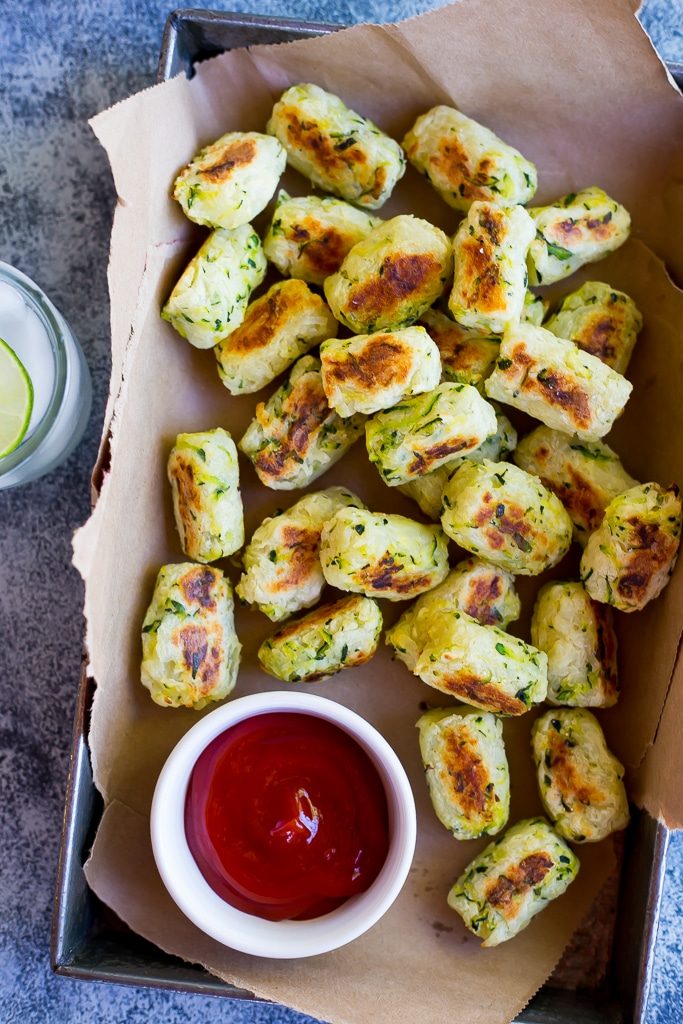 These zucchini tater tots only have 4 ingredients; potatoes, zucchini, salt and olive oil.  And really, if you only count the ingredients that you probably don't already have in your kitchen, there is just 2 ingredients!

Seriously, I could not be more excited for summer to hit so I can grill these carrots and slather them in barbecue sauce.
If you are a member of a CSA or have a favorite farmer's market, look around for scallions, green garlic, garlic scapes, or ramps. Even the patch of chives in your backyard will work. Incorporating any of these fleeting spring greens into this simple flatbread is a great way to show them off–and to make them more approachable for hesitant eaters.
Macaroni and cheese is a popular dish for kids. It's simple and can be so much fun. After all, there are so many ways to spruce it up. Did you even think you'd be stuck with a normal mac and cheese for the rest of your life?
Not at all! Here are 12 vegan macaroni and cheese recipes that you and your children (and of course their friends) will love and want more.
Buffalo Mac and Cheese with Chickpeas
Chickpeas tend to be a popular addition to any vegan recipe because they are so easy to use. This is the only one of the 12 vegan macaroni and cheese recipes that have them, though! Are you impressed? This one will take a little longer than all the others to prepare and make. You may want to save it to a none work day just for the first time until you get used to it.
Ingredients for the Chickpeas:
1 can have cooked chickpeas, rinsed and drained
¼ cup of buffalo sauce
Ingredients for the ranch sauce:
3tbsp vegan mayo
2tbsp plain vegan yogurt
2tbsp cashew nuts, soaked for at least 30 minutes
1tbsp dairy-free milk of your choice
1tsp lemon juice
1/2tsp onion powder and garlic salt
Pinch of dried parsley, black pepper, dried dill, and salt
Ingredients for the pasta:
2 ½ cups of dried pasta, cooked to instructions
1 tube of Cheddar Teese (vegan cheddar)
1 cup of milk alternative of choice
Method:
Preheat the oven to 375F
Toss the chickpeas in a quarter cup of the buffalo sauce, coating evenly, and then spread on a lined baking tray
Bake the chickpeas for 12 minutes, turn them over, and bake for another 12 minutes
Place them in the bowl with an extra tbsp. of the sauce and put to one side
Place all the ranch ingredients in a blender and process until smooth, adding some milk alternative if you need to, and then pour into a cup and set aside
After the pasta is cooked, drain and rinse with water and then place back into the pot
Set the pot on a low to medium heat and add in the vegan cheddar and milk, stirring until melted completely and coated well
To serve, you can add some romaine lettuce and celery to the mac and cheese if you'd like. Place the mac and cheese on the plate and add the chickpeas on top, drizzling with a bit of extra buffalo sauce. Top with the ranch sauce. Your kids will feel like they're in the best restaurant in town! Try out the Children-friendly recipes!
Children – Friendly Recipes Every Vegan Will Love
Roasted Carrot Mac and Cheese with Cashew Cream
This is an option for those who aren't allergic to nuts. If you're not sure, sometimes it's best to err on the side of caution.
Ingredients:
2 cups of cashew nuts, soaked for 30 minutes in boiling water
16oz of macaroni
2 carrots, peeled and sliced
3tbsp oil of choice
1 onion, diced
2 garlic cloves, crushed
1tsp salt
1 ½ cups of vegetable broth
2tbsp lemon juice
1tbsp cayenne pepper sauce
8oz tofu
½ cup of coconut milk
¼ cup of nutritional yeast
½ cup of potato chips, crushed finely
Method:
Cook the pasta according to the packet instructions
Sauté the carrots in a skillet and oil for 2 minutes and then add the onion, cooking for another 3 minutes
Add in the garlic and cook until fragrant
Drain the cashew nuts and place in a blender, adding the vegetables, broth, lemon, salt, and pepper sauce, blending until smooth
Add in the rest of the ingredients, except the potato chips, and blend together
Stir in the sauce with the macaroni and warm through
Spread the macaroni and cheese in a pan and sprinkle with the potato chips and grill for a few minutes.
This is best served immediately but can be kept in the fridge for up to three days.
Traditional Mac and Cheese in a Vegan Style
There are so many fancy macaroni cheese dishes, and we'll have plenty more to share below, but there are times that you just want something traditional. Your kids don't want to feel like they're eating something new, even if it is tasty. They want just to be able to tell their friends they have good ole mac and cheese. Well, here's a more traditional recipe that is in a vegan style.
Ingredients:
350g macaroni
Salt and pepper, to taste
1 onion
1 liter soya milk – or another milk alternative
100g vegan margarine/butter
85g plain flour
1 tsp English mustard
1 ½ tbsp. nutritional yeast
50g vegan cheese
5 garlic cloves, peeled
½ bunch of thyme stalks removed
Oil of choice
40g breadcrumbs
Method:
Preheat the oven to 350F
Cook the macaroni according to the instructions on the packet in salt water
Halve the peeled onion and place in a small pan with the milk, bringing to the boil
Remove the milk from the heat and remove the onion
In another pan, melt the butter and then add the flour, stirring regularly to create a paste
Add in the milk a little at a time, whisking until smooth
Bring the sauce back to a boil and simmer for 10 minutes, until thickened
Stir in the mustard, yeast, and grated vegan cheese, seasoning with the salt and pepper
Add to the drained macaroni, coating well
Transfer the macaroni to a dish and put to one side
Cook the garlic and thyme leaves for 2-3 minutes and then place in a blender with the breadcrumbs, processing until roughly chopped
Sprinkle the breadcrumb mix over the pasta dish and place in the oven for 20-30 minutes
Allow to stand for 5 minutes and then serve
There really won't be much of a different taste, and you can omit the vegan cheese if you'd like.
Green Mac and Cheese
Who said that your mac and cheese had to turn out yellow? How about turning it a bright green color? Kids love to do something wacky like this now and then. This is completely vegan and soy-free friendly.
Ingredients:
¼ cup of water
4 cups of spinach
1tbsp coconut oil
1tbsp coconut flour
5oz vegan cheese, cubed
1 garlic clove, crushed
2 servings of macaroni/pasta noodles
Salt and black pepper, to taste
Method:
Cook the pasta following the packet instructions
Combine the water and a quarter of the spinach in a blender, turning it into a liquid
Keep adding a bit of spinach at a time, until it is all pureed, and then place to one side
Melt the coconut oil over medium heat and then whisk in the flour until smooth, reducing the heat to a low setting
Add the spinach puree, constantly whisking to create a sauce
Add in the cheese cubes and garlic, stirring until the cheese melts
Season with the salt and pepper and then fold in the pasta
You'll get the bright green sauce from the spinach mix. The best part about this is you know your kids are getting their greens without realizing because they're too intrigued at the funky coloring.
Curried Mac and Cheese
How about a taste of India with your macaroni and cheese? I bet you never thought you'd be able to do something like that, huh? Well, here's the perfect vegan macaroni and cheese recipe for the kids.
Ingredients:
10 oz of pasta, cooked to packaged instructions
2tsp oil of choice
1/4tsp of cumin seeds and coriander seeds
1/8tsp fennel seeds
¼ cup of red onion, chopped finely
3 garlic cloves, chopped
1/2in ginger, chopped
1/4tsp cayenne pepper, garam masala, and cinnamon
1 tomato, chopped
1/3 cup of cashew nuts
½ cup of water
1tsp salt
1tsp lime juice
2tbsp nutritional yeast
1 cup of dairy-free milk of choice
¼ tsp black pepper and onion granules
Method:
In a large skillet, heat the onions on a medium heat and then add in all the spices and seeds, cooking for 2 minutes until fragrant
Add the ginger, garlic, and salt and cook for another 3-4 minutes
Add the cayenne, cinnamon, and garam masala and stir to mix
Add the tomatoes, water, nuts, salt, and lime juice and bring to the boil, cooking for a few minutes
Allow to cool a little and then add the milk and yeast to a blender, blending until smooth
Return everything to the skillet and then add the pasta, onion granules, and pepper, cooking for another 3-4 minutes to allow the sauce to thicken
If you want a bit more of a bite, you can add some more spices or some mustard
Let the mixture sit for 5 minutes before serving. It's amazing with some paprika and cilantro over the top.
Find even more here >
12 Vegan Macaroni and Cheese Recipes Your Children Will Enjoy BY KAREN REED
more for kids >NEED IDEAS FOR THE KIDS VEGAN LUNCH BAG? HERE THEY ARE
HOW TO GET THE KIDS TO EAT HEALTHY VEGETABLES ?(+RECIPES)
Discover delicious children-friendly recipes with pasta, vegetables, and create a balanced meal for the little ones. With these dishes, the whole family can dine together, because they are prepared for children but have great flavors everybody will love them