10 Cozy Vegan Recipes That Will Make You Feel Good
|
What about Cozy Vegan Recipes right for the Season?
Feel good with these cozy vegan recipes. Warming meals like the Spicy Pumpkin and Parsnip Soup, Ash gourd coconut curry, delicious Apple Pancakes or rice, and quinoa crepes. There is also something for your sweet tooth: a Blackberry and Apple Galette, Lemon Meringue Pie, and a recipe from India that is made for the Diwali festival. Usually, the Indian sweet recipes have a lot of sugar, but this one is converted for vegans. It is a Chocolate Nut Burfi Vegan and Sugar-free. You can eat it, it is really healthy.
Some recipes are from Indu's international Kitchen, now cook2nourish; she converts Indian recipes into vegan recipes for us, like the Chocolate Nut Burfi without sugar. All these cozy vegan recipes are prepared with healthy and nutritious ingredients.  You can eat them without regret. Prepare these cozy vegan recipes for your family and friends. Everybody will feel cozy and good in this cool season of the year.
Vegan in the cold season
Even in the cold season, there is a lot to do indoors and outdoors – and all in harmony with the vegan lifestyle. One thing is certain: the next spring is sure to come!
10 Cozy Vegan Recipes That Will Make You Feel Good
This vegan pumpkin risotto. It's full of fall flavors and equally perfect for weeknight dinners or special occasions. No need for parmesan; I've added a secret ingredient that ups the umami factor. This pumpkin risotto recipe is vegan and gluten-free, yet so special, everyone is sure to love it!

Nothing says fall quite like fresh pumpkin. Sweet parsnips and a touch of nutmeg round out the seasonal flavors, all roasted together for richness in this gluten-free and vegan soup.
Lemon Meringue Pie [vegan]These fluffy pillows of dough are, in fact, made from 3 main ingredients: flour, suet, and water.
For those who don't know what suet is, it is basically the raw, hard fat of beef or mutton found around the loins and kidneys, and it is an ingredient (unfortunately) highly used in British cuisine, especially in pastries.
This Vegan Apple Blackberry Galette is absolutely decadent and bursting with great flavor. Wrapped in a buttery, flaky crust, a great balance of tart and sweet, this open-faced pie is a sure crowd pleaser not to mention a sweet delight for your taste buds
If you knew how easy it was to make the best lemon meringue pie, you'd be making them for every dessert. Why? Because they look so glamorous. There's nothing like that beautiful meringue on top.
Cozy Vegan Recipes That Will Make You Feel Good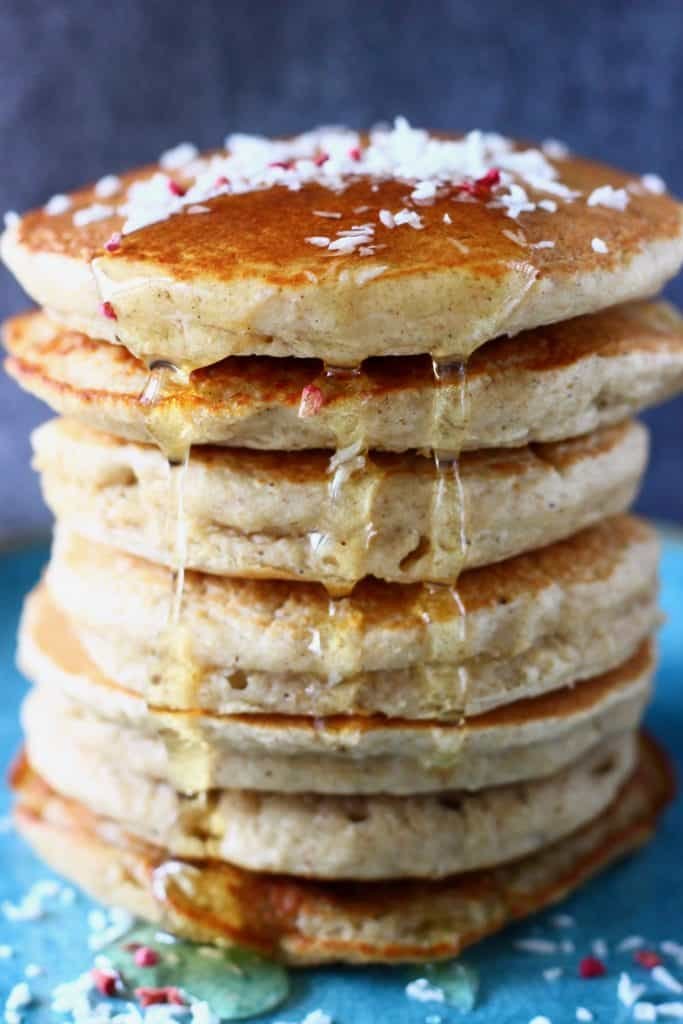 These Oat Flour Pancakes are soft and fluffy, slightly chewy and nutty, and super satisfying. They're vegan, gluten-free and refined sugar-free too.
Cozy Vegan Recipe Right for the Season
With Diwali just being around the corner….it falls on Oct 30th this year,  it is going to coincide with Halloween and we know what that means, right? Yes, just sugar overload! The traditional Diwali sweets mostly all require dairy and tons of sugar.  Oh boy! Recipe
These dosas came out fabulous as good as the traditional ones with rice and urad dal.

I have recently re-introduced quinoa back into my diet after being on AIP for more than a year.  I am glad that i seem to be tolerating it well. In this recipe, I soak the quinoa for around 24 plus hours for this recipe and so it gets fermented too.  This makes it even more healthy and nutritious.
Some days we crave something very simple yet something that is very comforting – I am sure you will agree!  For me, one of those comfort foods is this curry – something that transports me back in time where I am just enjoying a simple afternoon lunch with plain rice, kumbalanga curry, some plain payaaru(red lentils) accompanied by some spicy lime pickle and pappadum on the side.   I often wonder why my comfort foods are always such simple foods. I am yet to find a definitive answer but I think it is so mainly because the simple, uncomplicated recipes with the right combination of ingredients are what truly bring a distinctive flavor to a dish. And that is something that is often challenging to achieve in a complicated multi-ingredient
Safe to say, jalebis and I are not becoming friends any time soon. But these two-ingredient, 20-minute, stupendously delicious burfees are all I need for the Diwali feels without popping a vein in the process. We shouldn't be stressed on Diwali, right? Desserts should be stress-free, right? Right.
More Recipes: 7 Healthy And Easy Plant-Based Recipes For Your Collection