8 High-Protein Millet Recipes You Will Love
|
High-Protein  Millet Recipes and Gluten-Free
Try these High-Protein Millet Recipes, which are delicious. Millet is also gluten-free and alkaline. Millet is an ancient grain which is discovered again because of its benefits. It is holding the blood sugar level stable and prevents diabetes.
For a long time, we knew it only as a bird food, but it is getting more attention again because of all it health benefits. It can be used instead of quinoa or rice. Here are some delicious high-protein millet recipes you can prepare and taste how great it tastes and include them in your recipe collection.
Millet is high in protein and is, in many countries, the main protein source. It is easy to digest and high in fiber. See below some high-protein millet recipes; you can start with Creamy Coconut Millet Porridge as breakfast and end with Sweet Potato Crepes Stuffed with Millet as dinner.
Alkaline and high-protein millet recipes for every meal of the day. Try, and you will love Millet. Enjoy!
8 High-Protein Millet Recipes You Will Love
Thai millet salad with peanut-ginger dressing
Put a new spin on boring salad with this Thai salad. Shredded cabbage, honey-roasted peanuts, fresh ginger and all-natural peanut butter give this an Asian flair. This is restaurant-quality stuff. The salad is filling enough for a whole meal. Thai Millet Salad with Peanut-Ginger Dressing / Eats Well With Others
While these crepes are a bit time-consuming, there's no doubt that they're worth it. Sweet potato-based crepes stuffed with millet, veggies and herbs — they're just too good to resist. Top these with pico de gallo, cheese or the optional jalapeno aioli; you'll love them!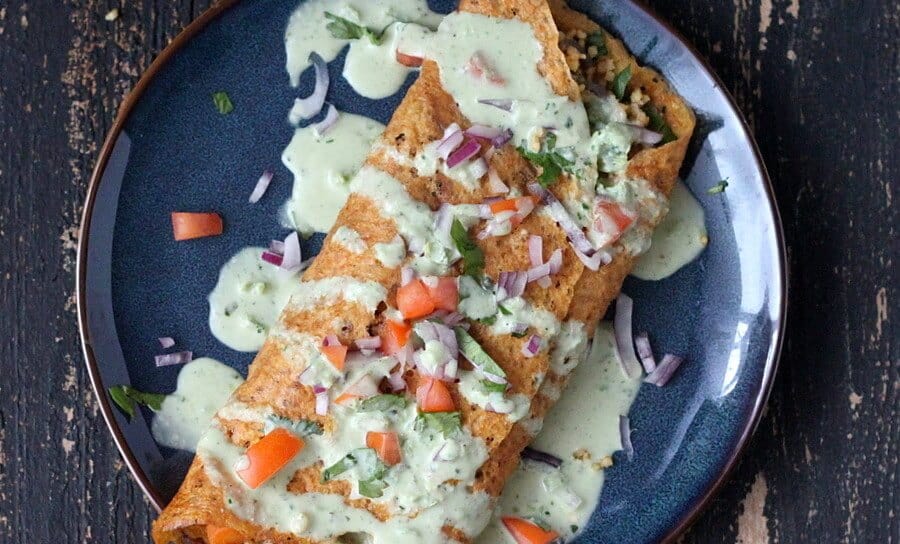 This porridge is comfort food all the way. Thanks to pumpkin puree, ginger, nutmeg and cinnamon, it's packed with flavor to start your day off on a sweet note.

Satisfy your Tex-Mex craving with this saucy Mexican millet. I love how well the cumin, cilantro, and tomato paste go together. Eat it solo or use it in tacos and burritos — you might never go back to plain rice!

These fun green wraps put a bit of spin on classic Mediterranean flavors. Figs, raw pumpkin seeds, and millet make up the base while olives, Dijon mustard, capers and olive oil are all part of the sauce. Wrapped in Swiss chard leaves, this millet recipe is an easy winner.

You just might never return to making regular old porridge again after starting your day with this version. Velvety coconut milk, dark chocolate chips and pistachios (or your favorite nut) turn this simple breakfast into a real treat. It's super easy to make, too! Get ready for a new a.m. favorite.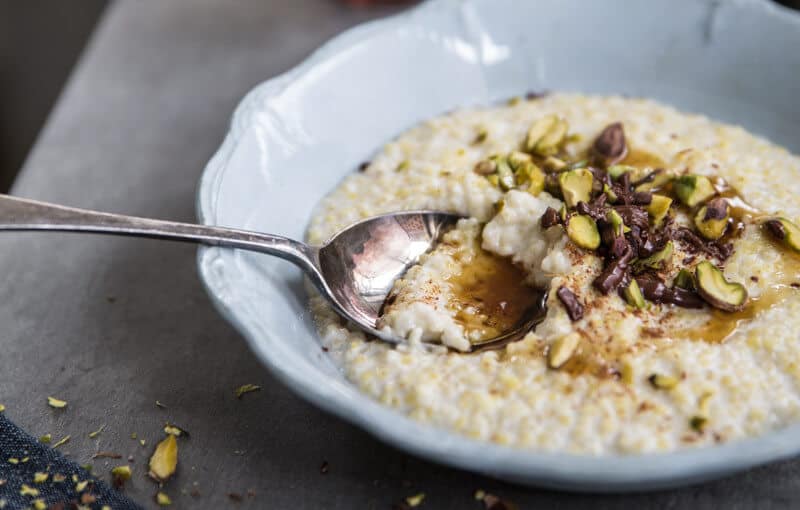 It's hard to go wrong in a recipe that includes butternut squash, chickpeas, and millet, but when you throw in fresh herbs, seasonings and veggies along with them, you've got a winner. This millet recipe can make for a flavorful vegan high-protein snack, and it comes together in just 30 minutes. Add this to your weeknight menu.

Sometimes you just want something that'll warm you down to your toes, a hearty dish that's packed with flavor. This millet recipe fits the bill. The meat-free mushroom gravy adds a decadent feel to the fluffy millet. A cup of fresh kale adds extra health benefits. Enjoy this one on a weekend or after a tough day.
more recipes here> the next great grain
More recipes Powerful Vegan Millet Recipes High Protein And Gluten-Free
See also > Plant-Based Protein: What You Need to Know