How To Eat More Raw Food & Improve Health With Delicious Recipes
|
Eat more Raw Food and Improve your health.
There are many reasons that can make you eat more raw food. Maybe you have been vegetarian or vegan for a few years and feel that it is the next natural step. You may be interested in the spiritual aspects, the closeness and clarity of consciousness, which are positive side effects of this lifestyle.
Or you may be suffering from health problems and have heard miraculous stories about people who have cured themselves of overweight, blemishes, low energy, fatigue, digestive problems, and even diabetes, thanks to raw food.
So what is this raw food exactly? The most common variant is plant-based and free of cooked and processed products, like fruits, vegetables, greens, seeds, and sprouts. In other words, raw food means to eat whole foods in their natural form.
Why eat raw food?
Raw foodies talk about foods that are rich in enzymes in their living form. They can be incredibly healing, cleansing, and nourishing. People with this lifestyle experience increased energy, digestion, better sleep, natural weight loss, and many other benefits.
Are you ready to take the first steps? Here are some tips to help you get started.
Start by slowly replacing the cooked food with raw or adding raw ingredients to ordinary meals. It can be really fun that way! Gradually, zucchini spaghetti will taste more than cooked pasta – it's crisp, and you'll feel lighter and more energetic. Or the homemade raw avocado sauce instead of egg and cheese on wholemeal bread is so fresh and tasty and full! At some point, the raw things will taste much better, so you want more and more of them.
Fruits / Green Smoothie for breakfast
Breakfast is the best way to start with the raw food transformation. The body detoxifies in the morning until noon, and fruits or green smoothies are an excellent way to support your body. Get your favorite fruits according to the season and enjoy.
Snacks
If you work all day and snack between meals, it's a great way to integrate healthy, raw food into your day. Replace sugary bars full of empty calories, sandwiches, or biscuits with things that nourish you properly: banana, a few oranges, a handful of nuts, or raw vegetables. A piece of raw chocolate may be off and on. You do not have to renounce things like cookies and cake as you can see some healthy recipes below.
Some of the recipes are from Hippocrates Institute, a beautiful retreat and a place that you should see if you visit Florida.
How To Eat More Raw Food & Improve Health With These Delicious Recipes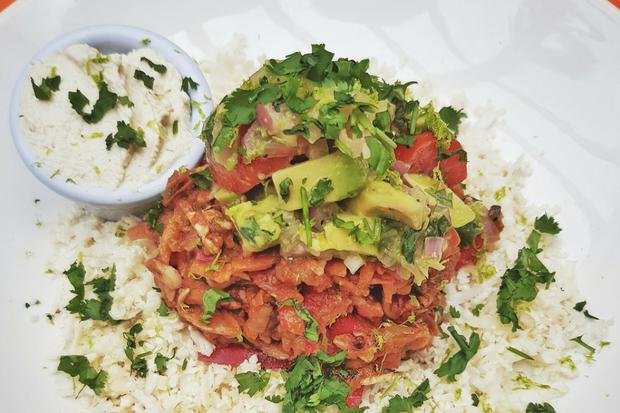 This chilli bowl is a raw vegan take on the classic chilli con carne. As well as being vegan and raw, it is also gluten-free and prepared without adding any oil.
This favorite HHI recipe by famous Chef Kelly and is one of our most requested dishes at the institute!
We know that cabbage and peas aren't likely your first thought when you visualize an amazing salad. We hope to prove you wrong with this fantastic dish!
Ready to kick your salad up a notch? Enjoy this Collard Green Salad recipe.
It's the most wonderful time of year for many reasons: this fantastic raw vegan cookie recipe! Enjoy them under the tree or wherever your heart desires.
This gooey chocolate cake, excerpted from Mia Lundin and Ulrika Davidsson's The Hormone Balance Cookbook, is the perfect thing for satiating any chocolate cravings you're having—except it's completely refined-sugar-free and packed with hormone-balancing ingredients.
More Recipes for you below
THE HEALTHY RAW DESSERTS YOU HAVE BEEN WAITING FOR
AWESOME RAW VEGAN RECIPES YOU CAN PREPARE QUICKLY
See also APPLES – AN EASY WAY TO ADD NUTRITION TO YOUR DAY.
Join the new knock-your-socks-off membership of Bright Line Eating® Click here.
If you need help with losing weight and keeping on track, the Bright Line Eating program is a great program to support. It is based on cutting-edge psychology and neuroscience. Susan Peirce Thompson, Ph.D. It is focused on establishing healthier eating habits and is also compatible with a vegan diet.