Gluten-Free Millet- IS Quinoa Getting Too Expensive?
|
Gluten-free Millet could replace Quinoa.
Gluten-free Millet is an ancient grain ,many only know it as bird food, but it is one of the best grains for us ever. Try the recipes provided here.
Millet has many benefits and is a ideal grain for vegans , It is a source of protein,vitamin E,A and B, iron , silicon, and magnesium, and is easy to digest. Gluten-free millet makes happy is good for beauty it has nutrient good for hair and nail, it is rich in fiber and helps with carbohydrates to meet the daily protein instead of anima sources.
It fills the stomach and makes satisfied, it is also good for natural weight loss. Instead of Quinoa get gluten-free Millet because it is the most valuable healthy grain.
Try the recipes below and enjoy the healthy gluten-free Millet
Gluten-Free Millet- IS Quinoa Getting Too Expensive?
 Your eyes and wallet are not deceiving you — quinoa prices are at an all-time high. The longtime staple of the Andean people has reached hippie-crack status of the health-food set. And while it may be hard to believe that another seed can replace this nutritional powerhouse, 2015 may be the year that millet takes over. What's to love about millet besides how good it is for the body? It's easy to prepare, affordable, and, unlike quinoa, it's free from complicated environmental and social quandaries.
First things first: despite being a favorite choice for bird feeders, millet is not just for parakeets. Still, grossed out? Just a reminder: those chia seeds you eat are the same ones sprouting out of someone's terra-cotta pet figurine (and we've all come to terms with that).
Continue reading here >Quinoa or Millet?
Image Source: POPSUGAR Photography / Anna Monette Roberts
Jowar fettuccine
with tomato braised vegetables
Find 3 recipes here >Healthy and delicious millet recipes to try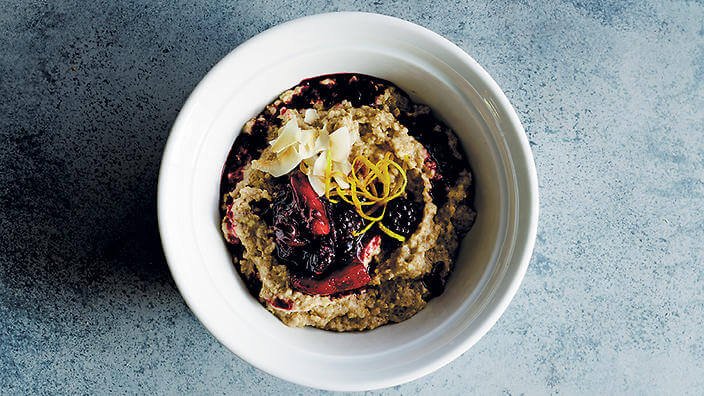 Amaranth blends well with milder-tasting millet and creamy coconut, and retains a pleasing, almost crunchy, popping texture when cooked.
Amaranth is a highly nutritious pseudo-grain with a history reaching back to the Aztecs some 5000 years ago. Toasting amaranth before cooking mellows out the flavour.
Millet idlis with coriander chutney for breakfast 
🙂
idli recipe – https://wp.me/p6hDs9-6c
chutney recipe – https://wp.me/p6hDs9-6M
see also POWERFUL VEGAN MILLET RECIPES HIGH PROTEIN AND GLUTEN-FREE
MILLET OR QUINOA, WHICH ONE OF THESE HEALTHY GRAINS TO PREFER?
Annmarie Gianni Natural Organic SkinCare Products Review