Herbs In The Kitchen – How To Use Aromatic Herbs
|
How to use Herbs in the Kitchen
Do you use herbs in the kitchen, or do you season only with salt and pepper? Then you should try fresh herbs. Culinary herbs give meals the right PEP simply and quickly. The roast with an herb crust, the Tabbouleh with fresh mint, or simply tomatoes with mozzarella and Basil taste with the aroma of the herbs differently – spicy and interesting.
 Herbs in the kitchen
Herb: What fits what?
Medicinal herbs in the food
Cooking with herbs
Pesto from fresh herbs
Herbal oil self made
Herbal jelly and herbal tea
Make herbal salt
Dried herbs or fresh: which is better?
Fresh herbs are the spices of life: parsley, chives & co. are small cut and plucked fast in the required quantities. A cabbage patch outside or inside makes it possible. Grow fresh herbs on the windowsill or in your own herb garden. Have them always at hand; they can be harvested according to your needs. Like your fresh herbs, use them skillfully. We have summarized what alternatives there are for you.
Herbs in the Kitchen: What fits what?
Who season his dishes with fresh, green herbs needs less salt to taste. Because of their high mineral and vitamin content, herbs make an important contribution to a healthy diet. To preserve the valuable ingredients, most of the herbs should be used fresh and not heated. Herbs should not be crushed or cut before washing, if necessary.
See also > How to Start an Indoor Garden
Herbs In The Kitchen – How To Use Aromatic Herbs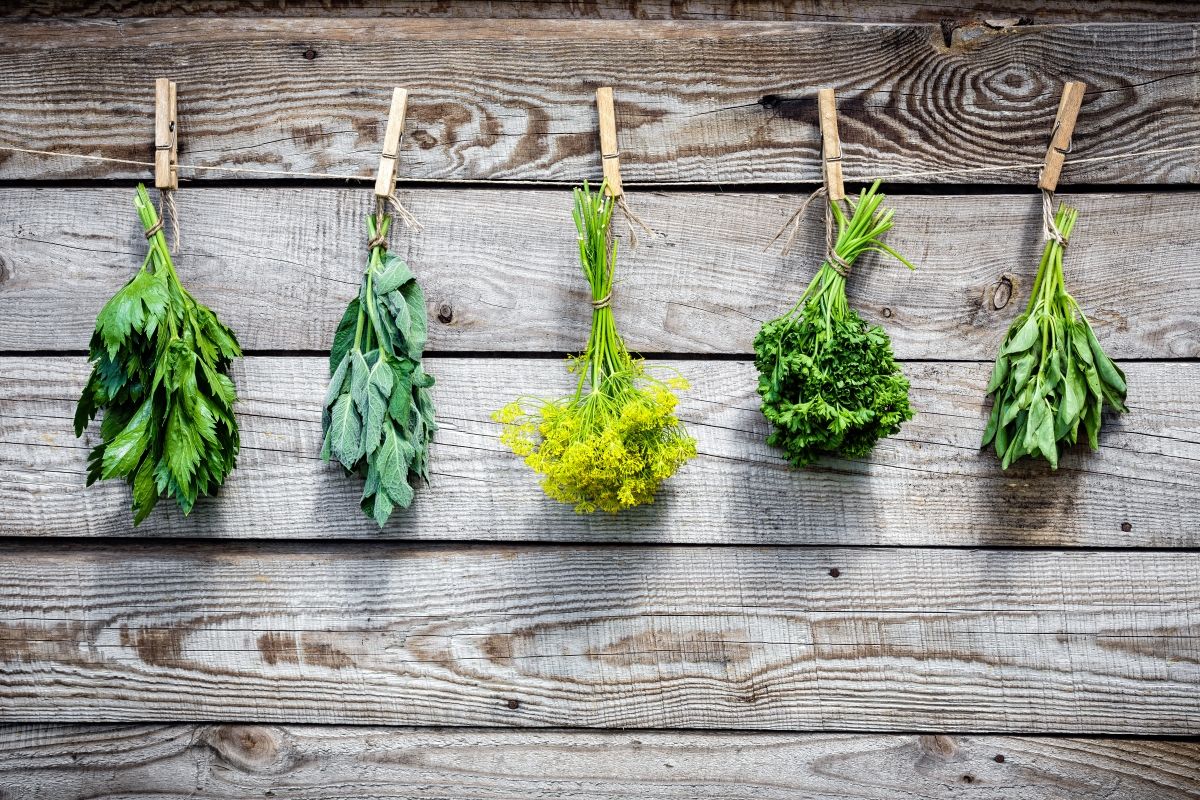 Which herb does fit?
INFOGRAPHIC: COOKING WITH HERBS
Basil
Fits almost all dishes from Mediterranean cuisine. Its unique flavor is fresh best. Basil is appetite-enhancing and has a detoxifying effect. Chewed leaves provide a fresh, clean breath.
Wild garlic(Ramsons)
It tastes like garlic; you can not smell it thereafter. Versatile: If a dish tastes with garlic, it is even better with wild garlic. Wild Garlic is ferruginous and good for digestion, blood pressure, and good for the heart.
Mugwort
Mugwort is the ideal herb for bold and hearty food. It stimulates the flow of bile and thus optimally supports fat digestion.
Savory
Slightly peppery taste and cooked with all over the world.  The typical flavor is good in stewed dishes. Savory strengthens the stomach, helps digestion, and is invigorating.
Stinging nettles
Used not raw, but short steamed, it tastes much like spinach.  Nettles are rich in vitamins and minerals and support blood building.  Try nettle dumplings!
Watercress
It tastes a little like radish and fits dairy products, eggs, or chicken. It contains lots of vitamin C and strengthens the immune system.
Dill
Dill stimulates the appetite and relieves indigestion. The herb is ideal for cucumber dishes and fresh fish.
Tarragon
It has a high content of essential oils, which are responsible for its tart – bitter taste. It stimulates the appetite and the secretion in the stomach and gives a special pep to herb butter.
Chervil
Stimulates the metabolism and purifies the blood. It is suitable for fine soups, eggs, and poultry dishes. Add just before serving.
Coriander
It is a typical herb for Asian cuisine and tastes slightly anise. It is suitable for dishes from the wok, increases appetite, and relieves bloating.
CORIANDER (CILANTRO) IS MORE THAN JUST AN AROMATIC HERB
Lovage
Used mainly for soups and stews. It is a diuretic and, therefore, useful for kidney and bladder diseases, gout, and rheumatism.
Marjoram
Not to be missing in any sausage, but also fits meatballs or fried potatoes. The herb particularly affects the gastric mucosa and is calming and relaxing.
Mint
It fits to sweets, but also meat and fish with yogurt sauce. The essential oils of mint stimulate bile flow and soothe the stomach and intestines.
Oregano
Oregano tastes bitter and slightly peppery and is used much in Italian and Greek cuisine. It promotes the appetite and calms the nerves.
Parsley
Suitable for almost all dishes. It is rich in provitamin A, vitamin C, B2, and calcium. Parsley stimulates kidney activity, has a blood purifier and helps digestion.
Arugula
Tastes peppery, spicy, and sour fresh. Their bitter substances stimulate the appetite and digestion. Arugula is ideal for salads but also briefly steamed for risotto, pasta, or fish stew.
To relieve a headache, calms by nervousness and has a positive influence on gastric, intestinal, and bile activity. As a bath additive, rosemary oil stimulates circulation.
READ Astounding Benefits Of Rosemary
Sage
It has a very spicy, slightly bitter flavor and should be used sparingly. It is valued for its digestive and anti-inflammatory effects.
Leek
Strengthens with its high vitamin C content the immune system. It goes with almost all savory dishes and salads.
Thyme
It has a spicy-sweet taste and only unfolds its wonderful aroma while cooking. It has calming spasms – and is expectorant.
Woodruff
Woodruff has a calming effect and helps with sleep disorders, it should be dosed sparingly, and can cause headaches in overdose.
Lemon balm
Tastes with all dishes you'd flavor with lemon juice. It has anti-virus and anti- bactericidal properties. Lemon balm tea is a nerve tonic and helps head and toothache. The aromatic lemon balm is used raw and is famous for uplifting our spirit.
HOW TO USE HEALTHY AROMATIC HERBS INSTEAD OF SALT
Herbs in the kitchen: Medicinal herbs in food
As you can see, many herbs have healing or health-promoting effects. Such herbs that can be used for medical purposes are considered to be medicinal plants. Many of the earlier very important considered medicinal herbs are today used as aromatic herbs in the kitchen. Former medicinal herbs now aromatize our meals, usually without the chef knowing what forces slumber in the herbs.
Medicinal plants and herbs can be quite different parts of the plants. Often only leaves, flowers, fruit, roots, or seeds of different plants are called medicinal herbs. Here are some examples of medicinal plants and herbs:
Elderberry flowers
antipyretic, anti-inflammatory, pain-resistant
Caraway
antispasmodic, carminative, helps with bad breath
Ginger
antioxidative, anti-inflammatory,
 Flaxseed
digestive, soothing, antioxidant
THE BEST 11 HERBS TO EAT AND LOSE YOUR BELLY FAT
Herbs should not be used without consultation with a physician or pharmacist, and not used as a substitute for drugs. Medicinal herbs can be supportive in the fight against certain ailments. However, treatment with medicinal herbs or medicinal plants should be accompanied by an expert. Wild herbs can have beneficial effects.
Cooking with herbs
Pesto from fresh herbs:
The classic pesto from Italy, more precisely from Genoa (hence the name pesto Genovese), consists of fresh basil, pine nuts, Italian cheeses, garlic, pepper, and olive oil. The fresh herb sauce tastes best fresh prepared. Herbs can be varied according to taste. Chanterelles are very popular. To get a stronger and more beautiful green, if omit the pine nuts and cheese or spreads only on the noodles. Further, you can make beautiful sharp  Pesto with chili pepper. Fresh red chili slices here; do something for the eye.
A recipe:
A bunch arugula
Chopped hazelnuts, alternatively pine nuts or sunflower seeds
Some olive oil
One to two garlic cloves
Few leaves of fresh Basil, Thyme, Sage, and Rosemary
Salt pepper
Mix in a blender
Herbs and vegetables to spice up your soup
3 carrots
1 celery
2 leeks
4 onions
A bunch of parsley
1 Bunch of chives
Bunch of garlic chives
1/2 garlic
1 Bunch of herbs, what you just have in the garden
500 g of salt
Clean all the herbs and vegetables, grate them, and put them in the blender. The ingredients can be expanded as desired, and individual components can be omitted or replaced. Add 10 g of salt per 100 g of the finished mixture, mix, place in the screw jars, and store in a cool place.
Add 10 g of salt per 100 g of the finished mixture, place in a jar with lit, and store in a cool place.
The salt preserves for at least 1 year. You can use it as a vegetable broth.
Herbal: Homemade oil:
You must not buy spicy herb oil; it can be made quite easily. Just put the oil and the desired aromatic herbs in a bottle type and leave mature for 4-6 weeks. You can use the whole variety of herbs and create an individual herb oil according to taste. Fresh as dried herbs are suitable for it. Fresh culinary herbs look more beautiful in a decorative glass bottle. Also, fresh herbs contain more flavor than dried since, while drying, they lose aroma.
Herbs: Jelly and herbal tea:
Fresh herbs are suitable for herbal jelly and syrup. The leaves and flowers are mostly used. Both fresh and dried herbs are suitable for herbal tea. Again: dried herbs store better, but fresh mint leaves in the teapot are simply decorative.
Herbs: Salt:
Salt is one of the oldest preservatives and is, of course, ideal for preserving fresh herbs. Also, there are no limits to the taste; combine the herbs as you like. The herbs are chopped small and mixed with salt; you can store them for a year.
Herbs: Brandy:
Liquor can be made from all roots, bark, buds, leaves, and flowers. With herbs, it takes only a few days to extract the flavor from roots and branches; it will take some weeks.  It can be filtered out with the help of a coffee filter.
Herbs: Dried or fresh – what is better?:
You can store dried herbs for a long time; they have a clear advantage over fresh herbs. However, you should note that over time, the flavor and the aroma of the herbs will be lost. Therefore, dried herbs should be stored always airtight. Fresh herbs offer more aroma.  Frozen herbs are an alternative. Because the fine herb leaves are very sensitive, they are not looking nice in fresh salads. Therefore using them better for cooking or for herb butter.
Also, read >INFOGRAPHIC: COOKING WITH HERBS
PARSLEY HERB A SERIOUS COMPETITION FOR FOOD SUPPLEMENTS
HOW TO FREEZE FRESH HERBS AND STORE THEM FOR LATER