The Best High Protein and Iron-Rich Foods for Vegans
|
The Best High Protein and Iron-Rich Foods for Vegans
About High Protein and Iron-Rich foods for Vegans, our friend Sonal Talwar from HealthFundaa is giving great information for people on a plant-based diet. Many vegans are worried about if they get enough protein and iron with this diet.
No worries, there is a wealth of vegetables, fruits, and legumes high in protein and iron. Included in our food in the right combination is all we need to stay vital and healthy. Read the information below and include these vegetables, fruits, and legumes in your diet. 
High Protein and Iron-Rich foods for Vegans
Humans are creatures of habit —You, Me, All of us. As we grow old, we become more rigid and set in our ways, especially when it comes to food. But it's time to shake things up and start with your go-to proteins– high-protein foods.
High Protein Foods to Lose Weight
Many of us have gotten into a rut. We rely on a few sources of protein. This will cause not only taste bud fatigue but also deprive your body of health-boosting nutrients found in high protein foods you have been overlooking.
To help you break free of your oh-so-boring grilled chicken and egg routine, I have compiled a list of the best-ever proteins for weight loss across every food category. Whether you love to fish, are a fan of dairy products, or stick to a meat-free meal plan, I have here the best options for your waistline.
Read on to know more, and be sure to pick a few of these the next time you head to the grocery store.
FRUITS & VEGETABLES
1. Spinach
Popeye's favorite veggie is not only a rich source of protein but also contains high amounts of vitamins A and C, antioxidants, and heart-healthy folate. One cup of this superfood contains as much protein as a hard-boiled egg—for fewer calories. To get the best out of spinach, steam it rather than eat it raw. This helps retain vitamins and makes it easy for the body to absorb the calcium content of this leafy vegetable. Add a handful to soups, omelets, pasta dishes, and veggie stir-fries, or simply steam it and top with pepper, garlic, olive oil, and a squeeze of lemon.
Protein Content: 1 cup (cooked), 41 calories, 5 gm of protein
2. Sun-Dried Tomatoes
s
Just a single cup of sun-dried tomatoes will give you 6 gm of satiating protein and 7 gm of fiber and three-fourths of your potassium requirement, which is important for heart health and tissue repair. Tomatoes are also rich in the antioxidant lycopene, which decreases your risk of bladder, lung, prostate, skin, and stomach cancers. Use them as a pizza topping or a tangy addition to your salads.
Protein content: 1 cup, 139 calories, 6 gm protein
3. Guava

The highest-protein fruit, guava, contains more than 4 gm of protein per cup. Apart from that, it also contains 9 gm of fiber and only 112 calories. This fruit is a must-eat with 600% of your daily requirement of Vitamin C per cup.
Protein content: 1 cup, 112 calories, 4.2 gm protein
4. Artichokes

Artichokes have almost double the amount of fiber as kale (10.3 gm per medium artichoke, or 40% of the daily fiber the average woman needs) and one of the highest protein counts among vegetables. Boil and eat it as a salad, or peel and pop the hearts onto healthy pizzas and flatbreads.
Protein Content: 1 medium vegetable, 60 calories, 4.2 gm protein
5. Peas
Among the other high-protein foods are peas. A cup of green peas contains 8 times the protein of a cup of spinach. And with almost 100% of your daily requirement of vitamin C in a single cup, they will also help improve your immune system.
Protein content: 1 cup, 118 calories, 8 gm protein
BEANS & LEGUMES
6. Beans
Beans are good for the heart and have many other health benefits. They contain high amounts of proteins, antioxidants, vitamins, and minerals that are good for your brain and muscles. At the same time, they take time to digest and thus make you feel fuller for a long time and fuel weight loss efforts without causing feelings of deprivation.
Protein Content: 1/2 cup, 109-148 calories, 7-10 gm of protein
7. Lentils
Here are some appealing proportions: One cup of lentils has the protein of three eggs, with less than one gram of fat! Their high fiber content makes them extremely satiating and speed fat loss. Research indicates that people who included four weekly servings of legumes lost more weight and improved their cholesterol levels more than those who didn't.
Protein content: 1 cup, 230 calories, 18 gm protein
8. Peanut Butter

This creamy spread is completely addictive. While eating too much peanut butter can cause havoc on your waistline, a standard two-tablespoon serving provides a proper dose of muscle-building protein and healthy fats. According to a study consuming peanuts can prevent both cardiovascular and coronary artery disease.
Protein Content: 2 tablespoons, 191 calories, 7 gm of protein
Read the full post at: http://healthfundaa.com/high-protein-foods-better-health/
You may also like to  read >POWERFUL PROTEIN RICH VEGAN MILLET RECIPES and
MILLET OR QUINOA BOTH ARE GLUTEN-FREE and High in Protein
Iron-rich foods for vegans and vegetarians
HOW TO USE A VEGAN DIET TO BUILD MUSCLES +VIDEO
Read  about Iron -Rich  foods and the 11 best Vegan Protein foods
Iron-rich foods for vegans and vegetarians
People often have this misconception that vegans & vegetarians suffer from iron deficiency. In fact, they have tons of options for iron-rich foods, such as fruits, vegetables, beans, grains, etc. Most of these vegetarian food items also contain other important vitamins, nutrients, and minerals. So if you add these iron-rich foods to your diet, you can improve your overall health in a great way.
1. Brussels Sprouts
Brussels sprouts are something that all of you must have hated as a kid, but now when you learn how healthy they are, you can't resist them. They are a brilliant source of iron and help prevent fatigue and other symptoms related to iron deficiency. Apart from being rich in iron, they also contain antioxidants, vitamins, folate, and fiber.
2. Raisins
Like all the other dried fruits, raisins are an excellent source of iron. You can easily add a handful of these delicately sweet treats to your cereal, yogurt, and oatmeal.  You can also combine them with other foods that contain vitamin C. This way your body can absorb the iron much more easily.
3. Lentils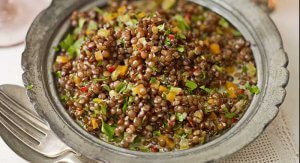 Lentils contain iron and are packed with other vitamins and nutrients, such as proteins and essential amino acids. Also, these legumes are easy to cook. They are traditionally used in Indian and Middle Eastern dishes, but you can use them to spice up your soups, stews, and pasta.
4. Dried Peaches

Also, one of the best ways to get more iron in your diet is to opt for dried fruit instead of fresh, which is considered one of the best iron-rich foods. Dried fruits contain more nutrients, including iron. Dried peaches are not only a wonderful breakfast companion but can serve as a delicious addition to salads or as a great snack on your busy day. A serving of dried peaches contains about 9%of your daily recommended iron. An added advantage is that it does not contain much sugar and calories.

5. Soybeans

This is another superfood full of proteins, unsaturated fat, fiber, and lots of iron. A single cup of boiled soybeans contains almost half the recommended daily dose of iron for your body. Another wonderful thing about soybeans is their flexibility. You can use them to your liking – add them to your soup or make a yummy meal out of them!

6. Arugula
Arugula has many health benefits and a low-calorie count. It is a great source of iron for vegetarians. Add a few servings to your diet every week and improve the health of your red blood cells. You can enjoy it as a salad or in soup, or as your pizza topping.
7. Black Beans
Black beans loaded with fiber, protein, and iron are good for your health and not heavy on your purse. They satisfy hunger and also give an energy boost that lasts for hours. One cup of black beans covers 20% of your daily recommended iron intake.
8. Brown Rice
One of the most adaptable foods on Earth, brown rice has high iron content and is rich in fiber. It also helps in releasing toxins from the body. Being a rich source of iron, it helps to fight anemia and fatigue. Cook brown rice with your preferred beans or veggies for an iron-rich meal that will keep you full for hours.
Read the full post at:http://healthfundaa.com/iron-rich-foods-for-vegetarians/
Therefore, all you vegans and vegetarians out there – be happy as many iron-rich foods and high-protein foods are available for you!
Health Fundaa recently started a forum.
Do you have a health and fitness-related question that you want to ask? Don't worry! Submit your question and get answers to all your health problems.
Healthfundaa.com has started a new category of Discussion Board where all of you can participate, ask questions, and also reply to questions asked by others. It is a platform for interaction on health and fitness. Therefore, in any case, if you have questions, you can just click on the link below and post your question and start participating.http://healthfundaa.com/questions/
IS IT POSSIBLE TO USE A VEGAN DIET TO BUILD MUSCLES?
VEGAN IRONMAN JOHN JOSEPH – MEAT IS FOR PUSSIES!
See also GLUTEN-FREE MILLET – IDEAL FOR VEGAN AND VEGETARIAN
LEARN ABOUT VEGAN DIET RECIPES FROM AN ULTRA-ATHLETE