7 Powerful Satisfying Raw Breakfast Ideas To Start A Happy Day
|
SATISFYING RAW BREAKFAST IDEAS FOR A GOOD MORNING START
Satisfying raw breakfast ideas with healthy ingredients that make powerful and vital, like oatmeal, Nuts, and fruits. Especially Oatmeal is great for a breakfast cereal; the overnight oatmeal recipes are nutritious and healthy and bring the power to start a good day.
Oats are gluten-free and have a lot of fiber, good for gut health. They also have vitamins and minerals like vitamin B1,  magnesium, and zinc. Oats lower cholesterol levels and have antioxidants. Prepare the recipes the night before, and you are good to go on a happy day the next morning with a delicious, nutritious, and satisfying breakfast.
Great also for a school lunch for kids. It is easy to take with you to work as a snack in a jar. It is even more powerful with a glass of Almond milk or Coconut water. Try these powerful and satisfying raw breakfast ideas and start a happy day.
7 Powerful Satisfying Raw Breakfast Ideas To Start A Happy Day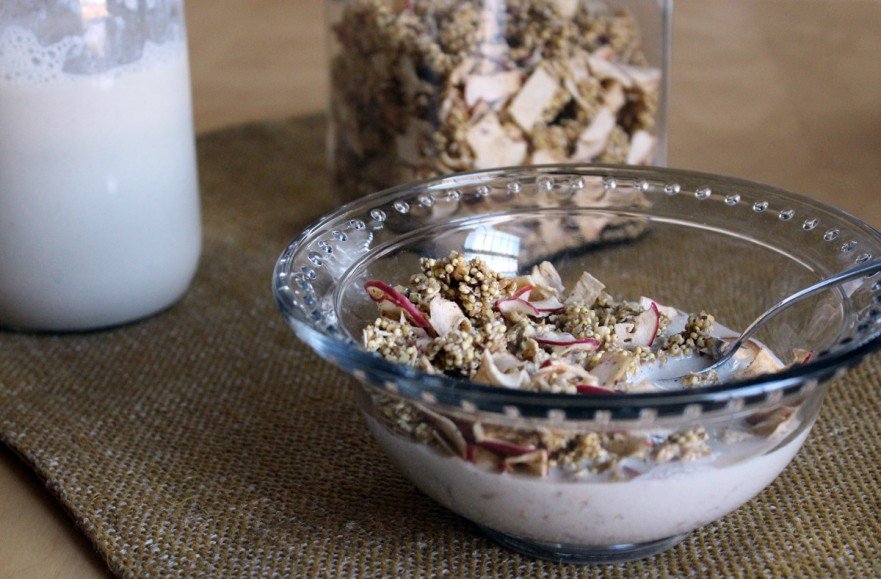 Crunchy granola cereal bites with chewy cinnamon-spiced apples together in harmony! It is one of the healthiest cereals you could ever eat because it is sprouted; living, raw, vegan, and gluten-free!
Aside from smoothies and vegan overnight oats, raw buckwheat porridge is a breakfast staple in my morning rotation. I love breakfasts that are quick and easy and this one surely fits the bill. Similar to smoothies and overnight oats, you can also make buckwheat porridge the night before and store it in the fridge. Throw it into a jar and grab it while running out the door in the morning! How easy is that? recipe here
A homemade raw foods diet breakfast cereal similar to healthy muesli or granola cereal with fresh fruit and topped with raw nut milk. This is a wonderfully delicious and healthy breakfast idea for those eating a raw and living foods diet.
It's a wonderful recipe, but to make it truly amazing, add the coconut oil – that's the secret ingredient to make this raw granola muesli truly praise-worthy.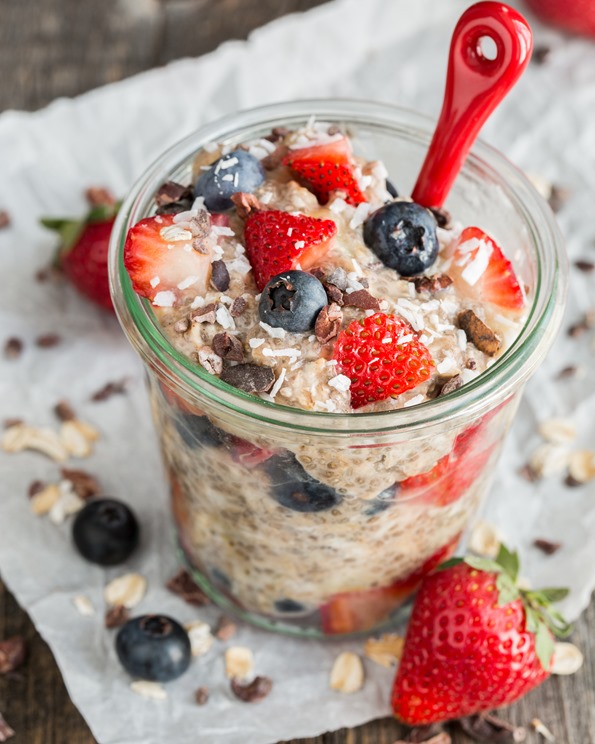 Just a word of caution: The protein powder in this recipe is not for everyone and it's a taste and texture I got used to with time. My advice is to start off with a small amount of protein powder and gradually add more as you get used to it. The flavour will differ dramatically based on the brand you use. Try something quite neutral. I use Sunwarrior Warrior Blend Natural. The other option is just to omit the protein powder altogether. Also, feel free to add sweetener if the oats aren't sweet enough for you. I did a rough calculation and my bowl has almost 25 grams of protein and it keeps me going all morning long! Recipe here
Want to try your hand at making raw vegan oatmeal for breakfast? Here's how to do it, using steel-cut oats, water, and dates for sweetener.
Following a raw vegan food diet for any length of time can occasionally leave you craving warmth, comfort, and flavors of the past. This simple recipe for raw oatmeal can bring you back to the good ol' days. Soaking the steel-cut oats the night before will make them much softer and easier to blend. They can also stay soaking in your refrigerator for days, even up to a week if you change the water once or twice, so feel free to prepare this raw oatmeal in advance. Recipe here
A Raw Food Trail Mix with Superfoods an Idea also great for breakfast
Cocoa Nib And Pomegranate Overnight Oats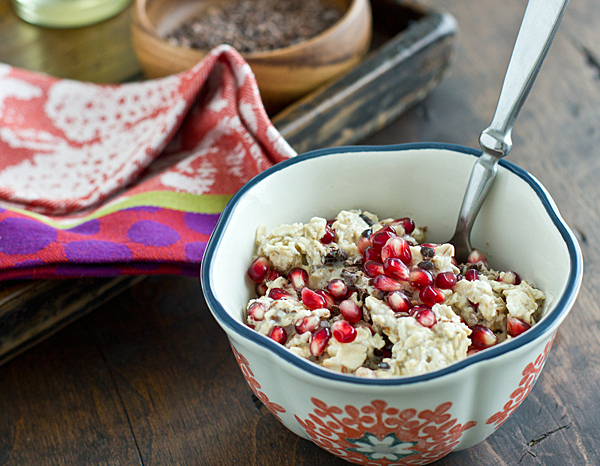 ohmyveggies.com . Delightful. Recipe here.
Strawberry Rhubarb Overnight Oats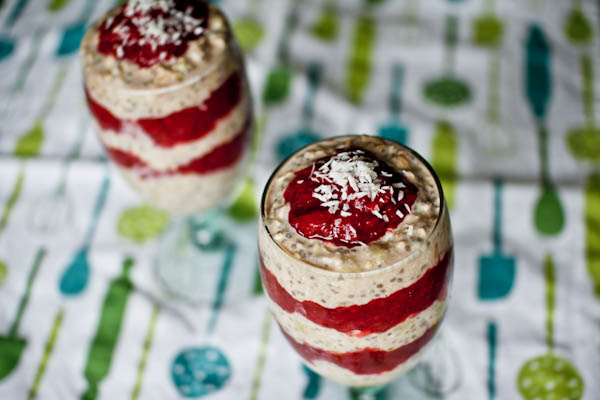 OMG fresh rhubarb and strawberry jam would be amazing with overnight oats. Recipe here.
Also, see How to Meet Your Vitamin A Needs and Recipes.