Raw Beet Recipes That Are Lovely Tasty And Healthy
|
Raw Beet Recipes healthy and colorful
Here is a variety of raw beet recipes that are a colorful delight to eat and also healthy. Beetroot recipes for the healthy turnip
bright red, healthy and delicious – beetroot convinces by its simplicity in the preparation, at the same time it surprises with its versatile use in the kitchen, white and yellow beets provide a colorful mixture. Discover refined recipes with the locally grown turnip
Beetroot is one of the healthiest vegetables. The turnip, which is rich in valuable vitamins and minerals, is easily underestimated, but it is not only healthy. Properly prepared, it tastes deliciously fresh and aromatic. As a salad, garnish, soup, or sorbet – beetroot is a true all-rounder that is easy to prepare.
Beetroot gives a salad both visually enchanting red highlights and a sweet-tart character in terms of taste. Discover great recipes for salads and more with beets!
Raw Beet Recipes That Are Lovely Tasty And Healthy
This is a lovely new way to use beets, which are in season from fall until the spring. Raw beets have a surprisingly sweet, earthy taste that's complemented by fresh cucumber and tangy tomato. Top it all off with a dollop of creamy avocado puree and you've got a perfectly refreshing soup that's delicious almost all year round.
"This colourful beetroot salad makes a great little snack or starter and is really easy to rustle up " Vegans can replace the Feta with Vegan cheese
Beets, like carrots, can be eaten raw. And they're delicious that way, crunchy and sweet. So sweet, in fact, that they need a strongly acidic dressing like this one for balance.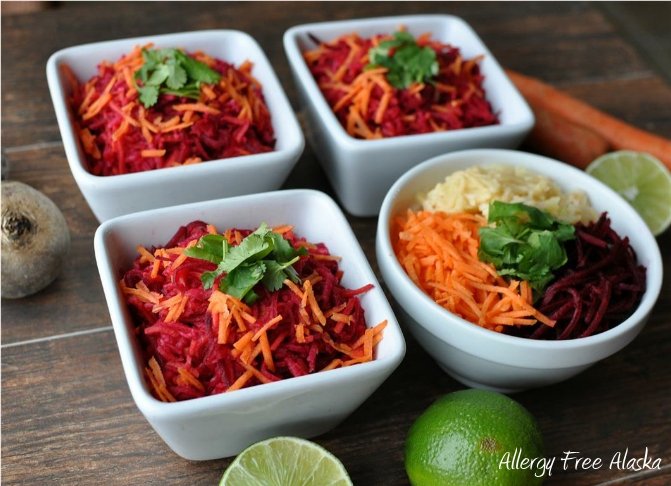 This Raw Beet, Carrot & Apple Salad with Ginger-Lime Dressing is by far, one of my favorite salads. It is very refreshing, and the ginger and lime balance out the sweetness of the carrots and apple perfectly. Everyone who has tried it (even those who openly don't like beets) has liked this salad and asked for the recipe!
Thinly sliced beets are cut into heart shapes to create this visually appealing dish. The beets are filled with a pine nut spread and then drizzled over with pesto oil.
Read also > 10 EXCEPTIONAL RAW RECIPES EVEN THE KIDS WILL LOVE
8 DELIGHTFUL AND HEALTHY SMOOTHIES, LEMONADES & BEVERAGES
SEE WHAT EATING DAILY HEALTHY RAW SALAD CAN DO FOR YOU
Often it is the eating and lifestyle habits that cause weight problems. Why not establish a new and healthier lifestyle?
Join the new knock-your-socks-off membership of Bright Line Eating® Click here.
The Bright Line Eating program can support and accompany you. It is a program based on cutting-edge psychology and neuroscience. Susan Peirce Thompson, Ph.D., created this program using the experiences and knowledge of her weight loss journey. The program focuses not on willpower but on establishing healthier eating habits. This unique approach is helping people every day to lose weight by changing their lifestyle and eating habits.