Raw Beet Recipes That Are Lovely Tasty And Healthy
|
Raw Beet Recipes are healthy and colorful.
Here is a variety of raw beet recipes that are a colorful delight to eat and also healthy. Beetroot recipes for the healthy turnip
bright red, healthy, and delicious – beetroot convinces by its simplicity in the preparation; at the same time, it surprises with its versatile use in the kitchen; white and yellow beets provide a colorful mixture. Discover refined recipes with the locally grown turnip
Beetroot is one of the healthiest vegetables. The turnip, which is rich in valuable vitamins and minerals, is easily underestimated.
The beetroot is rich in valuable ingredients such as vitamin C, beta-carotene, amino acids, folic acid, and betaine, the dye that gives the tuber its red color. Its potential in various studies shows to increase homocysteine ​​levels, a risk factor for heart disease.
The potential importance of beetroot for heart health has been researched, especially in the last few decades, as part of scientific studies on its effectiveness in treating high blood pressure and improving vascular function.
Beetroot is not only healthy. Properly prepared, it tastes deliciously fresh and aromatic. As a salad, garnish, soup, or sorbet – beetroot is a true all-rounder that is easy to prepare.
Beetroot gives a salad both visually enchanting red highlights and a sweet-tart character in terms of taste. Discover great recipes for salads and more with beets!
Raw Beet Recipes That Are Lovely Tasty, And Healthy
This is a lovely new way to use beets, which are in season from fall until spring. Raw beets have a surprisingly sweet, earthy taste that complements fresh cucumber and tangy tomato. Top it all off with a dollop of creamy avocado puree, and you've got a perfectly refreshing soup that's delicious almost all year round.
Reset with this healthy beet salad recipe featuring superfoods like carrot, quinoa, spinach, edamame, and avocado. This salad is as flavorful and nutritious as its bold colors would suggest.
Beets, like carrots, can be eaten raw. And they're delicious that way, crunchy and sweet. So sweet, in fact, that they need a strongly acidic dressing like this one for balance.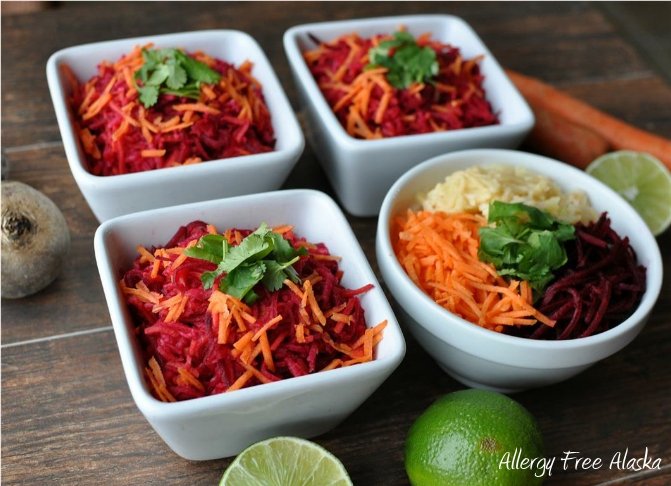 This Raw Beet, Carrot & Apple Salad with Ginger-Lime Dressing is by far, one of my favorite salads. It is very refreshing, and the ginger and lime balance out the sweetness of the carrots and apple perfectly. Everyone who has tried it (even those who openly don't like beets) has liked this salad and asked for the recipe!
Thinly sliced beets are cut into heart shapes to create this visually appealing dish. The beets are filled with a pine nut spread and then drizzled over with pesto oil.
You can never go wrong with beetroot. These balls turned out so perfect, incredibly tasty, and nutritionally beneficial. You only need five simple ingredients ( shredded coconut, buckwheat, dates, beetroot, and fresh vanilla) to make these cuties, so they are basically as good for you as they look.
Read also > 10 EXCEPTIONAL RAW RECIPES EVEN THE KIDS WILL LOVE
8 DELIGHTFUL AND HEALTHY SMOOTHIES, LEMONADES & BEVERAGES
SEE WHAT EATING DAILY HEALTHY RAW SALAD CAN DO FOR YOU
Often it is the eating and lifestyle habits that cause weight problems. Why not establish a new and healthier lifestyle?