Creative Raw Vegan Recipe Ideas To Please Your Taste Buds
|
 Creative exciting Raw Vegan Recipe Ideas
Discover creative raw vegan recipe Ideas. We show you how simple vegan raw food is to be implemented in the kitchen. Experience fresh and light meals, which are true vitamin bombs. Try something new and create new experiences for your taste buds. The selection of vegan raw food recipe ideas ranges from pizza, vegetable pasta to chocolate and cakes.
With the chocolate caramel pecan cake from page two, the oven remains cold and the vegan banana cream cake succeeds without heat and tastes particularly good this time of the year. These vegan recipe ideas show that it is also nutrient-rich in winter months the Pizza with Pepper and Flax crust and the Moroccan Stew with sprouted chickpeas, dried fruit, and vegetables, contribute to this and the Zucchini Noodles and the Enchilada with nutmeat have the right power!
In the true sense of the word "raw", these raw vegan recipe ideas have ingredients that are wild, raw, plant-based, delicious, nutritious, and vegan. Curious?
Creative Raw Vegan Recipe Ideas To Please Your Taste Buds
Impress your date with this pizza recipe for two (or really impress yourself and eat a whole lotta pizza!). There's a lot of flavor happening in this pizza, with the red pepper flax seed crust topped with fresh tomato sauce, veggies and a delicious non-dairy cheese made with pine nuts, nutritional yeast and garlic.
This spiced Moroccan stew may take some preparation, but it is sure to tantalize your taste buds. All those lycopene rich tomatoes, sprouted chickpeas, dried fruit and vegetables… All married together by traditional flavors of cumin, turmeric, cinnamon and lemon. And if that isn't enough, it's also paired with spicy cauliflower couscous with oranges, cranberries and walnuts and a side of kale. Did I also mention it's raw?
A recipe from Tanya Maher the author of The  Uncook Book
By Tanya Maher and Udo's Choice
For the crust: 1.5 cups pecans, 1 cup hazelnuts, 1 cup dates, pitted and soaked only if dates are too dry, 1 cup dried apricots, 2 tbsp cacao nibs, 1/3 tsp salt
For the filling: 1 small/medium pumpkin (about 1 kg before peeling), 2 cup dates
2 tbsp coconut oil (or 3/4 cup if you want the filling to be more solid), 1.5 tbsp mesquite/algarroba, 2 tsp cinnamon, 2 tsp ground ginger powder, 1 tsp vanilla powder (or 1 tbsp vanilla extract), 1/2 tsp nutmeg 2 capsules of Udo's Choice Super 8 Probiotics
Method:
Process the nuts for the pie crust until they are roughly chopped.
Add all the remaining crust ingredients and process until well combined, but slightly chunky.
Transfer the mixture into a nine-inch pie dish with a removable base and use your hands to press it in, making sure that you create the same thickness to line the bottom and the sides.
Use your fist if more force is necessary to move the crust outwards and create a wall high enough for the filling to sit in.
Cut the pumpkin in half, scoop out and discard of all the seeds, then carefully chop off the peel with a good knife and roughly chop the pumpkin flesh.
Process all the filling ingredients until creamy, use a blender if necessary.
Pour the filling into your pre-constructed pie crust. Refrigerate overnight before serving.
Get her book here The Uncook Book
You wont believe this is raw and vegan. A salsa and walnut taco meat, spiced with cumin and coriander, is wrapped up in  tomato-corn tortillas and covered in a creamy cashew cheese sauce.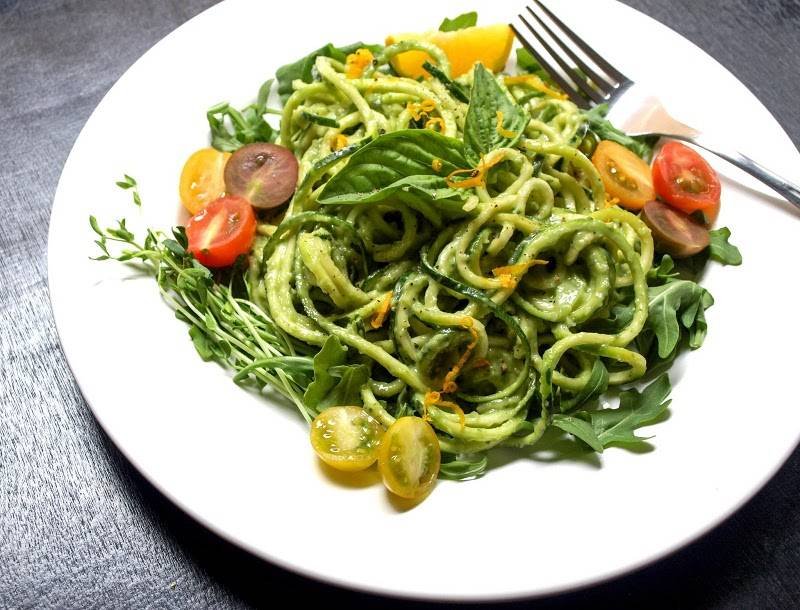 Pasta lovers will be impressed with this refreshing dish. Prepare noodles by cutting zucchini julienne style or spiralized. Then, make a creamy, non-dairy sauce using avocado and cucumber
This recipe calls only for fruit, nuts, and coconut oil. Its simple, sweet filling makes it a great dessert choice for a  party.
This decadent dessert includes a dark chocolate pecan cake base topped with a creamy, spiced caramel sauce and pecans.
See also RAW VEGAN DESSERTS THE BEST LOVED IN SPRING 2017
and > Raw Healthy Desserts And Cakes That You Can Make Very Quick