Top-Notch Raw Food Ideas From Breakfast To Dinner
|
Top-Notch Raw Food Ideas all day long
Top-Notch raw food ideas for you to eat from breakfast to lunch, dinner, and dessert. A great variety of delicious healthy raw food ideas for every day of the week. These recipes can make you really enjoying raw food. Even if you have friends and family who are not fully raw, these top-notch raw food ideas will make them love it.
All recipes are made up of fresh, whole, unrefined, living, plant-based foods. Preparing raw food is not time-consuming Even if you are not fully raw it will be a good opportunity to eat more raw by trying all these top-notch raw food ideas. Replace a meal with a smoothie. The desserts are delicious and everybody will enjoy them.
Buy all the fresh fruits and vegetables locally and have all the nutrient vitamins and minerals to boost the vitality and wellbeing of the family. Enjoy!
Top-Notch Raw Food Ideas From Breakfast To Dinner
Healthy RAW FOOD RECIPES
Even if a 100-percent raw diet isn't in the cards for you, eating raw for a meal here and there can still have some benefits. Test the waters with these 24 recipes for breakfast, lunch, dinner, and dessert.
Raw breakfast ideas
Wow, your friends (and Instagram followers!) with a tropical green smoothie topped with a mango rose. Don't worry, you don't need any crazy knife skills to achieve it—just a little patience! Try serving the whole thing inside half a coconut for an even more stunning presentation.
No matter the weather, one sip of a coconut-filled smoothie will transport you to a secluded tropical beach. Plus, the skin-boosting nutrients in the carrot will leave your complexion glowing, as if you really did spend a day soaking up the sun.
Veggies have never tasted so sweet. Though the smoothie is packed with kale, spinach, and cucumber, pear keeps it fruity and ginger adds just enough of a kick. Toss in a spoonful of coconut oil before blending for extra energy.
This pale pink smoothie can win over even the pickiest of eaters. The strawberry, pomegranate, and banana flavor combo is a surefire crowd-pleaser—and the omega-packed hemp seeds hiding inside are barely detectable.
Your morning coffee might seem like decaf after a sip of this energizing smoothie. Cacao powder delivers a potent hit of caffeine, while almond butter and chia seeds add plenty of protein and omega-3s.
After a weekend of indulgence, hit the reset button with a rejuvenating blend of fresh cucumber and mint leaves, both of which help boost digestion (especially when paired with tart, fiber-rich green apples).
Think of this tropical smoothie as a lightened-up piña colada. There's no alcohol or added sugar, but it's packed with healthy fats, omega-3s, and vitamin C.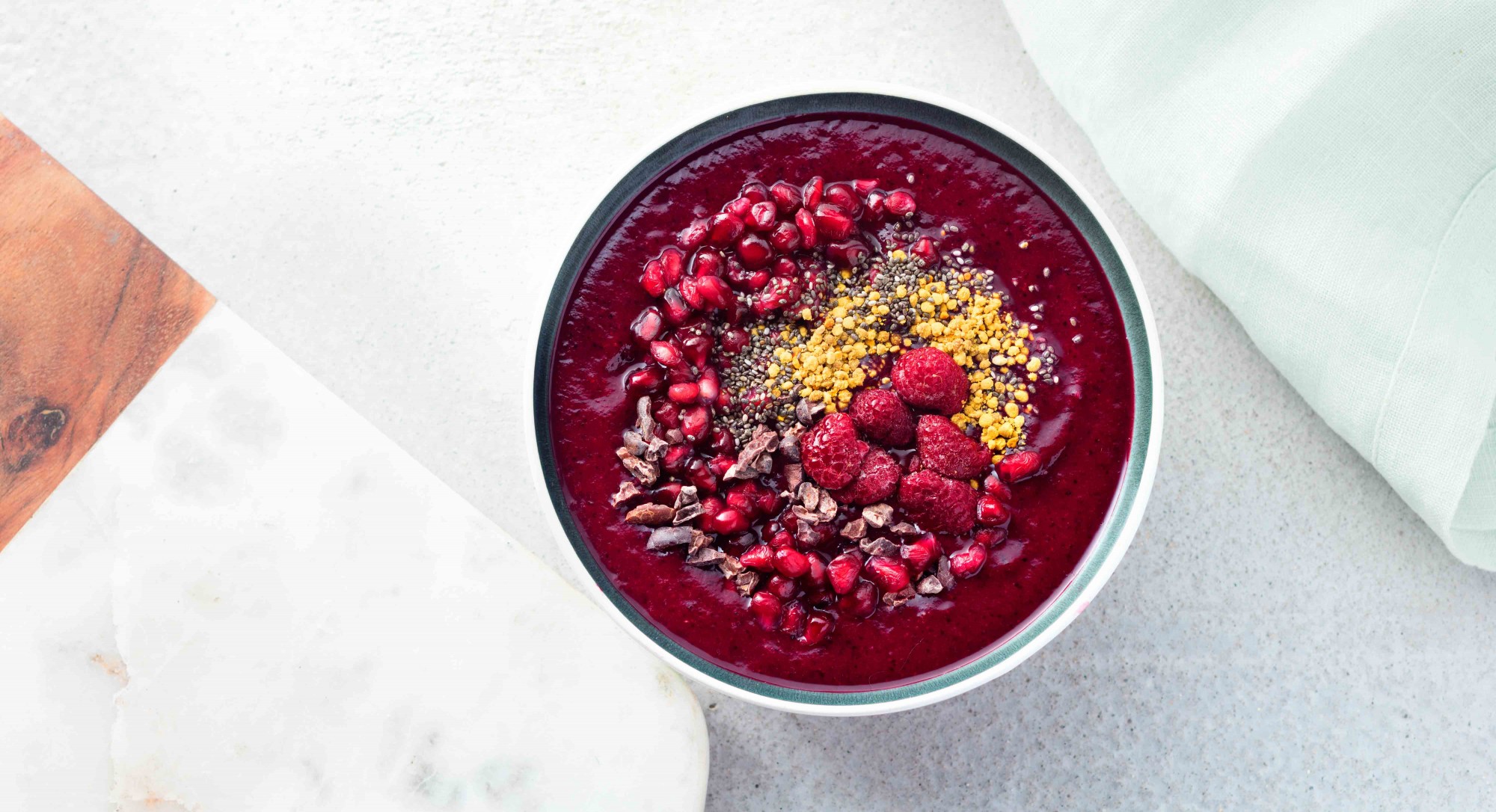 Beets, hailed in Ayurvedic medicine for their liver-cleansing properties, give this bowl a showstopping deep magenta hue. Pineapple and blueberries lend a touch of sweetness, and ginger adds a hint of spice
Raw lunch and dinner recipes
A salad of peppery watercress, tart grapefruit, and fresh herbs is just the thing for a light lunch. To make it more filling, slice a ripe avocado over the top and throw in an extra tablespoon of cashews.
Running the vegetable peeler over carrots creates long, thin ribbons that stand-in for rice noodles for our raw take on pad thai. Tossed with a spicy and savory sauce made from almond butter, coconut aminos, ginger, and garlic, the flavor of the dish comes pretty close to the real thing!
As colorful as it is tasty, this veggie bowl brings together pretty much everything but the kitchen sink: carrots, tomato, cucumber, pea shoots, hemp seeds, cashews—plus a generous dollop of tahini sauce to finish the whole thing off.
Keep it simple—that's the inspiration behind Kris Carr's raw broccoli salad. Whisk together a quick dressing of lemon juice, garlic, basil, and hemp oil, and you're done!
Left raw, the delicate sweetness of fresh squash blossoms really shines. Pipe them full of raw "ricotta" made from pine nuts and nutritional yeast for an elegant appetizer your guests won't forget any time soon.
 Raw desserts
No dairy needed here—rich coconut milk whipped until thick and fluffy makes for uber-creamy ice cream. Earthy matcha green tea adds a mellow sweetness that tastes beyond refreshing on a hot day.
Raw almonds and coconut have never tasted so good. Like the beloved Girl Scout cookie, our samosas are covered in coconut caramel and drizzled with chocolate. The only difference: we left out the highly processed ingredients and swapped in almonds, dates, and shredded coconut.
Find more recipes here >24 Healthy Raw Food Recipes
Photo credit: Paul Delmont
More recipes A 1 Day Raw Food Cleanse Makes You Feel Healthy And Light