Best Vegan Lasagna Recipes For The Love Of Italian Food
|
Vegan Lasagna Recipes for you to enjoy
Vegan lasagna recipes converted from a classic Italian dish. Lasagna is a classic Italian dish. A good lasagna is a culinary building. It takes time and respect and of course the right sauce. Italian cooks fill each of the layers with devotion, otherwise, a lasagne is not the queen of the pasta, but only an ordinary pastry dish.
Even the choice of pasta for lasagna can be a question of faith. Can purchased dough spoil a lasagna? Is fresh noodle dough unbeatable for lasagna? Pre-cooked or raw? If each ingredient is exactly what it is supposed to be, lasagne is pure happiness in layers.
Lasagne is a perfect guest meal and you can completely prepare and keep it in the fridge or you can even freeze it. If it comes unbaked from the refrigerator into the oven, it needs at least 30 minutes longer. Ready-to-bake frozen lasagna needs to warm up for almost an hour and it is good to cover the lasagna with baking paper. To test whether the lasagne is perfectly warm, poke a needle into the middle, the needle must be hot!
You can find below vegan lasagna, made vegan from classic Italian lasagna recipes, delicious varieties, from vegetable lasagna to pumpkin lasagna.
Enjoy the variety!
Vegan Lasagna Recipes For The Love Of Italian Food
Lasagna With Cashew Bechamel

Lasagna is ubiquitous with family dinners and comfort food and this recipe is full of all kinds of hearty goodness. It combines a creamy cashew bechamel sauce with sautéed vegetables, homemade low-fat tomato sauce, and almond Parmesan cheese on top. You definitely won't miss dairy when you take a bite of this Lasagna With Cashew Bechamel!
Tomato Eggplant Lasagna With Cashew Mozzarella
Looking for the perfect dairy-free lasagna? This comforting dish layers gluten-free lasagna slices with fried eggplant slices, a rich tomato sauce made with carrots and leeks, and a topping of cashew mozzarella that's gooey and stretchy. Believe us, you won't regret giving this Tomato Eggplant Lasagna With Cashew Mozzarella a try!
Crispy Lasagna Pockets

Have you ever thought to yourself, "Man, lasagna would be so perfect if it was just a bit more dip-able?" Well, then you're in luck! This recipe takes the magic that is lasagna and places it neatly inside crispy wontons for a perfectly portioned, delicious take on a classic Italian entree. These Crispy Lasagna Pockets are great for a family-friendly meal or even a fun appetizer for a gathering.
Tomato and Vegetable Lasagna
Packed with veggies, homemade sauce, and plant-based cheese, this lasagna is perfect for any occasion. It's layered with baked eggplant slices and a savory mushroom mince that replaces meat. The lasagna has a really yummy ricotta cheese layer that tastes just like the real thing. You definitely won't be disappointed if you try this Tomato and Vegetable Lasagna
Creamy 3-Cheese Spinach and Mushroom Lasagna
This simple (but very delicious) Creamy 3-Cheese Spinach and Mushroom Lasagna recipe involve nothing more complex than a pan, a dish, an oven, and a blender. Spinach is sautéed, combined with mushrooms and cream cheese, and then laid down on a dish for the base.
Buckwheat Lasagna With Pumpkin Cream and Herbed Bread Crumbs
This Buckwheat Lasagna With Pumpkin Cream and Herbed Bread Crumbs is easy to make, but it looks and tastes like a dish you could order at an Italian restaurant. The buckwheat noodles provide a rustic feel that pairs perfectly with the pumpkin cream, leeks, sautéed mushrooms, and a topping of herbed bread crumbs. There's no final baking method for this lasagna — you just layer everything and then you're good to go!
Butternut Squash and Tofu Ricotta Lasagna
If you're looking for something that straight up satisfies that comfort food craving without the meat or dairy, then this Butternut Squash and Tofu Ricotta Lasagna is the perfect recipe for you. The squash is tender, cooked it with garlic and fresh sage, the tofu ricotta adds bulk and an amazing cheesy flavor, and it's baked in a simple, onion-y white sauce.
Spinach and Mushroom Alfredo Lasagna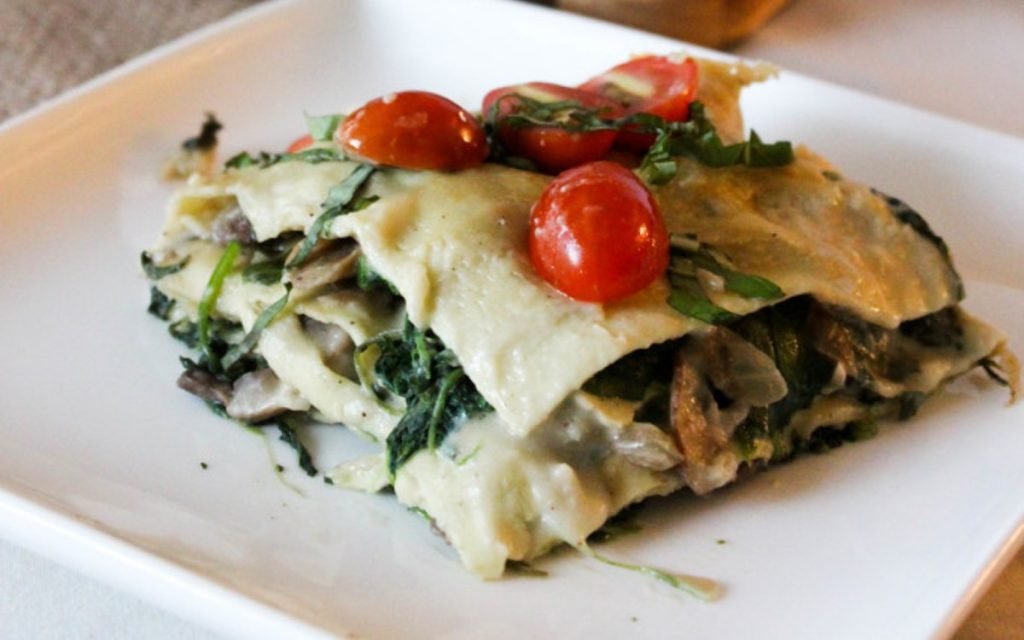 This Spinach and Mushroom Alfredo Lasagna is a comforting and indulgent dish. It has layers of pasta with spinach, mushrooms, and a simple creamy Alfredo sauce. Topped with fresh tomatoes, this dish is filling, but not heavy, leaving plenty of room for dessert.
Creamy Pumpkin Lasagna
This Creamy Pumpkin Lasagna is a real showstopper. It's made with roasted pumpkin with a warm, creamy, and slightly spicy pumpkin béchamel sauce and gorgeous roasted pumpkin topping. Top it with the homemade pine nut parmesan and you've got yourself the perfect healthy but scrumptious meal!
more recipes >VEGAN RECIPES – ITALIAN-STYLE
THE SECRET TO INCREDIBLE DELICIOUS  LASAGNA REVEALED
Take the 14-Day Challenge click here
If you need help with losing weight and keeping on track, the Bright Line Eating program is a great program to support. It is based on cutting-edge psychology and neuroscience. Susan Peirce Thompson, Ph.D. It is focused on establishing healthier eating habits and is also compatible with a vegan diet.