8 Vegan Oatmeal Delights That Will Make Your Day
|
 Vegan Oatmeal Delights for your start in the day
Vegan oatmeal delights for you breakfast that will make you satisfied and vital for the day. Oats are a very healthy cereal and will boost your nutrition intake . Oats are gluten-free and can be used in a gluten-free diet to increase the intake of vitamin B1,  magnesium, and zinc. It is high in fiber and is increasing the levels of an  antioxidant called bilirubin, which helps to eliminate free radicals .
Oats also have cholesterol lowering effects. Theses vegan oatmeal delights are recipes which will take you satisfied and vital through your day. The some of the recipes can also be a snack during the day like the Savory Kale Oatmeal Cups or Matcha Oatmeal Pancakes and Chai-spiced Oatmeal Tart on age two.
Try all of these 8  vegan oatmeal delights. Start your day with these delicious, healthy, and tasty recipes.
Vegan Oatmeal Delights That Will Make Your Day
Chocolate Peanut Butter Oatmeal
This Chocolate Peanut Butter Oatmeal tastes like a peanut butter cup, but it's sweetened with just a ripe banana! You'll love to wake up to this gluten-free, refined sugar-free + vegan breakfast. Get the recipe here.
Pumpkin Pie Oatmeal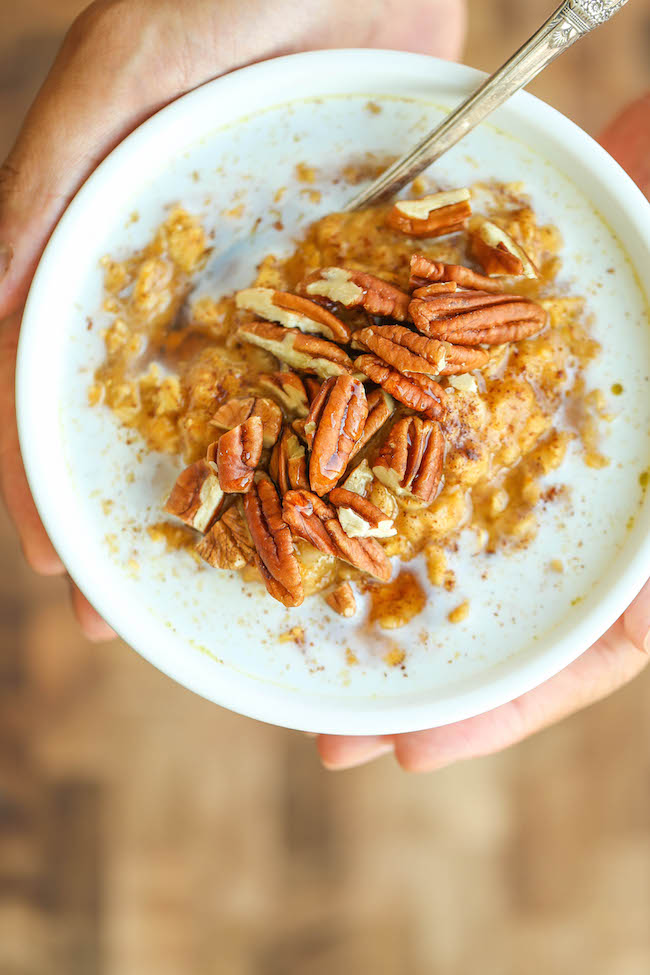 Chungah says, "Yes, pumpkin pie for breakfast is completely acceptable! And it's not only super healthy, but this comes together in just 10 minutes! EASY!" Get the recipe here
REESE'S CUP OATMEAL
Annie says, "This oatmeal is extra special because it is not only chocolatey and delicious, it also has almond butter (which tastes like peanut butter once it's all stirred in). So what you end up with is a delicious bowl of soft, comforting oatmeal that tastes like a melted Reese's Cup." Get the recipe here.
Chocolate Strawberry Oatmeal
This Chocolate Strawberry Oatmeal tastes like dessert for breakfast! This oatmeal is sweetened with a banana and cocoa powder + chocolate chips make it super chocolatey. It's gluten-free, refined sugar-free and vegan. Get the recipe here.
Vegan Oatmeal Delights That Will Make Your Day
Savory Kale Oatmeal Cups
Oatmeal is a favorite breakfast for most of us, and sneaking some greens into this whole grain makes it a hearty breakfast or brunch. These Savory Kale Oatmeal Cups have lots of kale so they are nutritious and delicious. These are a nutritious breakfast that will keep everyone happy all day but they're also great for lunch or a midday snack.
Chai Spiced Oatmeal Tart With Warm Coconut Vanilla Sauce
Who says you can't have pie for breakfast? Combine your love of chai tea with your favorite breakfast, sprinkle in some dessert and voila! This Chai-spiced Oatmeal Tart with Warm Coconut Vanilla Sauce is like having dessert for breakfast or is it breakfast for dessert? We vote for both!
Bananas Foster Oatmeal
Banana lovers, get ready to fall in love. This Bananas Foster Oatmeal takes our favorite fruit and dresses it up. The bananas are caramelized and a little boozy with rum extract. It's creamy, delicious and so fancy! Whoever you serve it to will think they've forgotten it's a holiday or your anniversary even if it's just breakfast.
Matcha Oatmeal Pancakes
Who says oatmeal has to be served in a bowl? These Matcha Oatmeal Pancakes are a different way to enjoy your morning cereal. The healthy oats and superfood matcha will give you an energy boost in the morning that is sure to last all day. Plus, they're only sweetened with banana, so you don't have to worry about loading up on sugar first thing.
more recipes here more but not all  vegan recipes 
A SEXY RECIPE DIVERSITY AMERICA LATIN LOVER'S CAN ENJOY