Aaisha Of Rawr The Inspiring Story Of The Vegan YouTuber
|
Aaisha, the YouTuber is sharing plant-based recipes inspired by pop culture.
She calls them Munchies from the movies
Read how she became attracted to cook and start her YouTube channel.
Hi there! My name is Aaisha, and I have a YouTube channel called: "Rawr It's Aaisha" where I share plant-based and cruelty-free recipes inspired by pop culture.
It was difficult for me to figure out my passion
Growing up, it was difficult for me to figure out my passion because I have so many interests.  In high school, I thought that I wanted to be a filmmaker and an actress. I took a bunch of acting classes and even went to an awesome film making summer camp at Universal Studios Hollywood.
However, as I got older, I realized auditions gave me bad anxiety, and there isn't a single actor who got to where they are without auditioning. So that was off the table.
I was nineteen when my mother passed away
After my mother passed away, when I was nineteen, I used cooking to help me cope and discovered how much I loved it. So, I decided to attend culinary school in Sacramento, California. I enjoyed it, but after a couple of years, I was almost $20,000 in debt with still two more years before I would graduate.
I felt horrible, even with my love for cooking.
In my gut, I could feel that working in a restaurant for the rest of my life wouldn't make me happy. I wanted to design menus, not to be stuck in a kitchen.
Dropping out of culinary school
After dropping out of culinary school, I realized just how much I wanted a college degree. So I went back to school and received my associate's and bachelor's degree in Communications. I rediscovered how much I enjoyed presenting in front of people and entertaining.
At my University, I also discovered my love for event planning. I was the lead Event Planner for our student union. I enjoyed planning everything from the themes for these events, to what food was going to be served to match the theme. It was a dream.
It was also at University, where I learned about veganism.
My roommate was vegan, and I had a blast coming up with recipes that she could enjoy with our other friends and me. The more I learned about the lifestyle, the more I thought about where my food was coming from. I realized I didn't want to contribute to suffering anymore. It was a beautiful and spiritual experience.
After graduation, though, I felt stuck. I had so many passions, and I didn't know where to turn. I started watching Vegan YouTubers, and it hit me… if I created a channel, I could combine all of my passions!
Rawr Its Aaisha was born.
That is how Rawr It's Aaisha was born. I call my viewers herbivores and even have a Brontosaurus mascot named Herb. I want to show not only vegans but nonvegans that it's easier and tastier than they think to include more plant-based meals in their diet.
My favorite segment on my channel is called Munchies from the Movies, where I create dishes inspired by famous movies and television shows.
Munchies from the Movies
One of my favorite recipes on my channel is for a Spicy Ketchup Tofu I made for the newest Pokémon movie, Detective Pikachu. If you watched the cartoons (which I did A LOT as a kid), you know that Pikachu's favorite food is ketchup. In the movie, Pikachu seems so much more mature than he was in the cartoons, and I wanted the dish to showcase that.
This recipe is awesome because not only is it cheap and easy to make, but the flavor is out of this world! It is a hit in my own house now. And I have been asked by friends and family to make it time and time again.

When I heard Disney was coming out with a live-action film for Dumbo, I knew that I wanted to make some delicious food that you would find at a circus or festival, but with a twist! These Mini Peanut Butter Corn Dogs are EVERYTHING. They are crunchy, salty, and a little bit sweet. I may have snuck these into the theatre to watch the film, and I was a happy camper.
I keep track of movie anniversaries and make sure to pay homage to some cult classics. This year was the fifteenth anniversary for Napoleon Dynamite. So what better snack to make other than tater tots? These are another fast recipe with minimal ingredients. They are fantastic for parties or sporting events and so freaking tasty. These are tot bowls stuffed with vegan cheese, bacon, green onions, and a homemade plant-based ranch dressing. Definitely make a double batch of these because one is never enough.

Stuffed Tot Bowls | Napoleon Dynamite RecipeAs a 90's kid, I enjoy making recipes for my favorite throwbacks. One I LOVED as a kid was A Goofy Movie. I found these alphabet noodles at the dollar store and was inspired to make "Hi Dad Soup." From the scene where Max and Goofy are hiding in their car from bigfoot. Tomato soup and grilled cheese are one of my favorite combos.  I jazzed it up by roasted the tomatoes and vegetables. Before blending them up and adding the noodles and paired it with grilled cheese dippers!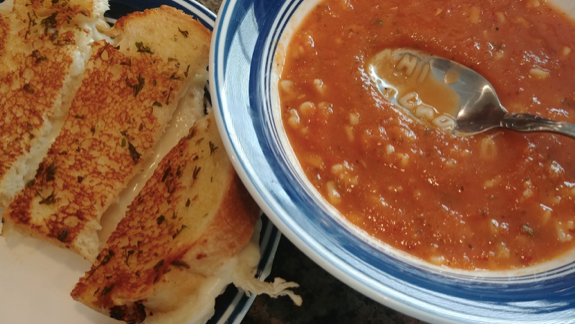 For these and more delicious recipes, subscribe to my YouTube channel and follow me on Instagram @rawritsaaisha!