Millet For Vegans Is Powerful And Gluten-Free
|
Gluten-free Millet for vegans a source of protein
Gluten-free millet is loved by vegetarians and vegans. Millett is rich in fiber and helps to meet the daily protein instead of animal sources. It fills the stomach and makes it satisfied. Cutting back on meat is good for natural weight loss.
In India, it is used to make roti, which is a traditional bread; in Ethiopia, porridge is made, and in the Caribbean, people cook it with beans and peas. If cooked with peas and beans, it is good for making vegetarian or vegan burgers. Millet, whole grain and gluten-free is rich in fiber and phytonutrients like lignan, which researchers believe prevent hormone-related cancer, colon cancer, and the risk of heart disease.
Millet also contains a B vitamin called niacin, which keeps cholesterol levels in balance, and magnesium, which relaxes the muscles in the arteries, keeping the blood pressure stable. Magnesium is also good for asthmatics and people with migraine headaches.
Millets are a crop for the future and regenerative agriculture.
Try gluten-free Millet if you are allergic to wheat. This is perfect for vegans.
Click here for More about Millet.
Read also > Nutritionists now prefer to call millets as Nutri-Cereals or superfoods
Powerful And Gluten-FreeMillet For Vegans
Nutritional Values of Millet
Serving Size: 1/2 cup :Calories: 104, Protein: 3 g, Carbohydrate: 21 g, Fat: <1 g, Saturated Fat: 0 g, Cholesterol: 0 mg, Dietary Fiber: 1 g, Sodium: 2 mg, Niacin: 1.6 mg, Copper: 0.1 mg,, Magnesium: 38 mg, Manganese: 0.3 mg
How To Prepare Millet
Creating Your Own Recipes From Scratch!
Learn how to prepare millet, a delicious and slightly nutty grain. We'll also show you selection and soaking tips, cooking techniques, and flavor ideas!
Millet is an interesting gluten-free little round yellow nutritious grain with a tiny dot on one side (this is where it was attached to the grain it was growing on).
Once many years ago, when feeling adventurous, I decided to give millet a try. But I overcooked it, and it turned out extremely dry.
Then, one fateful day, I tried one more time. This time I attempted a millet loaf (sort of like meatloaf but made with millet). It turned out tender and delicious, and I've been enjoying this power-packed grain ever since.
While millet may be unfamiliar to many Americans, it's a grain that's used widely throughout the hot and dry parts of the world. It has a slightly nutty flavor and lends an interesting texture to your meals. It's a tasty and fun little grain and one that you should really learn how to cook properly so it can be a part of your regular diet.
Here's what you'll discover: How to select millet for your recipes; Prepping your grain for cooking; Cooking techniques to try; Flavoring tips; Try these millet recipes, and Helpful hints. Get them here >How To Select Millet
Here recipes
Gluten-free Millet for Vegans
These veggie burgers are perfectly moist, have great texture and flavor and are also pretty to look at. They are egg-free, dairy-free, gluten-free, wheat-free, nut-free, corn-free, coconut-free, soy-free and refined sugar-free. They bind together easily with a combination of grated veggies, cooked millet, and garbanzo bean flour.
Millet and garbanzo bean flour are wonderful choices if you are gluten-free, wheat-free and nut-free. The garbanzo bean flour does not have any flavor and provides plant-based protein.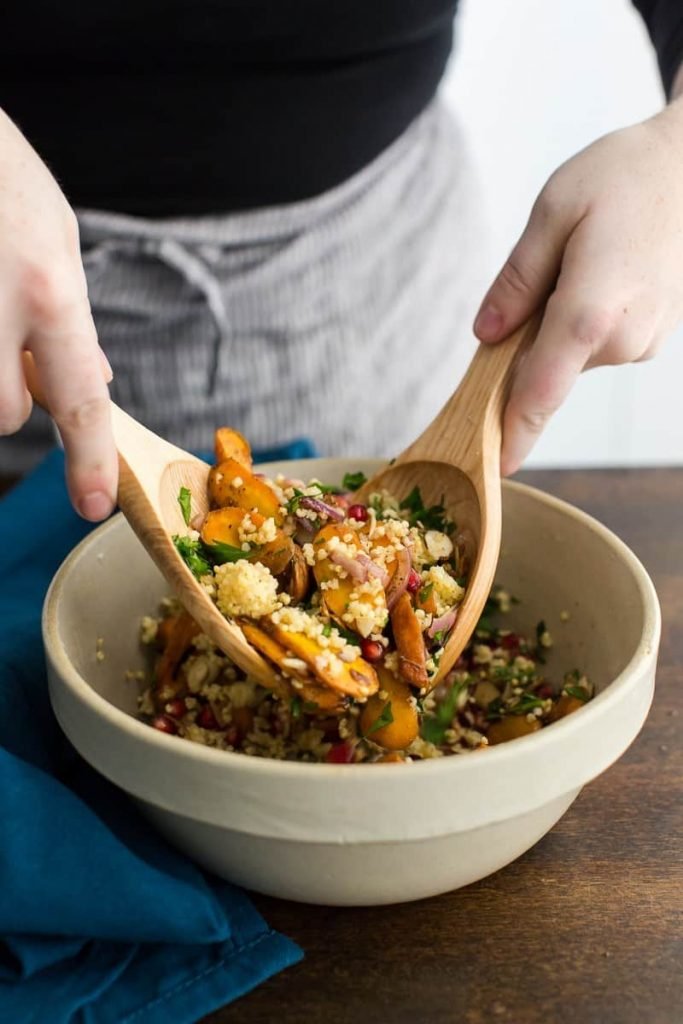 Want a little international spice with your millet? Try this vegan and gluten-free Moroccan salad filled with delicious herbs and foreign flavors for your next midday meal.
These blueberry millet pancakes really turned out great. I have been wanting to use millet flour for the longest time.
This millet porridge recipe tastes like banana bread-in-a-bowl. Swap out the regular milk for some creamy oat or other non-dairy milk of your choice to make this GF brekkie vegan, too.
You just might never return to making regular old porridge again after starting your day with this version. Velvety coconut milk, dark chocolate chips and pistachios (or your favorite nut) turn this simple breakfast into a real treat. It's super easy to make, too! Get ready for a new a.m. favorite.
While these crepes are a bit time-consuming, there's no doubt that they're worth it. Sweet potato-based crepes stuffed with millet, veggies and herbs — they're just too good to resist. Top these with pico de gallo, cheese or the optional jalapeno aioli; you'll love them!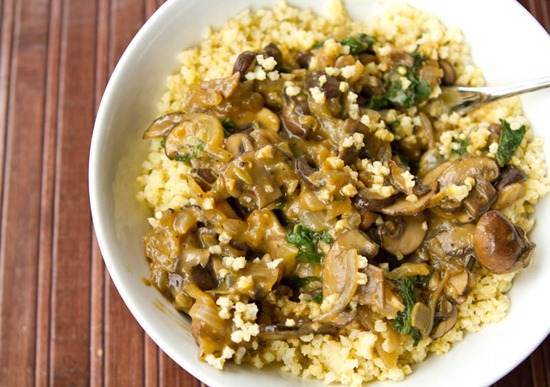 I topped the millet with healthy but rich mushroom gravy and kale for a pop of superpower. Easy but fabulous.
Cozy Millet Bowl with Mushroom Gravy and Kale Vegan, gluten-free, nut-free
Feeling cozy? Snuggle up with this comforting bowl of vegan goodness. The dish feels rich without the heaviness that usually comes with traditional gravy.
Cooked millet with greens and chickpea flax coconut milk mixture. These baby somewhat crust-less quiches bake up to soft nutritious breakfast or side.
and a link to an exotic recipe
Read also >POWERFUL VEGAN MILLET RECIPES HIGH PROTEIN AND GLUTEN-FREE
MILLET OR QUINOA, WHICH ONE OF THESE HEALTHY GRAINS TO PREFER?
8 HIGH-PROTEIN MILLET RECIPES YOU WILL LOVE
GLUTEN-FREE MILLET A DELICIOUS ANCIENT GRAIN
HOLIDAY LIMITED-TIME OFFER for beautiful skin. Don't miss out!