Healthy Raw Vegan Lunch Recipes For Any Occasion
|
 Healthy raw vegan lunch recipes
Good to have these healthy raw vegan lunch recipes handy, ideas for the coming season. Often, we have a traditional dish for events. What about something new? Something different to prepare? Here are some recipes to experiment with all tasty and delicious for a holiday lunch, party, or birthday in every season.
Raw Food = Power! For a healthy diet, we need pure water as well as nutrients and vital substances in sufficient quantity and combination. The more natural our food is, the more complete and healthy it is. Plants, fruits, nuts, seeds, seedlings, and sprouts provide us with raw food and all vital and health-promoting ingredients in a natural combination and provide us with concentrated solar energy. They are still real food. Due to their nutrient and nutrient density, everybody will be satisfied with much less food. Fresh vegetables make you slim, fit, and healthy.
You will have a raw vegan lunch with lots of nutrition, fiber, and proteins with these healthy raw vegan lunch recipes for any occasion. 
Healthy Raw Vegan Lunch Recipes For Any Occasion
Going raw and vegan for some meals can offer a good amount of health benefits — you'll naturally eat a lot more fruit and vegetables.
You'll also get plenty of fiber, thanks to producing, along with protein-boosting ingredients like seeds and sprouted lentils.
LOADED AVOCADO AND SPICY LEMON DRESSING
<
Sure, it's not a baked potato, but an avocado covered in lemon dressing full of adobo seasoning is still pretty delicious and healthy. Get the recipe at Yolo Get Healthy here.
Raw Rainbow Noodle Bowl
This makes a great little snack but is also substantial enough to be lunch.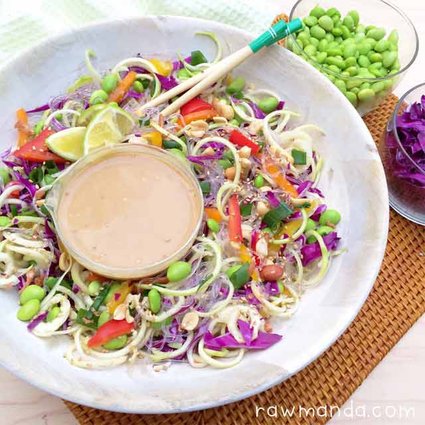 Raw Rainbow Noodle Bowl
Kelp noodles are a great raw substitute for noodles — you just have to rinse them, and they're ready to eat. In this recipe, edamame adds protein and chopped purple cabbage ad crunch. Get the recipe from Rawmanda.
Raw Cauliflower Detox Salad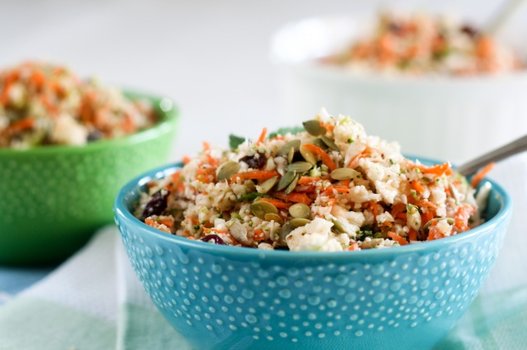 Cauliflower is great for you; full of fiber and healthy compounds. This salad is extra filling, thanks to seeds like pumpkin and sunflower. Get the recipe from The Healthy Foodie here.
Raw Lentil Tacos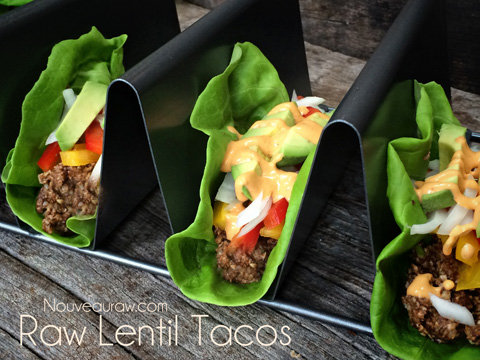 Sprouted lentils add flavor and plant-based protein to the smokey chipotle flavor of these healthy tacos. Get the recipe from Nouveau Raw here.
Raw Stuffed Mushrooms

These mushrooms are full of healthy ingredients, and you'll have a hard time believing the rich rosemary sauce on top is dairy-free. Get the recipe from Rawmazing here.
Spicy Raw Thai Salad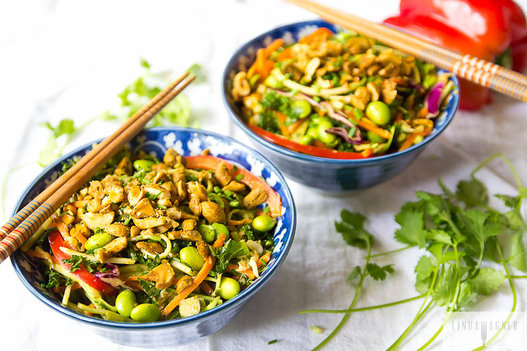 This salad may be raw, but it's still got some heat! Broccoli slaw adds a great crunch. Get the recipe from Linda Wagner here.
Raw Vegan Heart Of Palm And Jicama Ceviche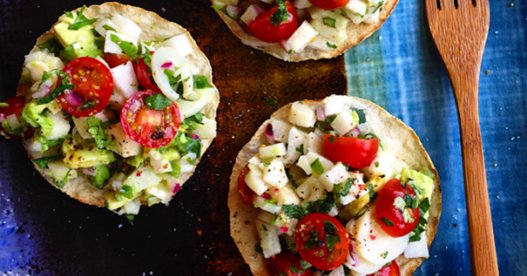 This vegan ceviche makes a great afternoon snack option, and you can also enjoy it in lettuce leaves. Get the recipe from Raw Food Recipes here.<
Also, see 10 No-Bake Healthy Cookies To Keep Your Kitchen Cool.
Imagine a BIG homegrown health plan in a tiny box.
Learn about sprouts, shoots, microgreens, lettuce mixes, and braising greens, as well as how to decide which one is right for you.
🥬 Grab your free copy of "Grow Your Own Greens" HERE 🥬