Enjoy The Taste Of Indian Raw Mango & Chutney Recipes
|
 Try Indian Raw Mango & Chutney Recipes a flavor explosion.
Raw Mango & Chutney Recipes, discover the taste of India. Mango is healthy, rich in vitamins and can be used in the kitchen in many ways. The people call Mango the "divine fruit". The Mango is rightly regarded in her home country. After all, she simply tastes heavenly! Here you will find our most beautiful recipes with mango the delicious fruit.
Origin of Mango
Mangos originate from India, where today most of them over a thousand varieties of fruits grow. Mango trees are now cultivated in almost all tropical and subtropical areas. The season of the mango is different depending on the country of origin. Therefore mangos are available all year round. Depending on the variety, the mango is oval, heart or kidney-shaped. It is yellow, green to red and has a solid skin. This is edible in some wild species. Usually, people do not eat the skin. The size ranges from apricot size up to two kilograms. The slightly sour, sweet and juicy fruit pulp is yellow to orange. The taste reminds easily of peach. Inside is a flat core, which is usually difficult to remove.
Mangos are healthy
Mangos are easily digestible and contain little acid, so they are particularly suitable for food for babies and seniors. Mango contains a great deal of vitamin A, C, and potassium. It is appetizing, stimulates the metabolism, can even have a laxative effect and prevents infections and colds. Mango is wonderfully versatile: whether hearty or sweet, in main dishes or desserts, chutney or drink – mango always tastes good! In hearty and sweet food, mango harmonizes with other ingredients and gives the dish a certain something. In hearty dishes, mango is particularly popular in curries. No wonder, the mango has its origin in India. People make recipes of raw, which means green or unripe mangoes, like Aam ka Panna and chutneys.
These recipes are made of raw which means green or unripe mangoes. These mango recipes combine fruity mango and spicy curry to an Indian flavor explosion
Enjoy The Taste Of Indian Raw Mango & Chutney Recipes
Raw mango is the star fruit of spring. Its tangy flavor complements the weather beautifully. Once you taste it, you won't be able to stop eating it and soon you'll be adding it to everything! This aromatic fruit is a greener version of the ripe and juicy mangoes. You'll find them abundant in markets just before the mango season is about to arrive.
Raw Versus Ripe
Raw mangoes are firm and not as juicy as the ripe ones. But this Kachi Kairi or also known as Amba, is more a versatile fruit when it comes to cooking mangoes. Unlike the sweet fragrance of the ripe fruit, raw mangoes have a pungent smell. They can be grated and pickled, added to curries (especially from the Malabar belt) or simply made into a chutney.
Recipe by Chef Vicky Ratnani
This lovely salad is a
great meal filler. With sweet corn, juicy tomatoes, pineapple and tangy raw mango chunks, it offers a burst of flavours.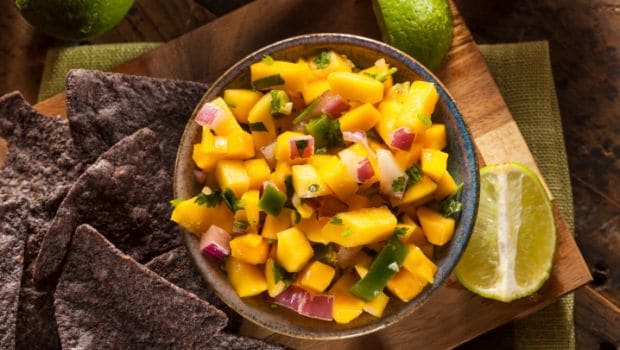 Recipe by Chef Veena Arora, The Imperial, New Delhi
The tanginess of raw mangoes pairs really well with the sweetness of tomatoes and the pungent flavour of ginger. The bright flavours will make everyone happy.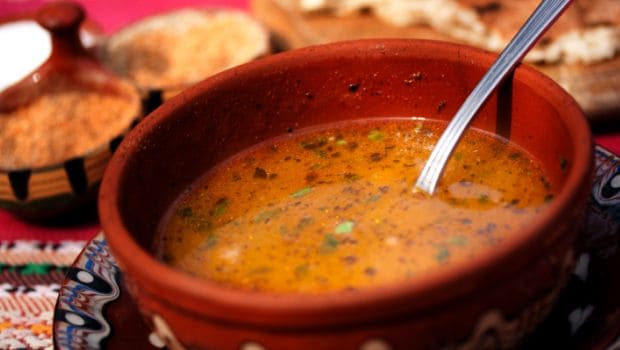 Recipe by Nithya Ravi, Food Blogger
Perfect for a light lunch, rice is cooked with raw mangoes, curry leaves, peanuts and roasted lentils.
>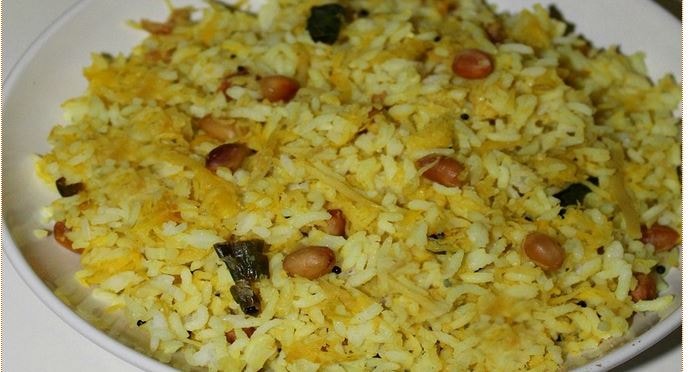 Recipe by Chef Niru Gupta
A soothing summer drink that cools your body from within. Fragrant and flavourful, Aam Panna is a healthy and fresh alternative to your fizzy drinks or packaged juices.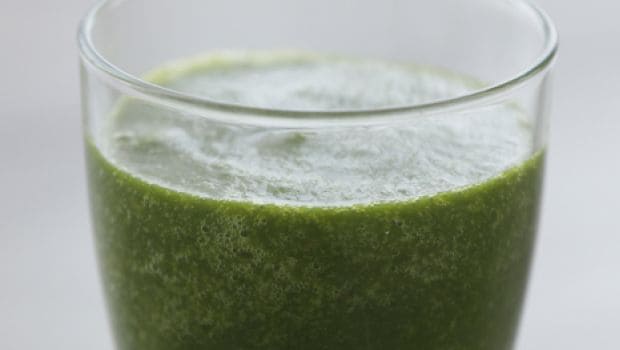 Recipe by Chef Roopa Gulati
Pachadi is a popular South Indian side dish similar to Raita. It is usually made with yogurt, chillies and coconut. This one blends in the additional vibrant flavour of raw mangoes.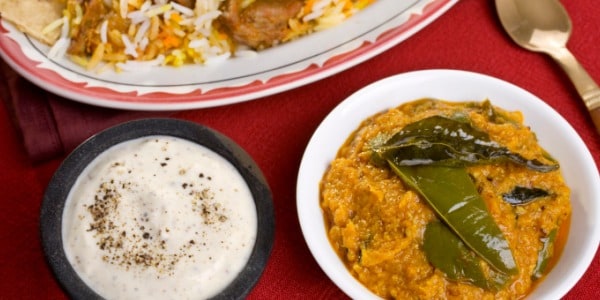 Recipe by Chef Marut Sikka
A famous dish from Uttar Pradesh, toor dal is made with chunks of spices raw mangoes and finished with a crackling curry leaf tempering.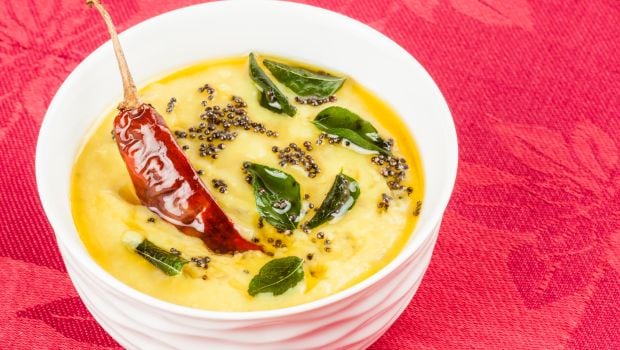 Recipe by Chef Ajay Chopra
This tongue-tingling curry is sweet and sour in one bite. This big hearty curry from Rajasthan served with the traditional bread is great to feed a crowd.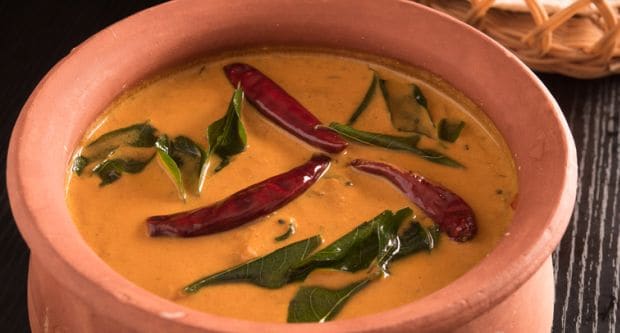 Recipe by Chef Marut Sikka
The perfect accompaniment for your summer meals, this quick chutney brings together the best ingredients of the season.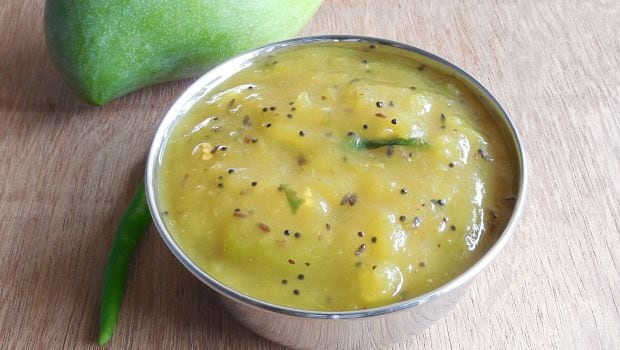 Recipe by Chef Seema Chandra
A fruity chutney with pineapples, that's chunky, sweet and sour in one bite. You can alter the spice quotient in this pachadi by going easy on the chillies. This recipe forms a part of the Onam festivities in Kerala.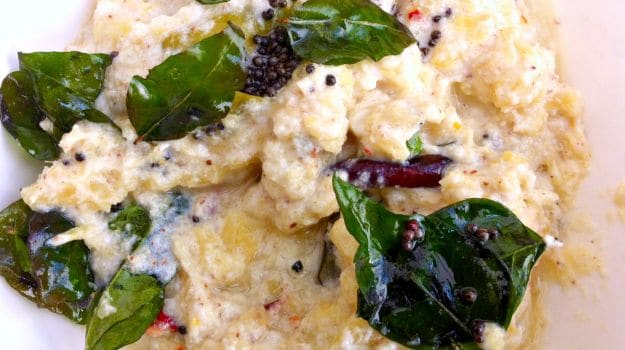 Recipe by Chef Sobha Muraly
Few ingredients, great taste. A blend of mangoes, grated coconut, chillies and coconut oil.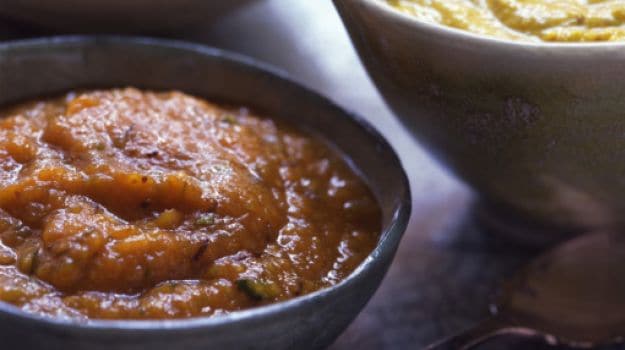 Recipe by Chef Sobha Muraly
A zingy coconut chutney with tamarind, chillies and warm undertones of ginger.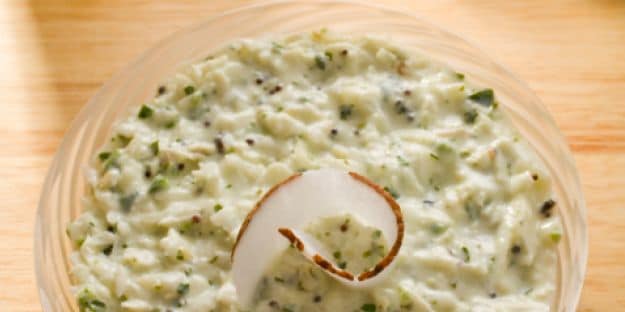 Recipe by Chef Nishtha Asrani
Chopped tomatoes cooked in various spices with a sweet aftertaste. Served with Idli, dosa and vadas. Nice and refreshing, this one easily passes off as an all-season favorite!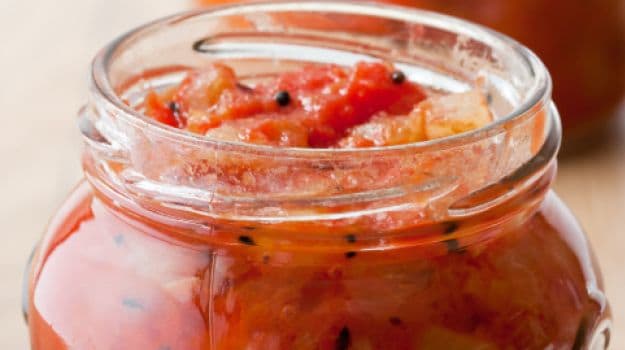 Chutney is one of the best complimentary items that can take your dish to the next level. Fresh leaves are used to prepare coriander chutney along with the onion, tomato, garlic, ginger, green chilies, lemon, mint, and salt. So let us dive in to make a simple yet really wholesome coriander chutney.
See more Recipes Enjoy These Special Indian Inspired Recipe Creations
Protect  Yourself and Your Family from the most common chronic vegan deficiencies — without taking a bunch of supplements.  Click here