How To Make Amazing Flavourful Curry Dishes That Taste
|
Amazing Flavourful Curry Dishes
Here you can try amazing flavourful  Curry plant-based and meat-free. And there is not only one but 15 different recipes. Curry made of chickpeas, lentils, beans, veggies, tofu, and jackfruit, amazing flavourful curry in many variations.
These Curry recipes are coming from India, complex combinations of spices and herbs are used in the curry and often fresh or dried chillis. Curry is a dish with sauce and in the south of India, the leaves of the curry tree are used to spice it.
As we know the curry powder, contains most coriander, cumin, and turmeric. But in India, there are many different variations and mixes, depending on the region.
Here you can find some amazing flavorful curry which is designed for our taste, not too hot 🙂 Have fun trying and prepare them. Enjoy the variety!
15 Amazing Flavourful Curry
 Vegan, plant-based curries are by no means boring – they are flavorful and there are so many different kinds.
And if you're still looking for a great flatbread recipe, make
sure you check out the  Spelt Chapati or 4-ingredient yeast-free & oil-free Seasame Naan.

by Elephantastic Vegan
Roasted Smoked Eggplant Curry by Vegetarian Gastronomy
Lentil & Vegetable Curry by hot for food
South Indian Coconut Curry by Lazy Cat Kitchen
Easy Jackfruit Curry by Vegan Richa
Vegan Butter Chicken by Ceara's Kitchen
Coconut-Mango Stew by Contentedness Cooking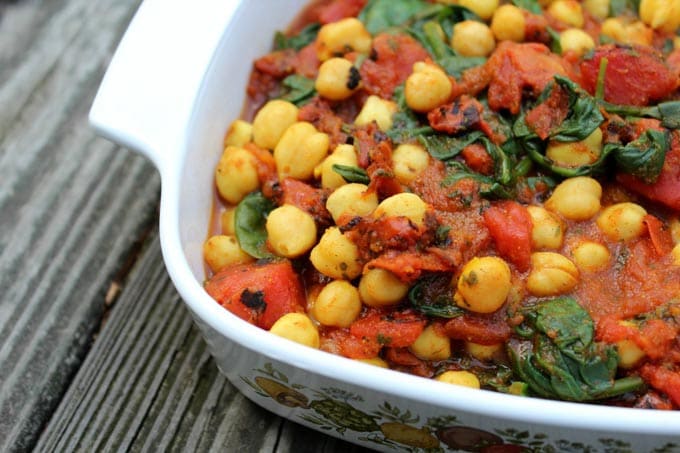 Chana Masala by Strength and Sunshinemore recipes here> 15 of the Best Vegan Curry Recipes
More Recipes Discover The Secret Of Traditional Indian Vegan Dishes