16 Mouthwatering Vegan Creation Shared By Our Friends
|
 Mouthwatering Vegan creations, sweet and savory
Look at these vegan recipes. Are these not mouthwatering creations our friends shared with us? Who does not get inspired to try them?  Our friend David Rush shared something sweet with us, and his Margarita may be welcome not only on Margarita Day. No wonder he "ate the whole thing ."
The Mumbai-based "Desserted Girl" Gayatri has two temptations for us. The homemade hazelnut spread is quick, easy to prepare, and a healthy, guilt-free treat.  Rhian has a  blueberry cake and a recipe for Pancake-lovers. The banana and chocolate bread. Vegan Lentil Lasagne can be a favorite dish for the family.
Indu from cook 2 nourish says: "My kitchen is my sanctuary – When I am cooking, all my aches and pains go away, and I am energized! I am obsessed with cooking healthy meals for my family." She is not only creative in cooking, but she also has been creative in finding names for her recipes which she converts from traditional Indian food to vegan.
See her mouthwatering vegan creations. India has a wealth of tasty and healthy food that can often be easily made vegan. Every region in India has its specialties, and we are grateful for Indu's recipes she converts to vegan.
Do not forget to buy the ingredients organic and as fresh as possible. Many say there is no farmers market nearby, but it is up to the consumer. We live in an abundant universe, and the product will appear where there is a demand. The junk will disappear if nobody buys it.
To your health, enjoy the mouthwatering vegan creations shared by our friends.
16 Mouthwatering Vegan Creation Shared By Our Friends
There is nothing quite like a pear. They have less acidity and tartness than apples, though not quite the heady bouquet of quince (although pears are at least edible raw), but still a floral enough perfume that their kinship to roses comes as no surprise. They take incredibly well to spices like vanilla, be it poached or roasted with sugar and butter, or cinnamon similarly. Ground ginger and cardamom do a fine job with this fruit, too—my Ginger & Cardamom Asian Pear Hand Pies prove it. Alas, of all the pairings (get it?), my favorite is a richer, darker, more sinister one—something with some guts to it. I'm talking about chocolate.
February 22nd is National Margarita Day! What better opportunity is there for an excuse to make some margaritas? You know, if you're the sort of person that needs an excuse for margaritas, that is.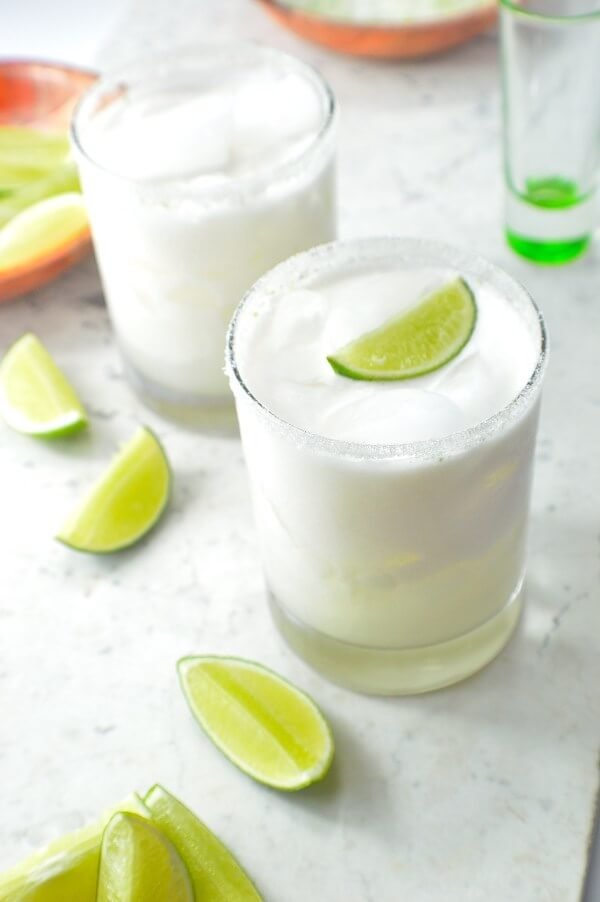 Last year my contribution to the celebration was my Coconut Margarita, a slightly tropical nod to one of the most beloved and enjoyed cocktails. I went back to the tropics with this one too, but this time with pineapple.
This one tastes like classic strawberry shortcake, but it is made with whole grains and naturally sweetened, too.
I am over the moon about this healthier version of shortcakes. Because not only are they exactly how you bid farewell to strawberries, but they are also so delicious.
DARK CHOCOLATE HAZELNUT SPREAD
Otherwise known as Homemade Nutella! The easiest, most delicious way to dig into a jar full of it, with about 1% of the original guilt. Apart from the sugar already in the chocolate, there isn't much else in this spread to worry about. It's dark, rich, nutty and perfect.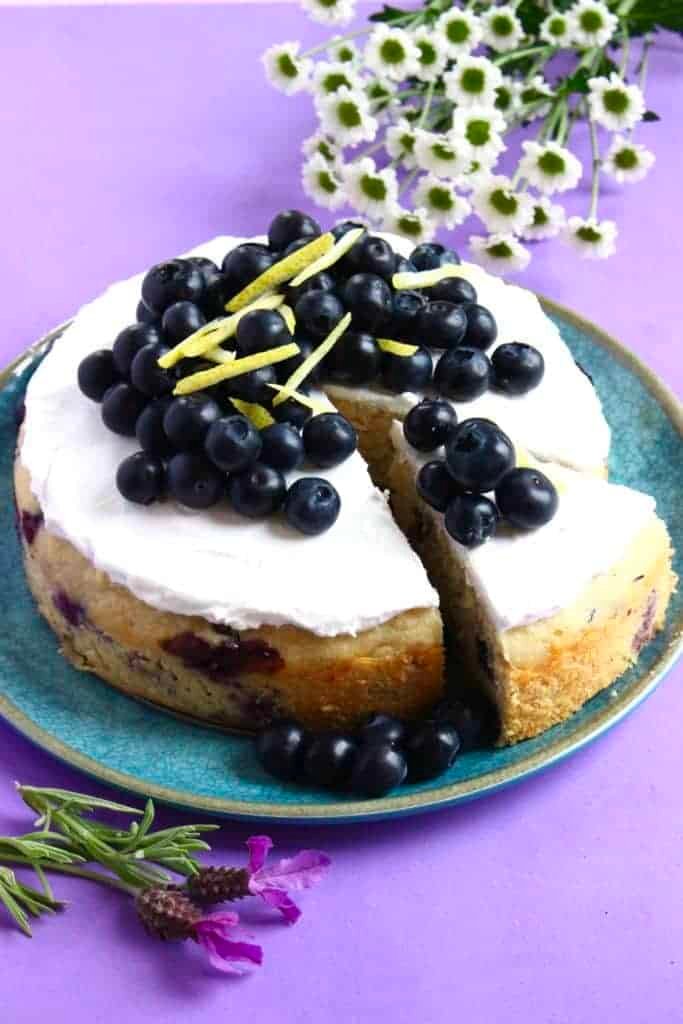 This Gluten-Free Vegan Lemon Blueberry Cake is so easy to make, super fruity, and is topped off with a delicious and healthy "cream cheese" frosting.
These Gluten-Free Vegan Coconut Flour Pancakes are soft, fluffy and slightly chewy with a hint of coconut flavor. They're perfect for a super easy yet indulgent breakfast!
This Gluten-Free Vegan Chocolate Banana Bread is seriously moist, perfectly chocolatey, and makes the best healthier snack or dessert! 
This hearty vegan lasagna is made with layers of noodles, rich cashew ricotta, hearty mushrooms, and lentils simmered in spicy tomato sauce.
Mouthwatering Vegan creations, sweet and savory

I honestly don't know why it took me so long to try making a Paleo snack bar!  In my pre-paleo days, I made these 'no bake' breakfast bars and a baked version of breakfast bars which I still make for my children.  I have been meaning to try making a Paleo version for the longest time!
I have been 'refined sugar' free for more than a year now, and tell you what…I don't miss it at all!  In fact, I feel so awful that I was eating all that unnecessary refined sugar all these years.  Once you go completely sugar-free, you will start reaching out for natural sugars, as in fruits, dried fruits, and other natural products like honey and maple syrup.  And the best thing is that the natural products do not give you a sugar rush plus they all provide beneficial nutrients to your body in addition to just sweetness.
He He … ABC Paratha, isn't that a fun name? It's an interesting story about how this particular paratha was conceived in my kitchen. So you see, of late, I have been juicing regularly using a variety of vegetables and fruits.  I would always feel upset about throwing away all the pulp since so much fiber (and also nutrients) is left in the pulp after you juice.  At least my Breville juicer does not really compact my veggies and fruits, so I know there is still a lot of good stuff left in that pulp. I would freeze the pulp and then put it in smoothies and soups.
Since my recent smoothie post, many folks have continued asking me for ideas on different combinations of veggies and fruits that I use. And so, I thought of creating a new post for every smoothie that turns out to be really spectacular!  When it comes to food (and drinks), I always love to experiment! That breaks up the monotony – of both – the task of cooking/making it as well as eating/drinking it!  So every morning, as I slide into my kitchen and get the blender out, I mentally survey all the fresh fruits I have on hand and the ones in the freezer and go about trying new combinations. One thing I like to do is to pair fruits with similar colors together – this gives a great color impact.  And that's what I decided to do the other morning. I have also decided to make it a point to add at least one vegetable to my morning smoothie so that it becomes extra nutritious!
I think you can guess from the title of my post that I was struggling to come up with a proper name for this creation? I came across a Caribbean mango cucumber chow recipe on a recipe forum. My sensory buds tingled at the mention of mango. And with cilantro and lime thrown in? Wow, even more, mouthwatering stuff.

Navratan Korma is a rich, creamy and highly delectable dish of vegetables, fruit, nuts and paneer.  It is very rich since butter/ghee, heavy cream and cashew nut paste is used to make the gravy. A blend of different spices is used in this curry along with several garnishes like nuts, seeds and herbs like mint and cilantro.  'Navratan'  or 'Navratna' means nine jewels and this dish having originated during the Mughal regime really is befitting for a king.! The nine jewels stand for a combination of nine different vegetables, fruits and nuts.
Some will say plantains, bananas …what's the difference? Well, both of them belong to the Banana family however there are some differences. Plantains are starchier, contain less sugar than bananas and are much more versatile as a cooking ingredient – you can make both savory and sweet dishes with them. Both Green plantains, as well as ripe yellow plantains, are used widely in south Indian and South American cuisines. Unlike bananas, plantains are typically cooked before consumption.
This Cassava Puttu or Cassava Rice as I like to call it has made my transition into a Paleo diet so much more acceptable! I don't miss rice anymore since this yucca rice is so delicious and perfectly complements curries since it has the wonderful ability to sop up all that gravy! yum! Traditionally, kappa Puttu uses a mix of kappa (yucca/tapioca) and rice flour. But I replaced rice flour with coconut flour to keep it Paleo. But you can use the same recipe using rice flour instead of coconut flour if you are ok with rice.
See more Mouthwatering Vegan creations > Discover The Secret Of Traditional Indian Vegan Dishes
Protect  Yourself and Your Family from the most common chronic vegan deficiencies — without taking a bunch of supplements.  Click here