8 Exciting Vegan Beetroot Recipes That Will Astound You
|
These Vegan Beetroot Recipes are not boring.
Here are 8 Vegan Beetroot Recipes to make really exciting and delicious dishes. Not only is the color of  Beetroots beautiful, but Beetroots are also very healthy. Also, the leaves of the beetroots can be used.
Beetroots are a great source of fiber, folate (vitamin B9), manganese, potassium, iron, and vitamin C. These colorful root vegetables contain powerful nutrient compounds that help protect against heart disease, birth defects, and certain cancers, especially colon cancer.
Very good to use it raw in a juice or salad. Look at these exciting Beetroot Recipes below; some are from our award-winning sisters Amy and Veronica, and some are from Chitra Jagadish Healthy Kitchen. Enjoy!
Read also: 10 Healthy Reasons to Brighten Your Meals with Beets
You may also like the VEGAN CHOCOLATE BEETROOT CAKE
8 Exciting Vegan Beetroot Recipes That Will Astound You
Super delicious, hearty recipe to inspire those who might think eating seasonally is boring and restrictive and show that it is exciting and most importantly delicious!
Look also at DISCOVER THE VEGETABLE CHIPS SECRET
Enjoy your Italian inspired risotto
This vegan roasted beet salad with whole roasted carrots and marinated chickpeas is so full of different flavours and textures it's not your everyday boring, old salad.
Here some other recipes VEGETABLE CEVICHE.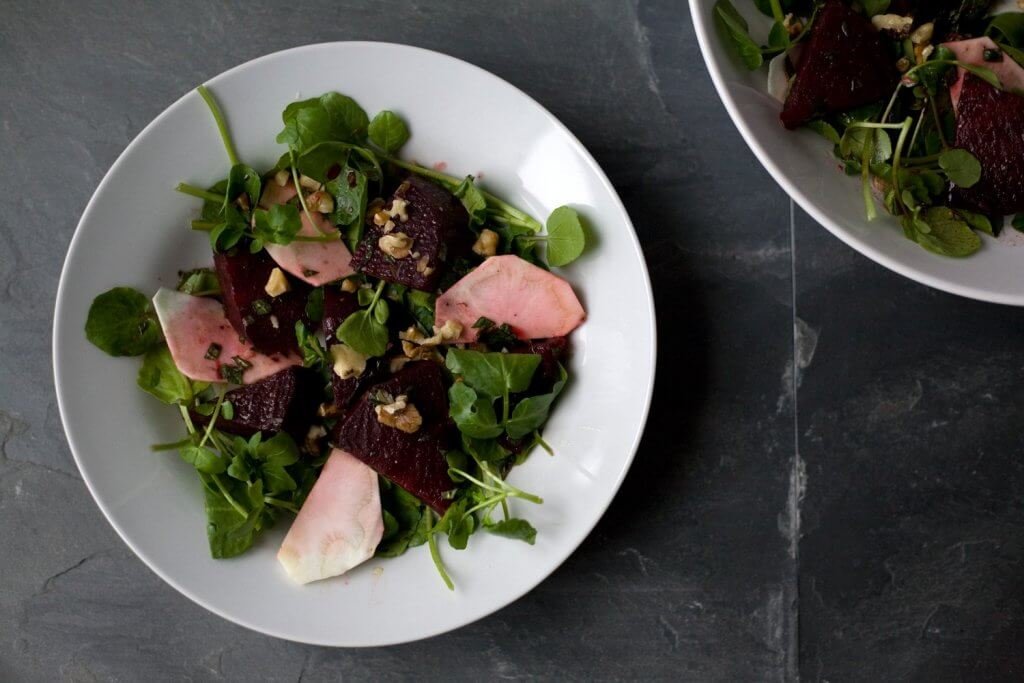 Enjoy your italian inspired risotto
I'm really not sure what I like about beets more, their slightly earthy, slightly sweet taste or their amazingly bright fuchsia color.  Sometimes, fruits and vegetables can be so beautiful really blows my mind.
Posted by Chitra Jagadish
Health Benefits:
Beetroot is also known as the table beet, garden beet, red beet, or simply as a beet. Beetroot's main benefits are that it contains no fat, very few calories, and is a great source of fiber. Beets provide a carbohydrate boost, almost no fat, and plenty of different vitamins and minerals. Beets even contain folic acid, an important component in the diets of all pregnant women. To stir fry: continue her >Steamed beetroot curry
This recipe uses a unique combination of Muesli free from nuts (Oats, Barley, Rye flakes & Wheat flakes) with beet. Using Agave nectar makes this cake Vegan-friendly too. Using Pear sauce and Museli are the variations tried in this cake. READ THE REST OF THIS ENTRY →
More recipes > Easy Light And Healthy Meals That You Will Love To Prepare