Why Legumes Can Be A Key To A Healthy Protein-Rich Diet
|
Legumes have significant health benefits.
People often underestimate the benefits of legumes. But you must know that you are missing out on many healthy nutrients that you cannot get from any other food.
If you want to ensure all your meals are perfectly balanced and are on a limited budget, you might have a problem. Most people get too many carbohydrates and fat and too little protein. So, if you want to eat healthily and cheaply, what you need are beans. Beans are an inexpensive crop, readily available, and affordable.
Legumes help lower blood sugars and help prevent adult acne, which shows up on the chin and upper forehead and are also the ancient Ayurvedic secret to avoid kidney stones and gall stones.
Leader among the protein suppliers
What are the best sources of protein for vegans and vegetarians? Of course, legumes! But not only do vegans and vegetarians benefit from their healthy mix of protein, minerals, and fiber.
Legumes are one of the most prominent plant families in the world. Their best-known representatives are peas, beans, lentils, and soybeans, including peanuts, lupins, and even acacia fruits.
On average, they contain twice as much protein as grains and even more than meat.
The small legumes are full of protein, three times more than rice and double as wheat. They are rich in carbohydrates, protein, B Vitamins, and macronutrients. They are great for boosting energy and are a part of a healthy, wholesome diet Also, legumes aid digestion as they are low in fat and fiber. Moreover, pulses are also rich in iron, calcium, magnesium, folate, zinc, etc., lowering blood sugar levels and decreasing the risk of cardiovascular diseases.
Legumes good for the ecosystem
They bring nitrogen back, nourish and enrich the soil they grow in, and sustain the entire ecosystem, like flowers, fruits, bees, etc.
Chemical fertilizers are not needed.
Beware of the myth: There is a stubborn belief that plant-based protein is "incomplete" and that you must combine different plant-based foods in one meal to get enough, e.g., B. Rice and beans. But this is a misconception.
Minerals and fiber
However, protein is not the only advantage legumes can offer.
Also not to be underestimated are the dietary fibers as an indispensable prerequisite for regulated digestion and lecithin, an essential component in cell metabolism, which reduces blood fat and strengthens the nerves.
Valuable B vitamins and mineral substances such as iron, potassium, calcium, magnesium, and phosphorus, as well as various trace elements, complete the offer.
As you can see, legumes bring a whole host of other nutrients with them in addition to protein.
You can combine Legumes with almost anything.
People serve legumes worldwide: rice noodles with soy in Asia, corn with beans in South America, quinoa chickpea stew in the Middle East, or red lentil dal in India.
Do you now wonder how much you have to eat to cover your daily requirement? Just look at our nutritional information for each recipe. A portion of pasta with tofu bolognese contains about 40 g of protein, covering around 83% of your needs.
Do not eat them raw
Legumes contain different substances that can be harmful to your body. But heating will destroy them. Therefore never eat them raw! Fresh legumes can take up to 20 minutes to cook. If they are dry, you should soak them first.
Soak the dried legumes
You need to soak dried legumes before cooking. In doing so, they absorb the water that they lost during drying. Exceptions are lentils and peeled peas – you can cook them directly.
Use about three times the amount of water to soak. Make sure you use a large enough container because they will at least double their size. It is best to start the evening before, as the process takes almost 12 hours.
After soaking, you have to cook legumes to make them digestible. Depending on the variety, this takes 15 minutes (red lentils) to 2 hours (chickpeas). With lima beans, you must never continue to use the soaking water because they contain hydrocyanic acid, which collects in the water.
Sprouting
Some of the legumes are very suitable for sprouting, for example, soybeans, mung beans, chickpeas, lentils, adzuki beans, and peas. Sprout is the botanical term for the young seedling that breaks through the seed coat and still feeds on the seed's nutritive tissue. Sprouts provide tremendous nutritional benefits. Almost all types of grains,  seeds, nuts, and legumes can be germinated. Harmful proteins, such as phytic acid, and hydrocyanic acid, are removed by soaking and sprouting. As a result, proteins and minerals such as iron, zinc, and calcium contained in the seeds, grains, and legumes can be better absorbed in the human digestive tract. In addition, the proportion of some vitamins is also increased. And last but not least, sprouts can be digested better.
See Sprout Recipes For Healthy Food You Can Grow On The Window Sill
How do legumes become easier to digest?
The more gently beans & Co. are cooked, the easier the body can digest them. Spices such as ginger, garlic, cumin, anise, and fennel seeds also help digestion.
So, get to the stove and discover the variety of legumes!
Recipes
It's great with rice, but you can totally eat it on its own, which is what I do most often because I am too lazy to cook rice sometimes. In fact, you can even make a large batch, keep it in the fridge, and eat it cold – kind of like a "salad". Except that it's probably not as healthy as a real salad,
Saucy, smoky BBQ pinto beans simmered in 1 pot in a rich sauce of spices, tomato paste, mustard, and coconut sugar. A healthier take on this classic dish!
I'd been dreaming of a chickpea burger infused with the flavors of curry for a while. And although it took me several tries to nail, it was totally worth the effort! Friends, it's burger time.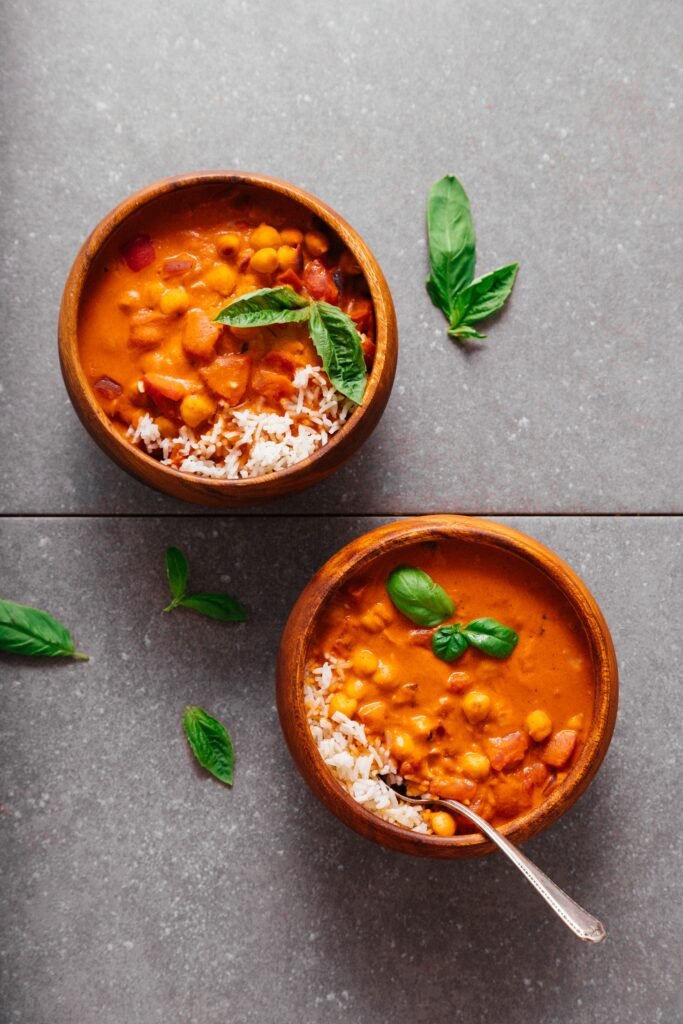 Peanut stew has its origins in West Africa and is made with a base of ground nuts or nut butter (typically peanuts) and tomatoes. 
An easy, garlicky Moong Dal that is super easy to make with just seven ingredients. Perfect for a weeknight meal with rice! A soy-free, gluten-free, nut-free, and vegan recipe.
Creamy, coconutty, and ridiculously easy to make, this delicious Instant Pot Masoor Dal or Red Lentil Dal is sure to become a hot family favorite. You can also make this with no added oil and serve it with rice or roti for a nutritious, satisfying meal. Vegan, soy-free, nut-free, and gluten-free recipe
A simple but delicious and spicy urad dal or black lentil dahl is the perfect dish to spice up a weeknight or weekend dinner. Serve with brown rice or white rice and a simple vegetable stir-fry for a nutritious meal that — warning — may lead to everyone licking their plates.
This vegan black-eyed peas recipe gets a southern-style kick from hot sauce, spices, and a secret ingredient. Vegans and vegetarians often ask, "How to season black-eyed peas without meat?"  Read on my friend and I will show you how it is done!
Have you tried sprouting lentils yet? You are missing a lot if not. Nutrient-packed and easy to digest, these fun-looking, crunchy, and yummy Sprouted Lentils are the new hit in the kitchen. Vegan? Of course! Gluten-free? Oh, yes! These spicy, sprouted green lentils are for everyone!
See also 14 Unbelievable Delicious Vegan Chickpea Recipes
and A Hot, Spicy Vegan Squash & Bean Stew Recipe To Warm You Up
Read > The Benefits of Beans
See also > Is Soy Healthy or Harmful?
Download Your Free e-Book with Vegan Recipes 
Discover 15 easy, healthy, and tasty recipes, including breakfast, lunch, dinner, treat, and smoothies.