Refreshing Salad Recipes To Enjoy The Summer Season
|
Refreshing salad recipes for hot Summer days
Try these refreshing salad recipes to stay cool during the summer season.  In the warm season, we are often not very hungry.
A refreshing salad for lunch or dinner is a welcome change and also fast to prepare. Furthermore, a  salad is a true slimming agent and makes the pounds shed and also satisfies for an extended period of time.
Therefore a salad is great for a small and quick meal with limited calories. The seasonal vegetables, fresh leafy salad, fruits are crispy and fresh and ensure a colorful variety.
Our refreshing salad recipes are not only delicious they also have fresh and crisp ingredients and are important vitamin and nutrient suppliers. Here we introduce you to some favorites which you can not only make quickly. These refreshing salad recipes are also satisfying and can replace a meal, used as a starter or for a picnic.
Choose your favorite delicious salad and enjoy your Summer!
Refreshing Salad Recipes To Enjoy The Summer Season
Citrus and Greens Salad: An array of colorful citrus fruit tops this spinach salad. Add a drizzle of miso ginger dressing and you've got dinner. (via The Simple Green)
Raw Peanut Zoodle Salad: Load on as much peanut sauce as you want — thanks to zucchini noodles, this dish never gets too heavy. (via A Saucy Kitchen)
More recipes >Delicious Salad Recipes That Help To Get Your Beach Body
See What Eating Daily Healthy Raw Salad Can Do For You
Rainbow Red Cabbage Salad: Colorful, crunchy red cabbage pairs well with bold ingredients like grapefruit, ginger, and lime. Add some avocado for textural contrast for a salad you'll make again and again. (via Light Orange Bean)
Three Indian spices, raw flaked (or fresh grated) coconut and a touch of Nama Shoyu turn a simple cabbage cole slaw salad into an exotic treat. To turn this raw salad into a main dish, you might try adding a handful of raw soaked nuts, perhaps cashews or peanuts. Make this salad in advance to give the flavors plenty of time to fully develop. It'll be worth the wait, I promise!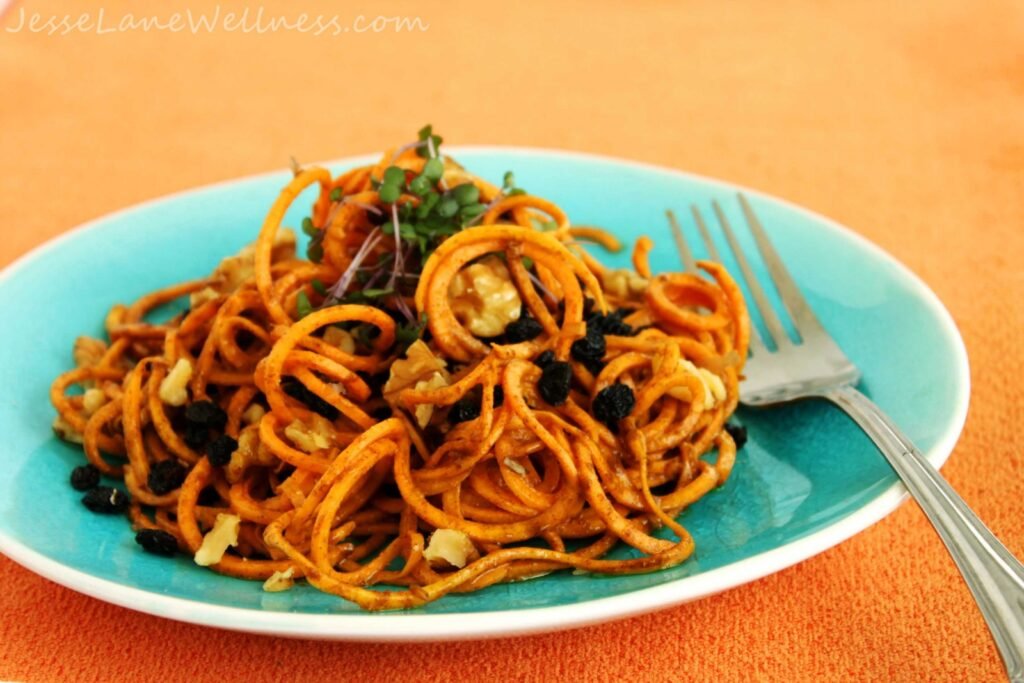 Sweet Potato Salad with Curry Almond Sauce is perfect for days when you don't feel like turning on the oven or stove. Raw sweet potatoes have a great crunch and fresh flavor that tastes delicious with walnuts, currants and creamy almond curry sauce.
This crunchy and refreshing Basil Cucumber Salad is perfect for warmer weather. Not only is it cleansing and ultra-healthy, it's great for hydrating our bodies and keeping our skin youthful and glowing. With crunchy cucumber, chopped cauliflower, fresh basil, and a creamy lemon dressing, this nourishing recipe is perfect for lunch, as a side, or a light dinner.
Here's a recipe to experience a delightful, filling meal that is out of this world. I could eat this salad every day and not tire of it. I've never had anything like it before. I was so pleasantly surprised at the complexity of flavors with such few ingredients. This is a nutrition powerhouse meal that can serve two hungry people.
Avocados are amazing for you! Filled with good fats, tons of vitamins and fiber. This salad is a fresh and easy way to showcase them, perfect for a busy night or a quick lunch.
This Vegan Waldorf Salad is creamy, refreshing, and perfectly balanced for a delicious side or entree. Made from grapes, apples, walnuts, and optional celery and served in a beautiful lettuce-lined bowl, this is a dish you can bring to any gathering or complement any spread at your dinner table.