15 Healthy Meal Ideas To Take With You On The Go
|
Healthy Meal Ideas – Food vegans can take out
Here are healthy meal ideas for new vegans. For most people, switching to a vegan diet is a process. and change needs a bit of time. Here are some helpful meal ideas for you.
First, change your supermarket purchases. Discover new favorite vegan products and indulge in vegan shopping. Go in search of restaurants, snack bars, bakeries, etc., with a vegan offer. Next, think about healthy meals and snacks on the go to be able to eat vegan at work and, above all, to feel satisfied. Also important that you can get the nutrition you need.
Prepare healthy meals you can take with you.
It's easy to cook vegan at home, but once you leave the house, it gets a little harder. The questions are about what to eat, especially at work, in college, or at school. Maybe you are still at the beginning, and eating out feels like a big challenge. Do not worry; if you want to eat vegan, you do not have to starve at work. There are many delicious healthy meals and snacks that are easy to take anywhere, even on a trip.
See also >10 TIPS FOR VEGAN TRAVELERS – HOW TO MANAGE BEING VEGAN ABROAD
15 Healthy Meal Ideas To Take With You On The Go
Breakfast
1. Smoothies
Fruit and vegetable smoothies are the perfect meal in the morning. They are delicious and provide you with valuable nutrients and power for the day. This breakfast never gets boring because endless combinations are possible. Your creativity has no limits. It can be bananas, green leafy vegetables, fruits, and lime.
You can either pour your smoothie into a bottle or a shaker and drink it in small sips or put it in a jar and add oatmeal, nuts, and seeds and eat it with a spoon.
See> Healthy Juices And Smoothies That Energize And Make Fit
2. Chia Pudding
Chia pudding is prepared similarly to Overnight Oats. Just mix chia seeds with your favorite vegetable milk and let it sit in the fridge overnight. A few pieces of fruit, and you have a creamy-fruity power breakfast!
The Many Chia Seed Benefits You Need To Not Know About
3. Overnight Oats
If you do not have much time in the morning, prepare your oatmeal breakfast in the evening and refrigerate it overnight. For the vegan Overnight Oats, put oatmeal and vegetable milk in a sealable container and add cinnamon, ground vanilla, nuts, seeds, or fruit to taste.
As you sleep, the oatmeal absorbs the liquid of the plant's milk and becomes a wholesome breakfast.
Breakfast Ideas That Make You Like To Jump Out Of The Bed
4. Millet porridge
Do you like a hearty and satisfying breakfast? Then you should definitely give millet porridge a chance! It's easy to prepare the night before. If you have the opportunity to warm it up at work, at the university, etc.  You also can warm up the porridge with a bit of dairy-free milk. But even cold, it tastes delicious.
 Be creative and top it, maybe with cinnamon, apple or pear, and dates.
Start your day with Millet; it helps prevent acidification
5. Dairy-free Yogurt with crispy cereals or fruit
If you are a yogurt fan, take your homemade or purchased plant yogurt with you to work. Add some crunchy cereal or fresh fruit to it. If the cravings grab you, this is also a delicious snack in between.
More Ideas >Quickies – Quick Vegan Breakfast Ideas Made In Minutes
Lunch
6. Salad
The most classic healthy lunch is a salad. It does not always have to be boring. In addition to green lettuce, you could also make a spicy salad from carrots or cabbage. On the basis of starchy vegetables or legumes, your salad becomes a filling main meal. What about a salad with potatoes, lentils, millet, quinoa, or even pasta?
The best is to prepare a double portion salad in the evening and take the rest the next day with you. This will save you time.
Cool Lentil Salad – Gain More Energy With Powerful Lentils
How To Replace A Meal With Healthy Raw Vegan Salad
7. Soups and Stew
 You should always cook a few more potions of soups or stews. The next day you can take the leftovers in a jar to work. It is also possible to freeze them for later.
Meals like sweet potato or pea soup, lentil, or bean stew all are great to take with you. Especially if you have the option to it warm up.
The Best 27 Warming Vegan Soup Recipes Will Comfort You
Gazpacho The Cool Soup You Will Love On Hot Summer Days
8. Falafel or Vegetable Patties
If you are preparing falafel, vegetable patties, or vegan meatballs, always prepare more for the next day. If you have the opportunity, you can also warm it up. Eat with a delicious dip and salad; they will taste delicious together.
Is This The Best Vegan Falafel Recipe You Will Ever Need?
9.  Vegetables
An infinite number of combinations are possible, like broccoli, peas, kidney beans, and sweet potatoes. You can combine them with rice, legumes, millet, or quinoa. Warm up or eat cold.
Why Legumes Can Be A Key To A Healthy Protein-Rich Diet
10. Wraps
Wraps are a handy lunch on the go because you can eat them anywhere. When filling, you can let your creativity run wild. Some ideas are a green salad with peppers, beans or corn, tomatoes, mushrooms, and avocado. For the dressing, take vegan mayo or guacamole.
Incredible Delicious Raw Vegan Wraps You may Like To Try
Make Your Own Wraps – Flax Bread Wrap Recipes
Snacks
11. Fresh Fruits
Fresh fruit is the perfect snack against the well-known afternoon low. It is easy to transport, delicious and provides you with sugar for more concentration. The most practical for traveling are e.g., Apples, pears, bananas, grapes, or berries. But you can also prepare a fruit salad the night before and add lemon or lime juice so that the fruits do not turn brown.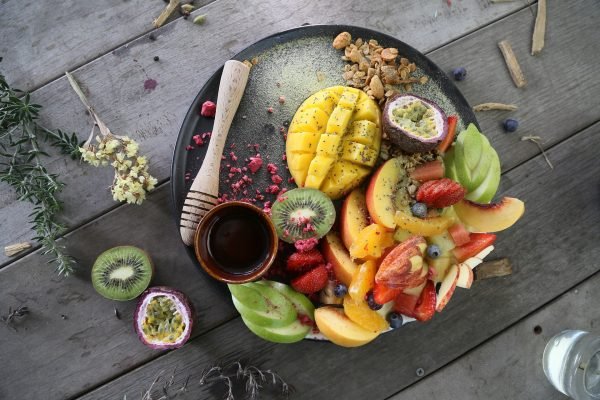 Why Now Is The Right Time For Tropical Fruit Recipes
4 Exotic Incredible Refreshing Raw Fruit Salads You Will Love
12. Fresh Vegetable Sticks with Dip
You may like some fresh vegetables in between? Strips of carrots, celery, cucumbers, or peppers can be quickly prepared. With some spices or together with hummus or guacamole, they are tasty.
Dips And Salads That Make You Enjoy Raw Food More
13. Nut and Dry Fruits
Whether almonds, walnuts, or peanuts, all are full of important nutrients. Not only are they a good source of protein, but they also contain plenty of magnesium and B vitamins, making them the perfect snack. Very rich in fat, they provide an energy boost in between.
Put a mix of your favorite nuts together, and always have them with you. Dried fruits contain many vitamins, iron, and protein and are delicious natural candy. They contain more sugar and calories. Together with nuts, they can help you over time to the next meal.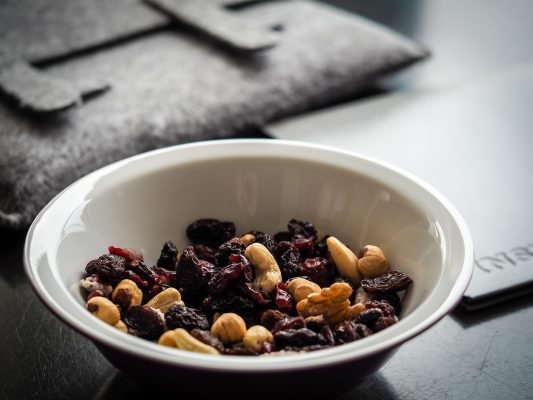 Make a trail mix from your favorite nuts and dried fruits, like from almonds, walnuts, raisins, and dried apricots. Extremely convenient for storing, you can keep it in the desk drawer or in a jar.
Enjoy These Nutritious Treats With Nuts And Seeds
14. Energy Balls
With these raw vegan energy balls, it becomes healthier to snack. They are made of nuts and dates and ensure an energy boost in between. They are quick and easy to make, and you can easily take them with you in a box or jar.
15. Healthy Sandwiches
Not to forget the good old Sandwich. This is also a healthy meal idea. You can make them sweet or spicy and put whatever you like most. Use healthy, wholesome bread; the best is homemade, and take it with you in a box.
Try Sprouted Grain and Seed Recipes That Are Nutritious And Healthy.
Easy Recipes That Will Help You Beyond Veganuary
Hopefully, these healthy meal ideas will help you with the change to a plant-based vegan diet.
You also may like 5 Helpful Tips On How You Can Avoid Cravings Effectively.
See also> No Fast Food Just An Healthy Vegan Lunch Every Day